The Houseparty app has done a great job bringing Fortnite players together over the past year. Particularly at a time when separation and social distancing have been so important.
Fortnite players who operate on PC and PlayStation platforms have surely been enjoying their ability to video chat in-game via the Houseparty app. It's been a great way for gamers to connect with friends while not obstructing their playing screen.
After a successful run, the Houseparty app is taking the next step and will now allow gamers to live-stream their Fortnite games to other friends on the app.
How to link Fortnite and Houseparty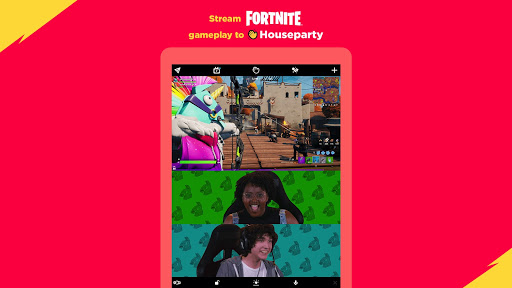 (Picture: Epic Games)
First things first, you'll need to have the Houseparty app up and running with your account open. At this time the Fortnite/Houseparty app linking is only available on iOS and Android devices.
The next thing you'll need to do is link your Houseparty account with your Epic Games account. Open up the app and follow the steps to properly link the two and you're ready to start connecting with friends.
Houseparty video chat in Fortnite
Once your accounts are linked, you'll be able to video chat with your friends on the app while playing Fortnite. Simply open up the app on iOS or Android and make sure it's connected to Fortnite through your settings or the TV icon.
Either invite your friends to a video chat or join theirs through the Houseparty app as you normally would. Start your Fortnite game on either your PC or PlayStation and you're ready to roll.
Your video chats will remain on your mobile device so make sure to align the device properly to your gaming setup. Note that you'll also be able to view your Houseparty friends in your Fortnite party on a live side panel. (It won't obstruct your gaming screen).
How to stream and watch your friend's streams in Houseparty
Streaming your Fortnite gameplay to Houseparty app friends is easy as can be. As long as your Houseparty and Epic Games accounts are linked on your iOS or Android device you're ready to go.
As soon as you log on and begin playing, your Houseparty friends will be able to see a live stream of your Fortnite game. The Houseparty app will notify your friends when you log on and your game feed is available, and vice versa.
Hop into one of your friend's streams today and let them know you're watching!