Fortnite has plenty of cosmetics and sets with a strong link to food, from those who serve it to outfits that make you look good enough to eat.
Some of Fortnite's best items have food involved in both big and subtle ways. One of the early Fortnite publicity stunts involved a giant Durr Burger being placed in the desert back in 2018 after an in-game anomaly.
These are the top ten best Fortnite cosmetics based on food including food skins, food gliders, food back bling and food harvesting tools!
10. Birthday Cake
As Fortnite gets older and more players enter the battle royale, Birthday Cake is a nostalgic reminder for the older players who remember the earlier seasons.
You might not be the last one standing with this back bling, but you will be one of the first.
This cake might not be the most elaborate back bling, but the nice details make it a good choice for old players in the new Fortnite season to show their experience.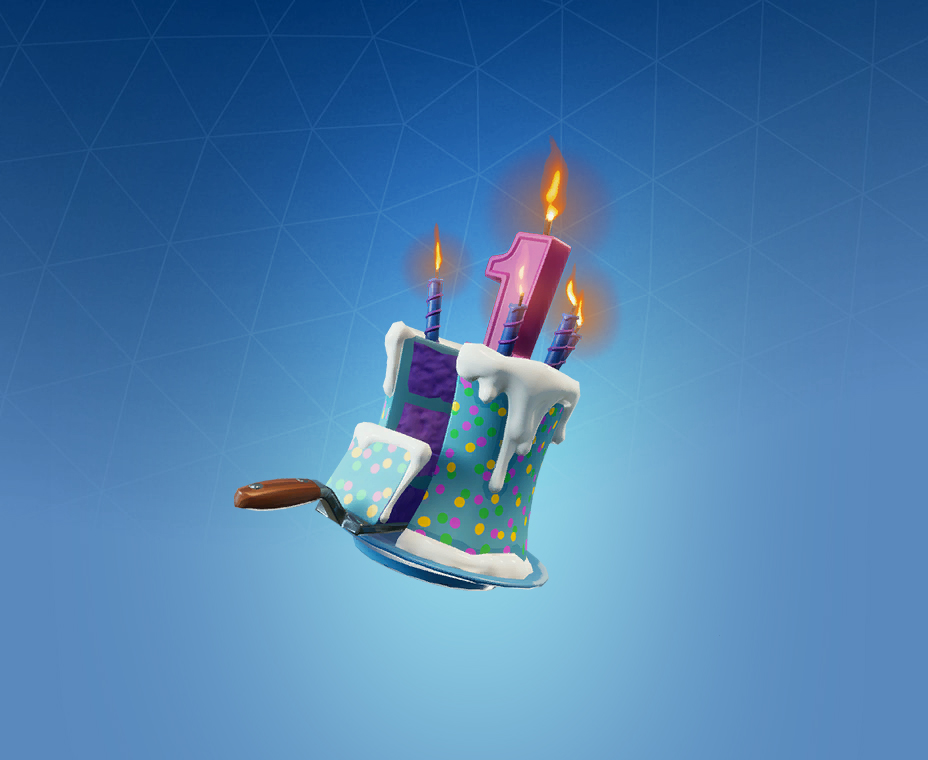 Rarity: Rare
Source: Challenges
Price: N/A
9. Cheesy
Who doesn't love cheese? Who doesn't love gold?
Cheesy is a gold cheese back bling that combines the best of both worlds.
In order to obtain this back bling, you will need to buy the PJ Pepperoni skin.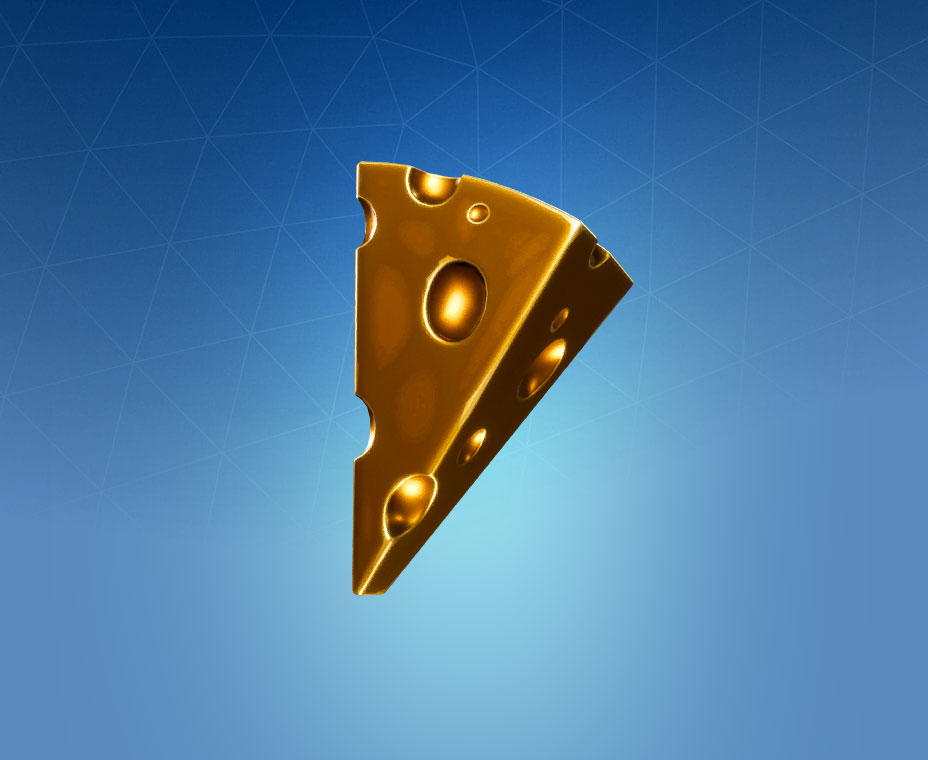 Rarity: Rare
Source: PJ Pepperoni Skin
Price: 1,200 V-Bucks
8. Birthday Slice
A year older than #10's Birthday Cake, Birthday Slice turns a new cake into a harvesting tool for the second Fortnite anniversary.
With a chocolate filling rather than the previous cake's myserious purple, the slice sits on an ornate fork and has two candles on top of the pink frosting.
The Fortnite 2nd Birthday event challenges allowed players to unlock this harvesting tool and it is no longer available.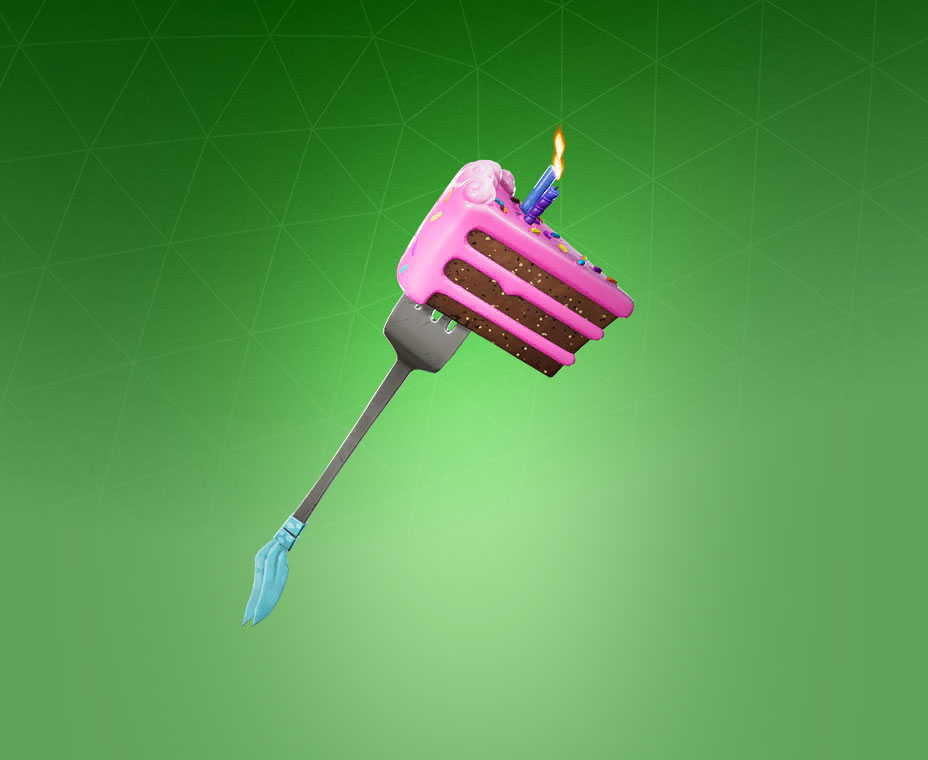 Rarity: Uncommon
Source: Challenges
Price: N/A
7. Guaco
Guaco is one of many food-headed skins in Fortnite and the first on this list.
Dressed in a green shirt, yellow overalls and gloves, Guaco's most distinguishing feature is his giant taco head with big googly eyes on top.
This rare skin is pretty strange but the latest in a long line of food mascots found within the Fortnite universe.
Rarity: Rare
Source: Item Shop
Price: 1,200 V-Bucks
6. Ice Cream Cruiser
You will definitely look 'cool' dropping onto the new Fortnite map with this chilled dessert glider.
With an ice cream sandwich centre and two melting vanilla cones as the bulk of the wings, the blue biscuit snaps at the back on deployment to give the appearance of a missing bite from the treat.
The 'sweet' animation and accompanying music as you use this glider makes it feel special.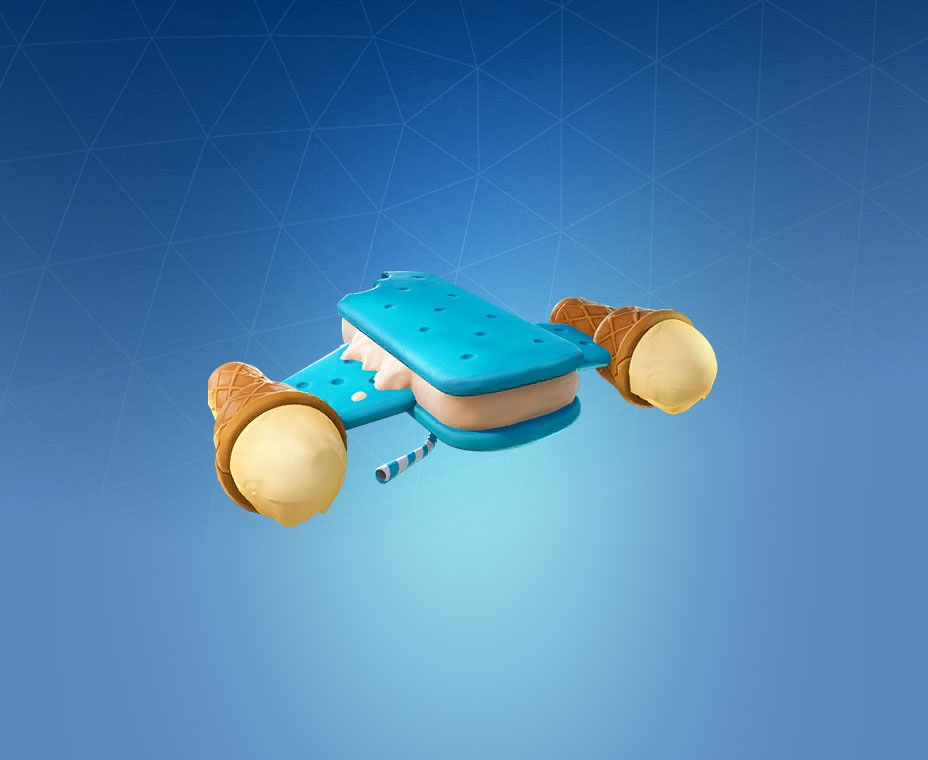 Rarity: Rare
Source: Item Shop
Price: 800 V-Bucks
5. Beef Boss
The Durr Burger is a well-known food item in the world of Fortnite, being the name of a restaurant chain and a giant metal burger being present on the original Fortnite map for some time.
Beef Boss lets you don the head of Fortnite's most famous food, complete with giant tongue, tomato, cheese, patty and olive on top.
Other items in this set include the Deep Fried back bling that comes with the skin, allowing you to carry around a convienent serving of fries while you're hungry for a victory royale.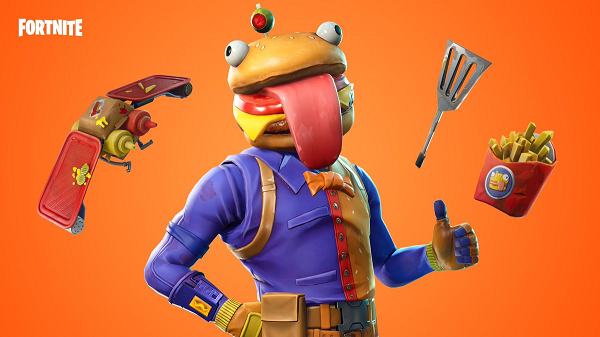 Rarity: Epic
Source: Item Shop
Price: 1,500 V-Bucks
4. Lil Whip
Not the latest Soundcloud rapper, but instead the Softeez frozen treats shop ice cream mascot.
This costume is a trendy ice cream with sprinkles for eyebrows, a pair of headphones, a red jacket and blue sprinkle trousers. The words 'Lil Whip' are printed onto his cone body.
The Sno Cone back bling that comes with this outfit features a blocky polar bear enjoying a snack that changes volume depending on how much health the player has.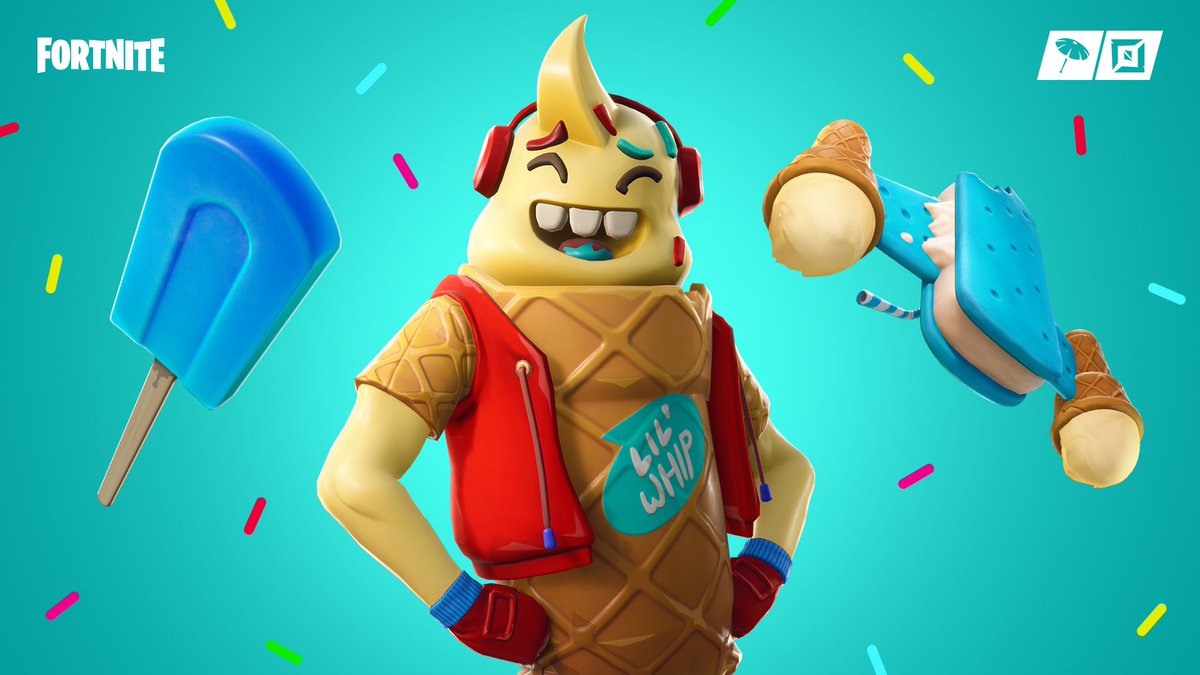 Rarity: Legendary
Source: Item Shop
Price: 2,000 V-Bucks
3. Peely
Is it Peanut Butter Jelly Time? As you may have guessed, Peely is a banana that starts out ripe and turns yellow over time in game.
Peely owned a banana shop of his own in Neo Tilted during Season nine, but seemed to meet a grisly end during that Season's cinematic after being turned into a Smoothie and consumed by Bunker Jonesy.
With a sold-out plush on the Fortnite store, this skin is a popular skin in the Fortnite community.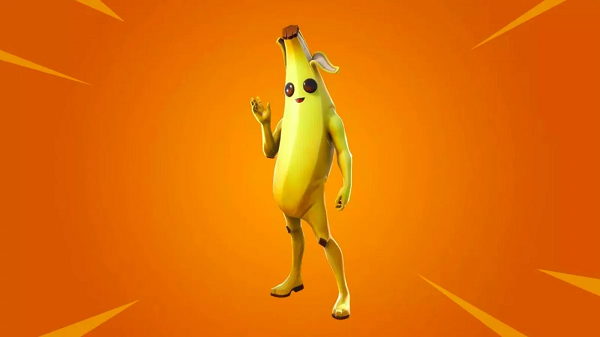 Rarity: Epic
Source: Season 8 Battle Pass (Tier 47)
Price: N/A
2. Extra Cheese
This glider is perfect for jumping onto the new Fortnite map in search of a slice of the action.
Extra Cheese lives up to its name, with stringy melted cheese forming the parachute part of this glider as pepperoni and seasoning sits on the pizza extending from an open pizza box.
Two pizza cutters fittingly form the base of this glider from the Pizza Pit set.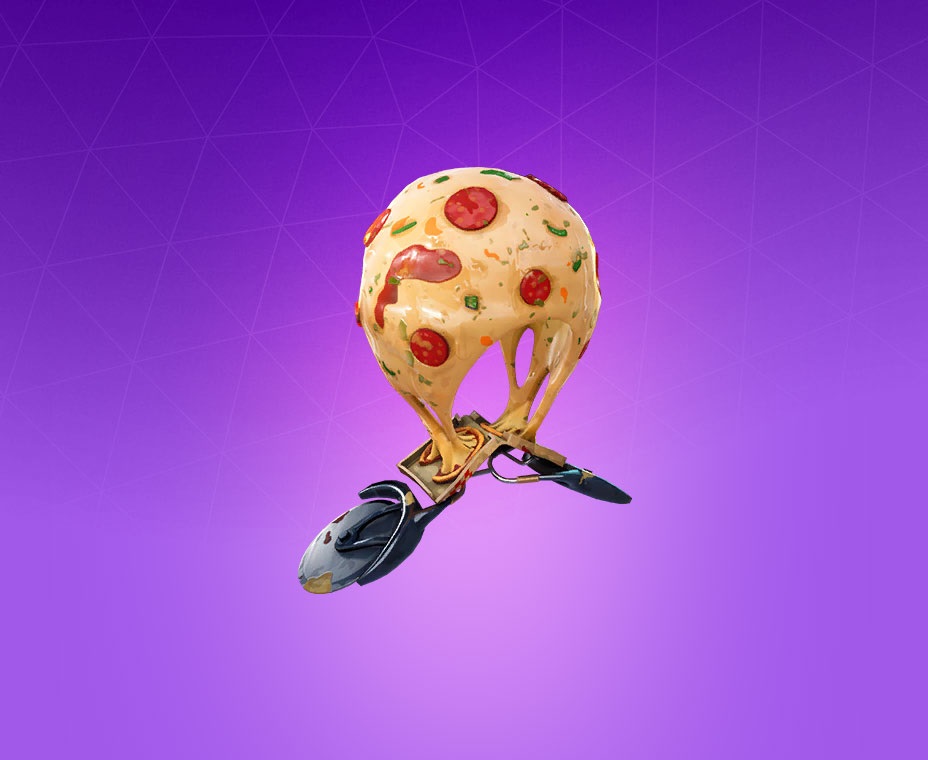 Rarity: Epic
Source: Item Shop
Price: 1,200 V-Bucks
1. Tomatohead
Tomatohead is an obvious pick for the best Fortnite skin with food as the theme.
Part of the same Pizza Pit set as the previously mentioned Extra Cheese glider as well as harvesting tools Axeroni and Pair-Peroni, this collection is the one to complete for food fans.
With merchandise including multiple Funko figurines, masks, action figures and keychains all easily found online, Tomatohead is an iconic Fortnite skin.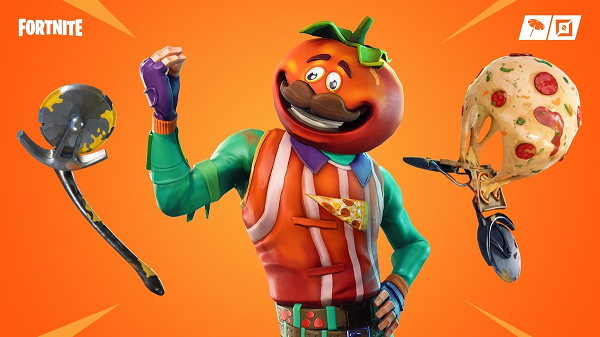 Rarity: Epic
Source: Item Shop
Price: 1,500 V-Bucks
Do you agree with our list? What is your favourite Fortnite item with a foodie inspiration? Leave a comment below!