The day has finally come, as the new update for Genshin Impact titled "Midsummer Island Adventure" will arrive into the main servers of the game in just a couple of weeks.
As part of this update, many events and special quests will be available all around Teyvat, so this time we will give you a walkthrough on everything you can expect from v1.6, as well as some of the rewards you can get in some of them.
Genshin Impact v1.6: New quests and events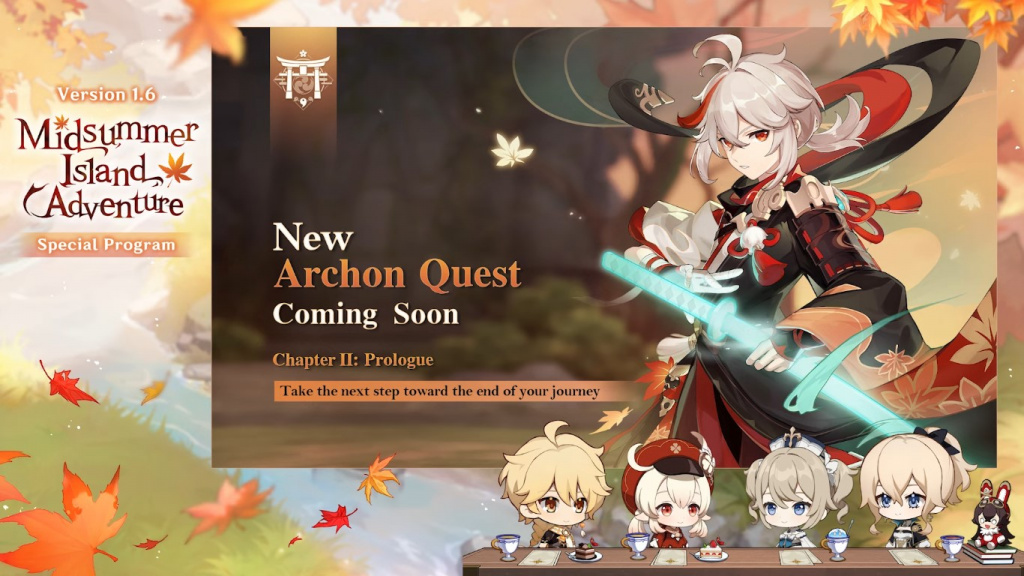 (Picture: miHoYo)
The 1.6 update will mark the start of Chapter II of the game's main story, as the arrival of Kazuha is going to show us the first details around the Inazuma region including some of its traditions and even some of its troubles, making the journey to this new region a hard one without his help.
The main challenges of this update will come with its featured event, which will also be called "Midsummer Island Adventure". In this, all players will get the opportunity to get lots of exclusive rewards including special artifacts and weapons, enhancement materials, and more.
(Picture: miHoYo)
These are the challenges you will find as part of this event:
Main Cannons, Make Ready… Fire!
Using the Skiff, a very mysterious waterborne vehicle that can be summoned using a Skiff Waypoint around the coasts of Teyvat, players will have to navigate around the sea while destroying floating enemy structures and barriers using cannonballs.
Some of these will not be destroyed that easily, so you will have to deal with its enemies with your own hands. Also, take care of the Whirlpools as these can damage your Skiff severely.
Whirlpool off to Starboard… Full Speed Ahead!
For the lovers of racing, this challenge will feature a time trial divided into a sea section and an airborne section, so you will have to sail and glide at the same time.
The objective of this event is to collect as many Wavesplitter Insignias as possible, both by sailing or gliding, and also depending on your final time, so you can get a better score.
(Picture: miHoYo)
Samurai Sighted… To Arms!
This challenge is pretty straightforward. The objective will be to defeat the new enemy added into this update known as the Maguu Kenki, in a new special location found around the sea. Take care of his Cryo attacks as this monstrous opponent can be quite hard to reach, especially when its HP drops below a certain amount and changes to his Phantom Stage.
Harpastum Bombs Loaded… Blow 'Em Away!
In this challenge, players will be able to use three different kinds of Harpastum Bombs, to clear out monster fortifications.
Straight Shooter: A Harpastum Bomb with a comfy weight that makes it easy to control and aim accurately. It can deal a large amount of Pyro DMG to a single opponent.
Floaty Splody: A Harpastum Bomb of cunning design that sends little bits flying every which way when it explodes, dealing a certain amount of Pyro DMG in a wide AoE.
Hot Pod: A Harpastum Bomb brimming with Pyro energy. When unleashed, it will explode violently, dealing a small amount of Pyro DMG in a small AoE but being extraordinarily effective against Cryo shields.
Echoing Tales
For this special event, you will have to collect Echoing Conches around the new archipelago, which can be used in the Event Shop to exchange for some special rewards, including the new Alternative summer outfit for Barbara "Summertime Sparkle".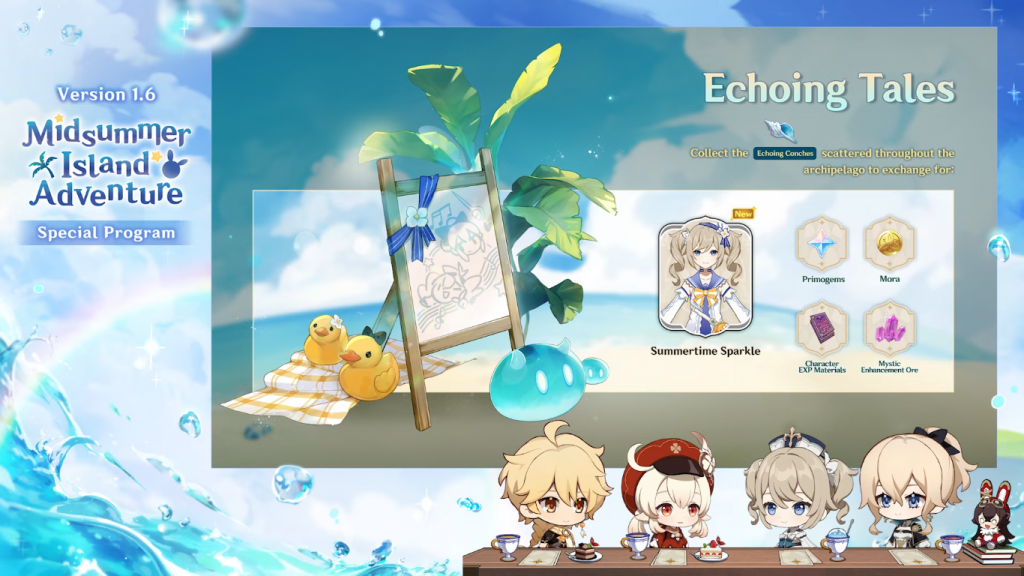 (Picture: miHoYo)
Kaboomball Kombat
In this mini-game, you will have to defeat some pitching machines called Magical Fortress by hitting and returning various balls they serve. Perfect returns will deal additional damage, capable of breaking their shields.
This event can also be played in co-op mode, and you can get some basic rewards like Primogems, Mora, Hero's Wit, and Enhancement materials.
Never-Ending Battle
Being very similar to the Contending Tides challenge added in v1.3, in this event, you will have to face seven stages of timed challenges, with three difficulty levels each.
You will collect points according to the difficulty you chose and the time you use to complete them, getting more rewards the more points you obtain. Each stage will also have its own special features, called the Momentum Discs, which you can destroy using different tools to activate various additional buffs.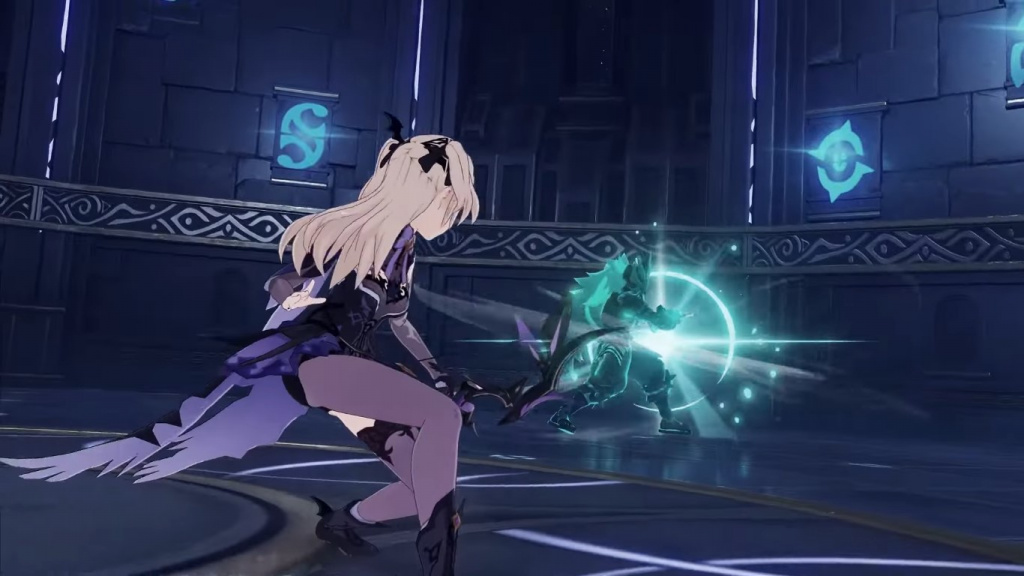 (Picture: miHoYo)
Legend of the Vagabond Sword
Finally, this new event will bring the hardest bosses from all of Teyvat to a single new Domain, where you will be able to choose the difficulty and select certain Flairs, which will allow you to accumulate more event points.
These bosses will be unlocked one at a time over a week, after which all quests will be available for nine more days. The unlocking rotation for the first week of the event will be as follows:
Day 1 and 4: Wargame: Ancient Rock Drake (Primo Geovishap)
Day 2 and 5: Lament: Bitter Hate (Oceanid)
Day 3 and 6: Battlesong: Ingenious Impermanence (Maguu Kenki)
Day 7: Windborne Triple Crown (All three)
Update 1.6 of Genshin Impact will be available very soon, meanwhile don't forget to check our dedicated section with lots of guides, news, and more.