We are just days away from the new update 1.5 "Beneath the Light of Jadeite" coming to Genshin Impact, bringing with it new features such as the Serenitea Pot, the new characters Yanfei and Eula, weapons and artifacts, and a lot of content to discover.
However, through the beta of the game, the first details about the content that will come in update 1.6 have already begun to be revealed, which will be available in mid-June and will bring the debut of a new character, coming from the Inazuma region.
Kazuha's backstory teaser
According to leaks found by Sukuna, data miner from the HuTao's Creamery, Kazuha is a ronin from Inazuma, who currently lives with the Crux Fleet of Liyue. He is calm yet acts freely, and his past is buried in his heart.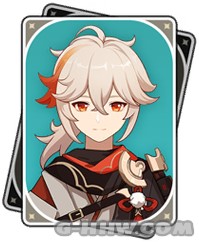 (Picture: miHoYo)
Kiryu Kazuha, or as he is known by his ronin name, Kaedehara Kazuha, will be a 5-star Anemo sword character, having similarities to the Traveler character in its Anemo variation.
Kazuha's abilities
Moving onto the findings from Genshin Intel and the Honey Impact website, Kazuha will have an outstanding repertoire of Elemental skills, allowing him to use much of them on many Elemental Reactions.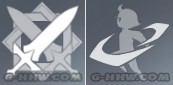 With his normal attack, Garyu Bladework, Kazuha can perform up to five rapid strikes, while his charged attack consumes a certain amount of Stamina to unleash two rapid sword strikes.
His Elemental Skill will be called Chihayafuru, which will pull objects and opponents towards Kazuha's current position before launching the opponents within an AoE, dealing Anemo DMG and lifting Kazuha into the air on a rushing wind current. Charging it up before unleashing increases Anemo DMG over a larger AoE.
His plunge attack, Ranran Haishin, allows Kazuha that while he is still airborne after using Chihayafuru, he will be infused with Anemo DMG, and a small wind hole will be created, sucking in nearby objects and enemies. All damage dealt by Ranran Haishin will be Plunge Attack DMG.

Finally, his Elemental Burst, Manyou no Ittou, makes a single slash akin to a coming storm that deals AoE Anemo DMG. The blade's passage will leave behind a field named "Ruka Akino" that deals AoE Anemo DMG at set intervals to opponents within it.
Manyou no Ittou will have an extra skill called Elemental Absorption, where if the Ruka Akino comes into contact with Hydro, Pyro, Cryo or Electro, it will deal additional elemental DMG of that type.
Kazuha's talents

It's time to look onto his special talents:
Matsukaze Karyuu: Decreases sprinting Stamina consumption for your own party members by 20%, although is not stackable with Passive Talents that provide the exact same effects.
Ascend 1: If Chihayafuru comes into contact with Hydro, Pyro, Cryo or Electro while being used, Elemental Absorption will also occur during it dealing an additional 200% additional DMG of that elemental type.
Ascend 2: Upon triggering a Swirl reaction, Kazuha will grant teammates a 0.03% Elemental DMG Bonus to their corresponding Element for every point of Elemental Mastery he has for 8s. Bonuses for different elements obtained through this method can co-exist.
Kazuha's constellations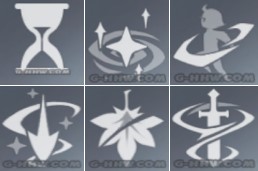 (Picture: miHoYo)
Finally, let's see all details about his constellations and how this will affect his attacks, skills, and talents:
Senzan Kouhen: Decreases Chihayafuru's CD by 10%. Using Manyou no Ittou resets the CD of Chihayafuru.
Yamaarashi Zanshin: Increases the current active character's Elemental Mastery by 200 if they are within the AoE of the Ruka Akino field created by Manyou no Ittou.
Fuushuu Kitan: Increases the Level of Chihayafuru by 3. Maximum upgrade level is 15.
Oozora Genpou: When Kazuha's Energy is lower than 45, he will obtain the following effects: Pressing or holding Chihayafuru will regenerate 3 or 4 Energy respectively, or regenerate 2 Energy per second for Kazuha while gliding.
Bansei no Shuu: Increases the Level of Manyou no Ittou by 3. Maximum upgrade level is 15.
Ketsuseki Haku: Kazuha gains an Anemo Infusion for 5s after using Chihayafru or Manyou no Ittou. Additionally, each point of Elemental Mastery will increase the DMG dealt by Kazuha's attacks by 0.2% while the aforementioned infusion is active.
New materials and items
As part of Kazuha's arrival to the game, and to introduce the first of Inazuma's styled artifacts, new items will be added into Genshin as Ascension materials, all these based on oceanic themes and colours.
New Ascension Material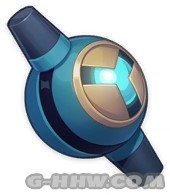 (Picture: miHoYo)
New Regional Speciality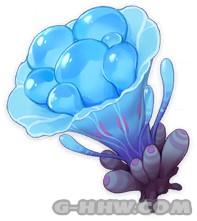 (Picture: miHoYo)
New Food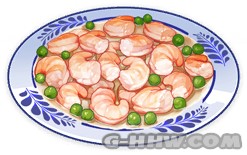 (Picture: miHoYo)
New Gadget - Skiff Repair Toolbox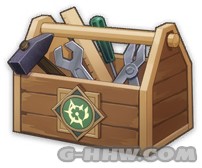 (Picture: miHoYo)
New Event Currencies - Enigma Gear, Mini Harpastum, and Shiny Flotsam

(Picture: miHoYo)
We will reveal more details about Update 1.6, as soon as the release approaches. Meanwhile, don't forget to prepare for the arrival of version 1.5 through the guides in our Genshin Impact section.