As players continue to grind in the new events and quests added in the Genshin Impact 2.1 update, fresh information has begun to appear about what will arrive in version 2.2, showcasing new weapons, a new character, and more content around Inazuma.
All of the content you will find below has been found thanks to many hardcore fans within the Genshin community, and as always, it can contain SPOILERS from the game's main story, so you are warned.
Genshin Impact 2.2: Thoma makes his debut
As confirmed by miHoYo on 30th August, the "Protector From Afar" Thoma will be the next playable character for Genshin Impact, being the eighth adventurer native from the Inazuma region to join the game's roster. He is set to be a 4-star Pyro Polearm character, with a release scheduled for the second banner of version 2.2.
Thoma is known for being the Kamisato Clan's Housekeeper, as well as the first person the Traveller met at Inazuma. According to miHoYo, "Thoma is very good at socializing, perhaps being influenced by the relaxed and happy atmosphere of his hometown. Although he is an outlander, he has built an unexpectedly powerful network of people in Inazuma."
So far, we've learned Thoma's constellations will be focused on powering his Elemental Burst, with which he will spin his polearm, cutting down enemies around him with scorching flames, causing AoE pyro damage, and creates a flaming armour that powers his attacks with Pyro.
His Elemental Skill will have a similar effect, as Thoma will plunge his polearm into the ground as support, kick forward with the power of flames, and conjure a shield to protect himself, infusing his attacks with Pyro. Curious enough, he will also come with a passive that increases the chance of getting two fish when fishing around Inazuma by 20%.
Genshin Impact 2.2 - Yae Miko and Kamisato Ayato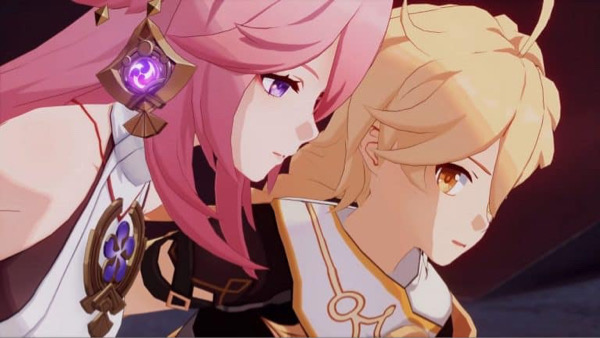 With the addition of Thoma, data miners have revealed two more characters set to join the game in the following updates. Kamisato Ayato, the brother to Ayaka, and Yae Miko were revealed to be added to the character banners however, there may be a possibility of Yae Miko releasing much later as references to the character were recently removed.
Yae Miko, Inazuma's Grand Narukami Shrine chief priestess, is recognised for her compassion, intelligence and cunning personality. She is good friends with Morax and Baal however, things aren't clear whether she has remained loyal to Baal or has become a follower of the Vision Hunt Decree.
While her abilities are unknown at this time, she does appear to possess an Electro Vision placed in her earrings. There is gold and purple iconography found in her cloak which further supports this rumour and her connection with the Electro Vision.
She appeared in the trailer for the 2.1 update, Floating World Under the Moonlight, having interactions with the traveller before reappearing during a fight between Aether and Baal. As mentioned before, her winning personality is seen as she ridicules Aether, particularly whether they will be able to defeat Baal, which could potentially spell her loyalty to Baal.
Kamisato Ayato is rumoured to be a 5-star Hydro-Claymore character with the ability to change his sword stance for his Elemental Skill. His Elemental Burst will pull enemies inside a whirlpool for Hydro DMG while characters inside the whirlpool will receive a 40% Hydro DMG bonus.
There are also rumours of possible reruns of Ganyu, Hu Tao and Albedo on banners however, Gorou is unlikely to appear in this update.
Genshin Impact 2.2: Tsurumi Island opens its borders
The last of the main islands from Inazuma is expected to be available with the 2.2 update, although details are not clear about its role in the Traveller's journey, as the new Archon Quest added in 2.1 gave full closure to the Raiden Shogun's arc.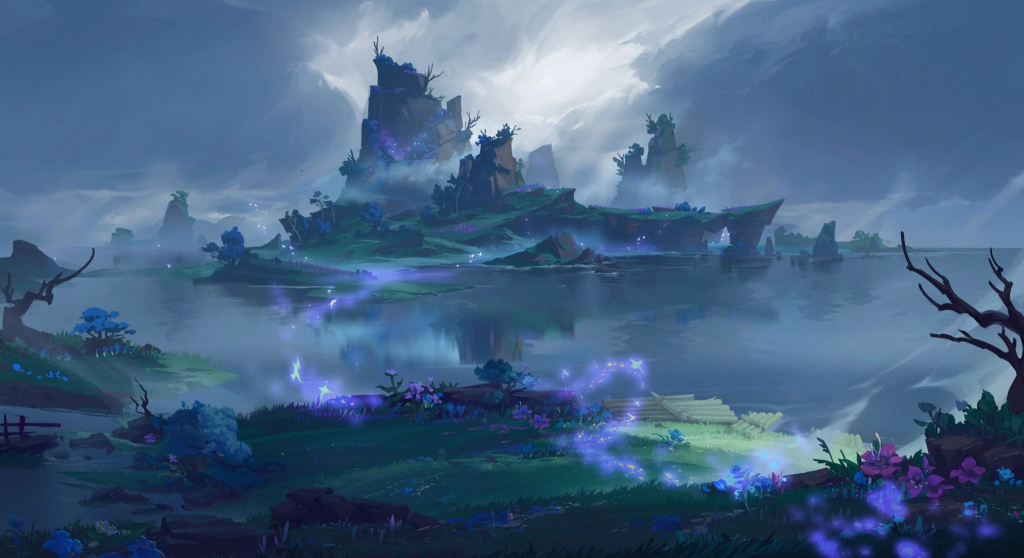 Tsurumi Island was first revealed during the end of the Version 1.6 Special Program, being a mysterious place surrounded by a dense fog, where it has been years since anyone has dared to venture to it.
Not much is known about this island at the moment, except that it will be located southwest of Seirai Island.
Genshin Impact 2.2: Upcoming events
Moving onto the next events, players will have the chance to practice their musical and timing skills with the "To the World's Sounds Listening" event. This one features an osu-type music event, where you can play the 'Floral Zither', an instrument gifted by Kazuha alongside another character at designated locations.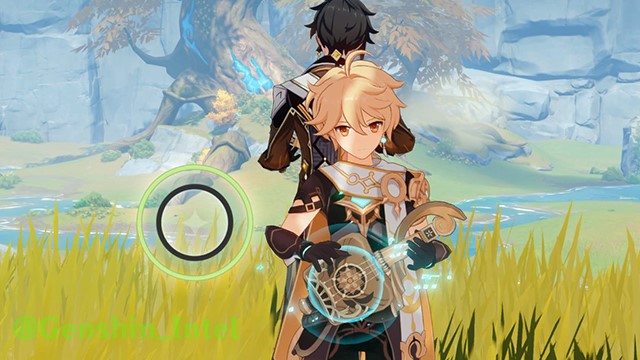 Each piece of music will feature three different difficulties, along with many rewards at stake, including the event's musical instrument.
There are also some brief details around an event called "Labyrinth Warriors", a rogue-like dungeon challenge event with four stages that award three types of currencies, with a special focus on Xinyan, Tartaglia and Kujou Sara.
In addition, players will find the "Dreams of Bloom" event, which involves growing, gifting, and arranging flowers for your teapot, the "Shadow of the Ancients" event where Katheryn from the Adventurers' Guild will need your help to solve a mysterious commission, a new Hangout Events for Sayu and Thoma.
Genshin Impact 2.2: New setting
The update will introduce players to a brand new graphic setting, Anisotropic Filtering.
This setting, when enabled, gives surface textures found in images more clarity when viewed from varying camera angles. While Anisotropic Filtering can have an effect on your PC's framerate by using memory from your video card, however, this varies from one PC to the next.
Genshin Impact 2.2: Weapons, food and gameplay changes
The following weapons are expected to be available through the Epitome Invocation banner, with the last three weapons mentioned coming with the same passive, increasing Elemental Burst DMG based on the entire party's maximum Energy:
Brumal Star: 5-star Bow, its passive increases Elemental Power
Mouun's Moon: 4-star Bow
Akuoumaru: 4-star Claymore
Wavebreaker's Fin: 4-star Polearm
There are also new kinds of food set to be released with the addition of Tsurumi Island and Thoma's debut:
Rice Pudding: Restores 85 Stamina
Delicious Oncidium Tofu: Restores 100 Stamina
Omelette Rice: Decreases Stamina consumption by 20% for 900 seconds
More-and-More: Increases Physical DMG by 30% for 300 seconds
Delicious Braised Meat: Increases Physical DMG by 40% for 300 seconds
Satiety Gel: Restores 16% of Max HP + 1,350 HP
Warmth: Restores 16% of Max HP + 1,350 HP
Delicious Grilled Unagi Fillet: Restores 24% of Max HP + 1,500 HP
Last but not least, the following are some of the changes you could be looking forward to in 2.2, including:
New POI and battle tools around Tsurumi Island
New Inazuma-themed Realm Layouts and Furniture Suites
More Spiral Abyss areas
New namecards available as event rewards
The capacity of the artefact inventory will be increased
New enemies: Electro and Geo Riftstalker Hound and Whelp
Genshin 2.2 Special Program - live stream and release date
Following the normal development schedule from miHoYo, the 2.2 Special Program is slated to be broadcasted on 3rd October, at 5 am PT / 8 am ET / 1 pm BST, via the Genshin's official Twitch channel and miHoYo's Bilibili channel.
However, if for some reason you couldn't catch it on time, don't worry, as the 2.2 preview will also be available through the game's YouTube channel at 9 am PT / 12 am ET / 5 PM BST globally.
You can also watch along with GinxTV as we do a watch-along, catch us on the GinxTV Twitch which we have embedded below.
Genshin Impact's 2.2 update will be available on 13th October. More details and content will be revealed as we get closer to its global release, so stay tuned.
In the meantime, don't forget to check our dedicated Genshin Impact section, where you can find all the news, guides, and previews you desire, as well as our Genshin Impact Twitter account.
Featured image courtesy of miHoYo.