The latest Special Program livestream gave players information on what's coming to Genshin Impact 2.3, including the arrival of brand new characters, more weapons to try out, and events to complete for amazing rewards.
While leakers have stolen the momentum of the forthcoming update with information on what awaits them in Teyvat; miHoYo has carefully detailed all the content that will be arriving in the game in the next update later this month.
Here's what we can look ahead to the 2.3 update.
Genshin Impact 2.3 update: Arataki Itto and Gorou joins the roster
Genshin players will be seeing the inclusion of Arataki Itto and Gorou joining the game's current roster of playable characters in the forthcoming update.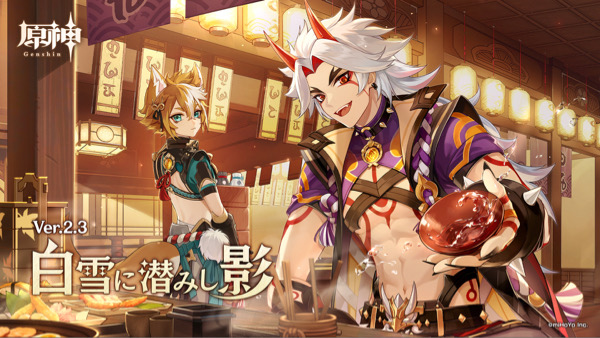 Many Genshin fans are well acquainted with Gorou due to his involvement in the Inazuma Archon Quests. As a general of the Sangonomiya Kokami's army, this Inazuma resistance warrior is known for his unwavering courage and loyalty as he's determined to bring the fight to Baal's Vision Hunt Decree.
On the other hand, Arataki Itto is the deputy of the Arataki Gang, who assists with cleaning up the streets of Inazuma of any wrongdoing and troublemakers. While his devilish looks and charm may have some look in the other direction, Itto charges onto the battlefield with his powerful Geo abilities and attacks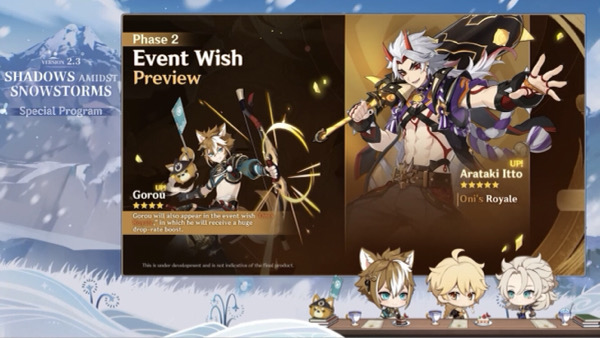 Itto will be featured in Phase 2 of the Event Wish Preview event for the 2.3 update. Additionally, Gorou will be joining his banner for which he will be granted a drop-rate boost.
Genshin Impact 2.3. update: New weapon and artifact sets
The 2.3. update will be adding a number of Geo characters with the 2.3 update and as such, the new weapon and artifact sets are tailor-made for these characters.
The 5-star claymore, Redhorn Stonethresher, is the primary weapon for Arataki Itto but any claymore wielder can benefit from its stats and abilities. The claymore is set to increase DEF stats up to 40% while Normal and Charged attacks receive a DMG increase up to 56% when equipped.
Genshin Impact will be seeing two Geo characters added to the game and naturally, one of the latest artifacts sets to arrive will be tailor-made for them The Husk of Opulent Dreams artifact set will increase DEF stats and will be granted the Curiosity effect for Geo DMG bonus.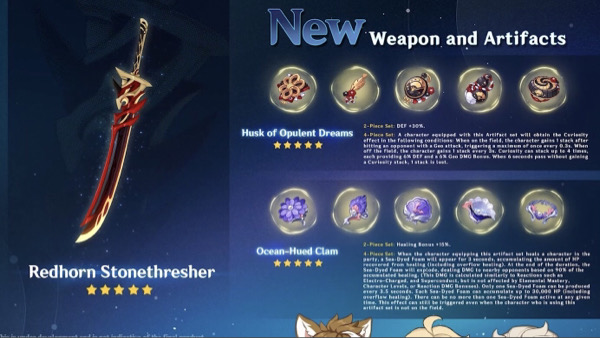 This can only be used if a Geo character is on the field for which it will gain a stack once it has attacked its enemy with a Geo attack. This effect has a maximum of four stacks with the effect will grant bonus DEF and Geo DMG stats towards the character.
The Ocean-Hued Clam artifact set appears to be the best equipped set for Kokomi for those who have managed to acquire the character. The artifact, if used, will heal the character to the amount of HP recovered during its healing process.
As such, once healed, a burst DMG will be dealt with nearby enemies based on the accumulative healing for the character. Any support characters will benefit greatly from this artifact set as it can significantly increase their DPS potential.
Genshin Impact 2.3 update: New World Boss fight
The Golden Wolflord will be the latest boss to be added to Genshin Impact in the 2.3 update. This vicious beast is the king of the Rifthounds but players should be wary when approaching this boss fight.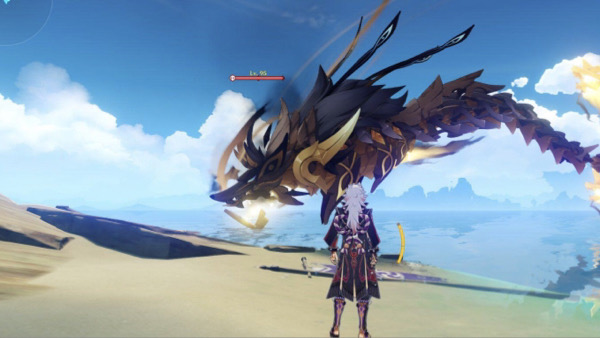 As its attacks can stack Corrosion attacks, all characters within your party will lose significant amounts of HP if you're not careful. As it also summons Rifthound Alpha for shielded protection, characters would have to take them down first before tackling the Golden Wolflord next.
Genshin Impact 2.3 update: Featured event and rewards
Confirmed during the 2.3 Special Program livestream, "Shadows Amidst Snowstorms" will be the update's main event. Travelers will be tasked with completing three sub-events for which we will return to the snow-capped Dragonspine Mountains for the event.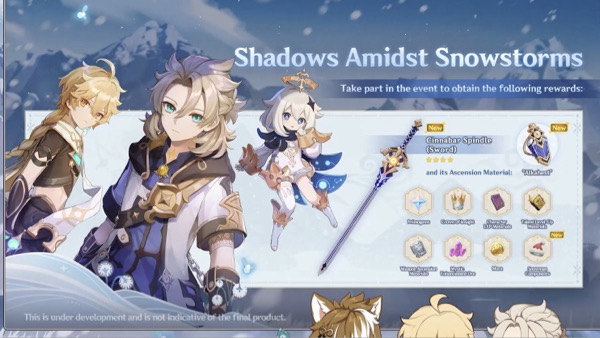 During this event, Travelers will discover more on the backstory of Albedo and as such, learn about the character's true nature. There will be plenty of rewards for players to earn during this event which included the 4-star Cinnabar Spindle sword as well as its ascension material, Alkahest.
There are other amazing rewards to look forward to when completing the event, which is as follows:
Primogems
Mora
Crown of Insight
Character EXP Materials
Talent Level-Up Materials
Weapon Ascension Materials
Mystic Enhancement Ore
Snowman Components
Genshin Impact 2.3 update: New Hangout event
The Hangout Event series will be continuing in the 2.3 update which was announced during the Special Program livestream. Travelers can look forward to spending more time with Gorou and Beidou which both are arriving soon in Genshin Impact.
Don't forget to check out our dedicated Genshin Impact section for the latest news, updates, guides, leaks and more.
Featured image courtesy of miHoYo.