Genshin Impact has prepared Travelers for an electrifying new adventure as they'll continue to explore more about the history of the Inazuma region. There will be a new character, banner reruns, new events and Story Quests arriving in the 2.5 update, available on 16th February 2022
During the 2.5 Special Program live stream, the developer unveiled two new weapons, Kagura's Verity and The Oathsworn Eye, which will get catalyst wielders very excited. We'll be looking at these new weapons in detail, highlighting their stats and how you can acquire them in the game.
Genshin Impact 2.5 New Weapon: Kagura's Verity
Kagura's Verity is a 5-star catalyst weapon and is the preferred weapon of the update's latest playable character, Yae Miko. This weapon is arguably the most unique in its design and allows Yae Miko to manipulate the Electro element with grace and beauty.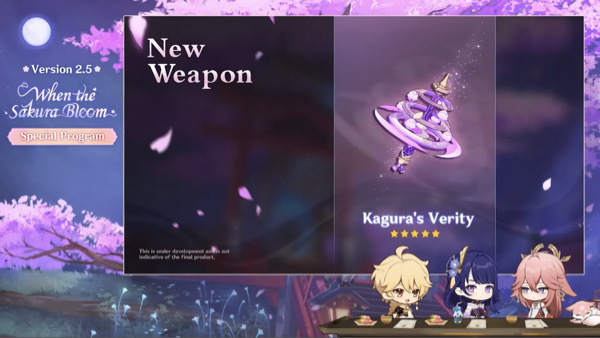 Kagura's Verity also has impressive stats for any catalyst character to wield. The weapon has a high base attack 46 (608 at max level) and a CRIT DMG% substat of 14.4% (66.2% at max level). Beyond this, the catalyst's passive gains an effect for the weapon, which causes the character's Elemental DMG to increase by 12% when using an Elemental Skill.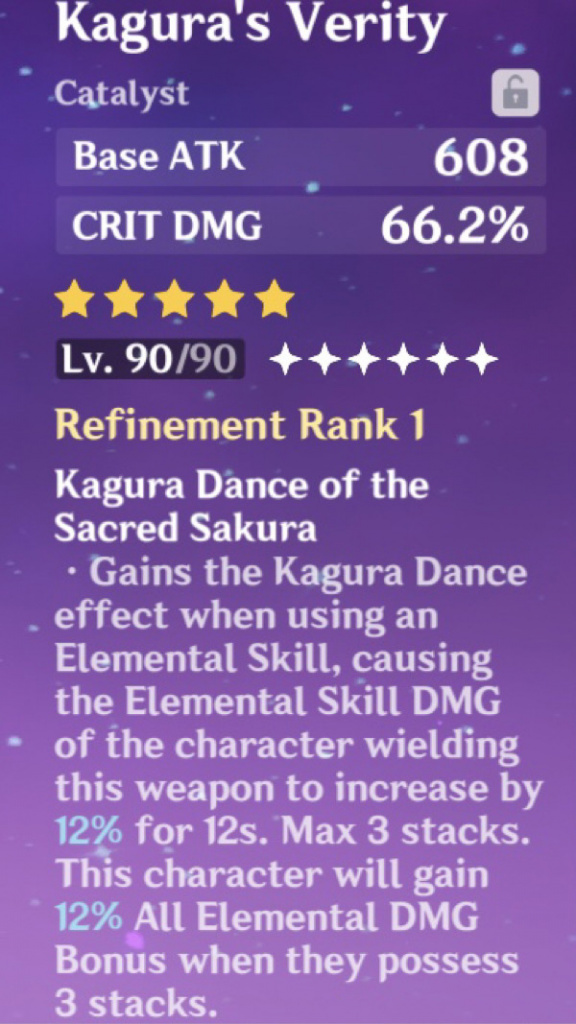 This effect increases its strength at the max level through weapon refinement, which sees the Elemental DMG increase by 24%. Additionally, Travelers can stack this passive three times as the character will increase all Elemental DMG bonuses when they've acquired three stacks.
Developer miHoYo have yet to release more details on how Travelers can acquire the weapon, but it could likely be available through the Epitome Invocation Wish banner for the 2.5 update.
Genshin Impact 2.5 New Weapon: The Oathsworn Eye
Aside from Kagura's Verity, there is another weapon Travelers can acquire in the 2.5 update. The Oathsworn Eye is yet another catalyst weapon, albeit a 4-star, that will be made available in the Three Realms Gateway Offering event.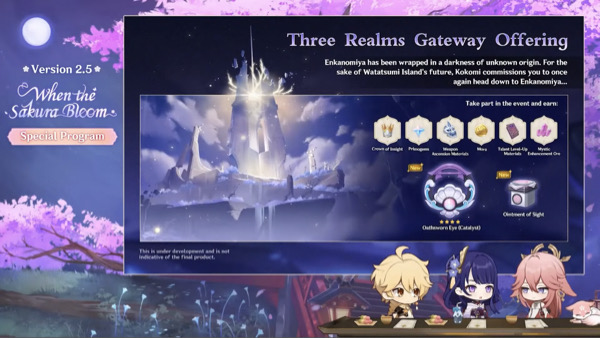 Venturing out to Enkanomiya, per a request from Kokomi, Travelers will need to participate in this event, which will task them to survive the corrosive effects that linger in this area by obtaining energy to repel the dark using the Bokuso Box.
Upon completing the event, they will be awarded the 4-star catalyst and its refinement material, Ointment of Sight.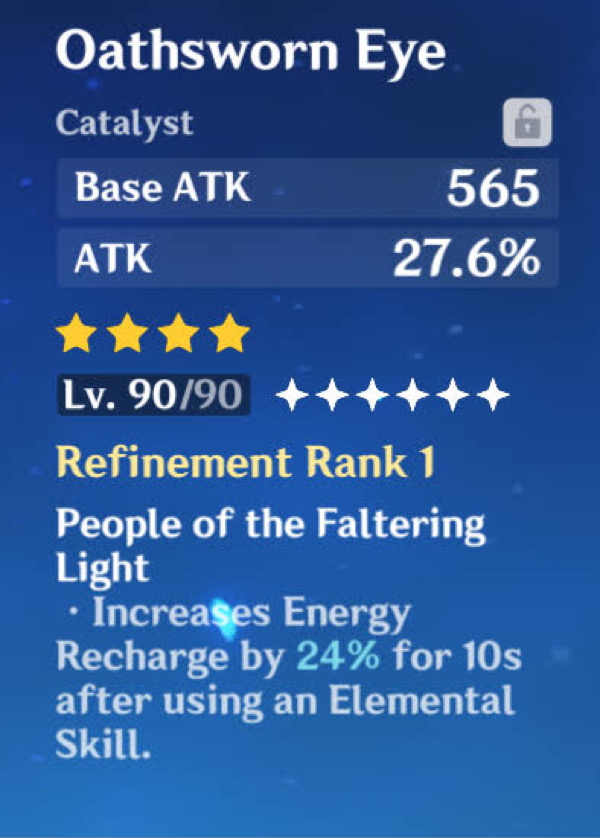 The weapon's passive increases the Energy Recharge once using an Elemental Skill by 24% for 10 seconds. Its passive will gradually become more powerful at each Refine Level until it reaches its max level, as the Energy Recharge will be increased by 48% for 10 seconds.
The developer has yet to confirm whether the passive's effect can be stacked or has a cooldown period after using an Elemental Skill, which can help Travelers determine which characters are best equipped to use this weapon.
Nevertheless, its stats and passive will likely benefit a character who scales off their DMG from Elemental Reactions, like Raiden Shogun, for example.
And that completes our guide on the next set of weapons arriving soon in Genshin Impact. We're interested in seeing how the weapons will fair on tier lists and the game's meta when the update launches.
Featured image courtesy of miHoYo.