Players can experience the amazing delectables that Inazuma has to offer with the latest recipe, Unagi Chazuke, that arrived in the 2.3 update for Genshin Impact. This seafood-based recipe comes with DEF-boosting stats that could prove useful for your character.
In this scrumptious guide, we put the spotlight on one of Genshin Impact's latest food recipes, how to acquire the recipe and the ingredients needed to cook up a bowl of Unagi Chazuke.
How to get Unagi Chazuke recipe and ingredients
Unagi Chazuke is a delicious main course meal that is commonly found in Inazuman homes and restaurants. It's essentially a regional dish and all of the dish's ingredients can be found in the region.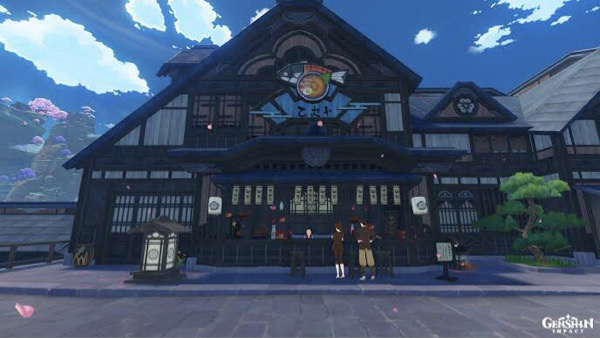 According to Genshin lore, the dish features a "well-boiled tea" that is "poured over rice with unagi on top and allowed to steep quietly until the rice grains have absorbed the fragrance of the tea". Once consumed, the dish's effects can be greatly beneficial for your character as well as the rest of your party.
To obtain the recipe for Unagi Chazuke, Travelers will need to travel to Inazuma City and locate the shopkeeper Shimura Kanbei, the owner of "Shimura's". The Adventurers' Guild is located right across from Shimura's so players can't miss it.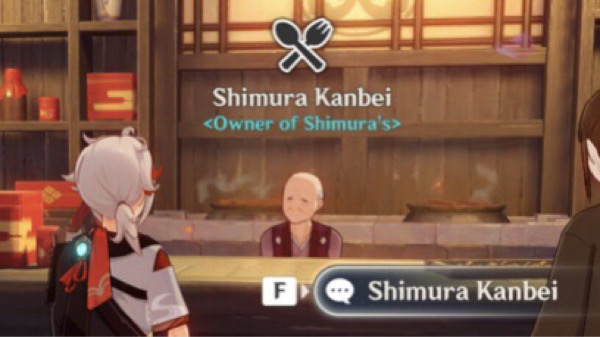 At Shimura's, players can purchase a variety of food and ingredients as well as recipes. Here, players can purchase the recipe for Unagi Chazuke for 4,500 Mora as well as some of the ingredients required to make the dish.
Below is the ingredient list required to cook this three-star dish:
Unagi Meat x4
Rice x3
Seagrass x3
Salt x1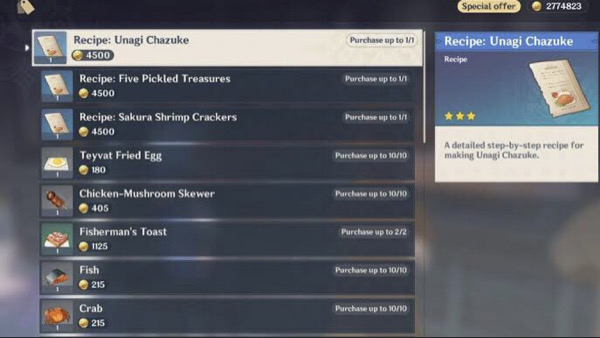 While Shimura won't have all the ingredients needed for the dish, players can fish for Unagi throughout the Inazuma region, particularly near Watatsumi Island and can visit Aoi at the Tsukumomono Groceries to purchase rice for 100 Mora. We have detailed wherein Teyvat players can find salt so do read more in our dedicated Genshin Impact guide to salt.
Unagi Chazuke rarities and effects
This light and hearty meal is a three-star rarity dish that increases the healing bonus of all party members depending on the various results produced. However, this effect will not be granted to other players when in co-op mode.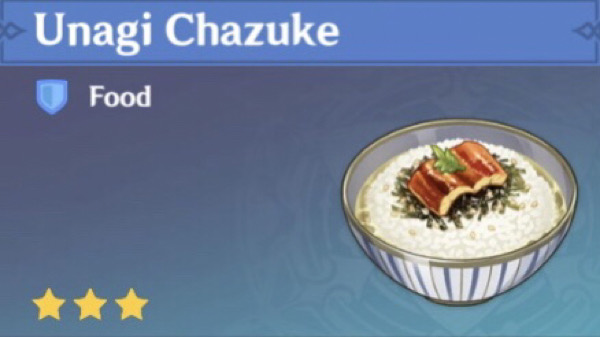 As mentioned previously, this dish can produce three different results with its unique effects.
Unagi Chazuke: Increases all party members' healing bonus by 17% every 300 seconds
Delicious Unagi Chazuke: Increases all party members' healing bonus by 20% every 300 seconds
Suspicious Unagi Chazuke: Increases all party members' healing bonus by 15% every 300 seconds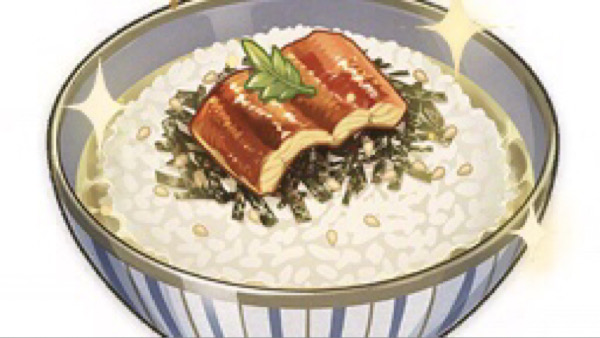 Enjoy the freshness and lingering sweetness of Inazuma in a bowl of Unagi Chazuke today and do ensure you have the right ingredients before cooking. Have fun and eat up, Travelers!
Don't forget to check out our dedicated Genshin Impact section for the latest news, updates, guides, leaks and more.
Featured image courtesy of miHoYo.