Patch 1.1 is barely cool, and 1.2 is already upon us. That means new content, new characters, and more importantly a whole new area - Dragonspine!
While 1.1 brought forth the (short-lived) Jade Palace, much of Genshin's unexplored territories remained frustratingly out of reach, kept away from the Traveller by invisible walls and "helpful" suggestions from Paimon that players shouldn't be heading that way yet.

(Picture: miHoYo)
Fortunately, Paimon will finally be giving the Navi impression a rest (at least for this one new area). The Dragonspine mountains will be open for exploration. Just… wrap up warm, alright?
Dragonspine
This all-new area will be found between Liyue and Mondstadt - more precisely north-east of Mingyun Village and south-west of Dadaupa Gorge. If you still need more guidance, look for the giant snow-covered mountain!
Putting the facetiousness aside, this new locale comes with a whole host of new gameplay mechanics to put your survival and adventuring skills to the test.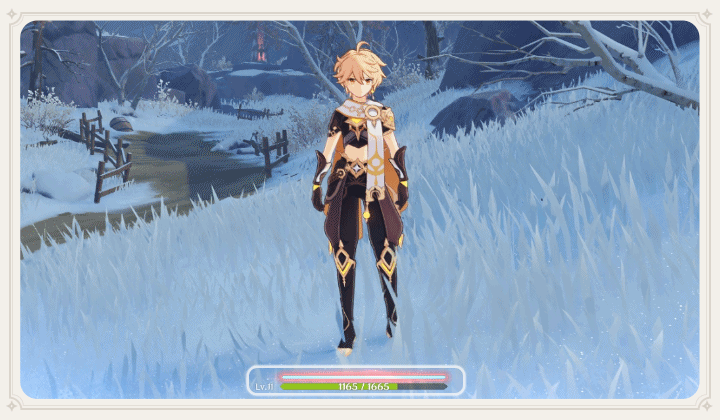 Letting Sheer Cold reach its limit is a bad idea. (Picture: miHoYo)
Subzero Climate
We weren't joking when we said you had to wrap up warm. The freezing conditions of Dragonspine are liable to put your party in ironically hot water if you don't come prepared.
Characters accumulate a new status effect, "Sheer Cold," while exposed to the harsh temperatures of Dragonspine, visualised by a blue gauge found above the active characters HP bar. If the Sheer Cold gauge ever fills completely, then your active character will start taking periodic damage until they warm up and remedy the Sheer Cold.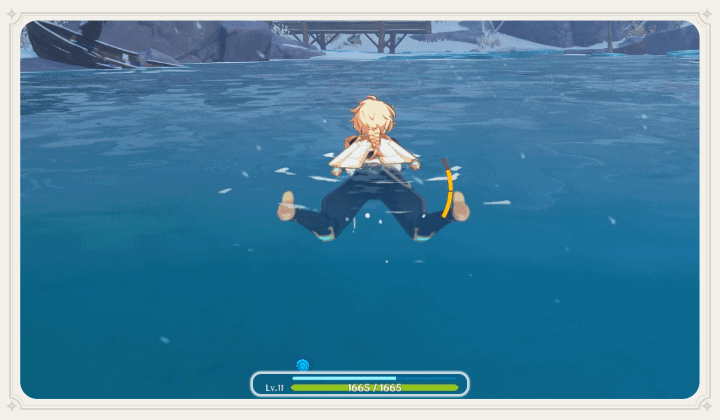 (Picture: miHoYo)
To make matters worse, getting caught in Snowstorms or swimming will increase the rate at which Sheer Cold accumulates - so be careful while exploring out there, Travellers!
Protecting yourself from Sheer Cold
Luckily, miHoYo have given players the tools to combat this unforgiving status effect. Here are the ones they've highlighted:
Use environmental objects
Huddling up next to braziers, bonfires,Teleport Waypoints and Statues of the Seven can all offer respite from the cold. Moreover, Dragonspine introduces all-new "Warming Seelie" and "Ruin Braziers" that can also help combat Sheer Cold.

(Picture: miHoYo)


Eat special food
Get it while it's hot! Eating appropriately warming food will also stave off the adverse effects.

(Picture: miHoYo)


Use special items and gadgets
You can craft specific items and gadgets that stave off the cold once you unlock their blueprints. You'll need to make offerings to the Frostbearing Tree first, however (more on that later).


Collect Scarlet Quartz
Lastly, this new material, when found and shattered, provides a warming effect that staves off Sheer Cold while its energy envelopes the player.
The only way to shatter this Peculiar Ice is with Scarlet Quartz. (Picture: miHoYo).
Even more intriguing is that Scarlet Quartz has a second use: it's the only way to shatter "Peculiar Ice." If you come across any in your adventures, don't waste time trying to melt or break it normally, go find some Scarlet Quartz!
The Frostbearing Tree
This all-new feature is unique to the Dragonspine mountain. The Frostbearing Tree is an ancient tree that stands guard and cares for the mountain, offering rewards to the Traveller when it is offered gifts.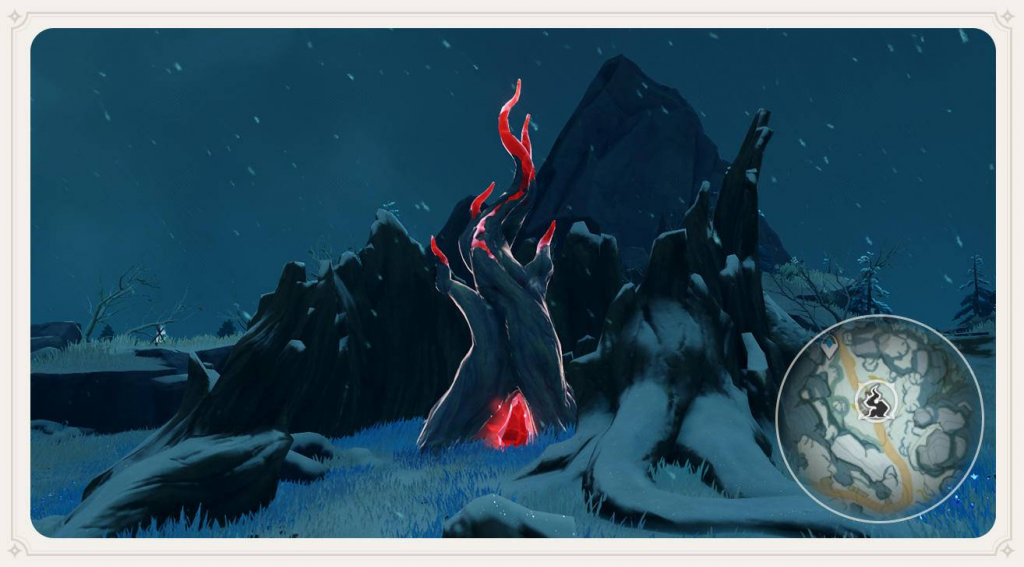 (Picture: miHoYo)
Those gifts come in the form of Crimson Agate, which can be found while exploring the territory. Offering the Agate to the Frostbearing Tree will level it up, earning the Traveller some impressive rewards, including Acquaint and Intertwined Fates, a Gadget Blueprint, a Wind Glider and an all-new 4* Weapon Blueprint.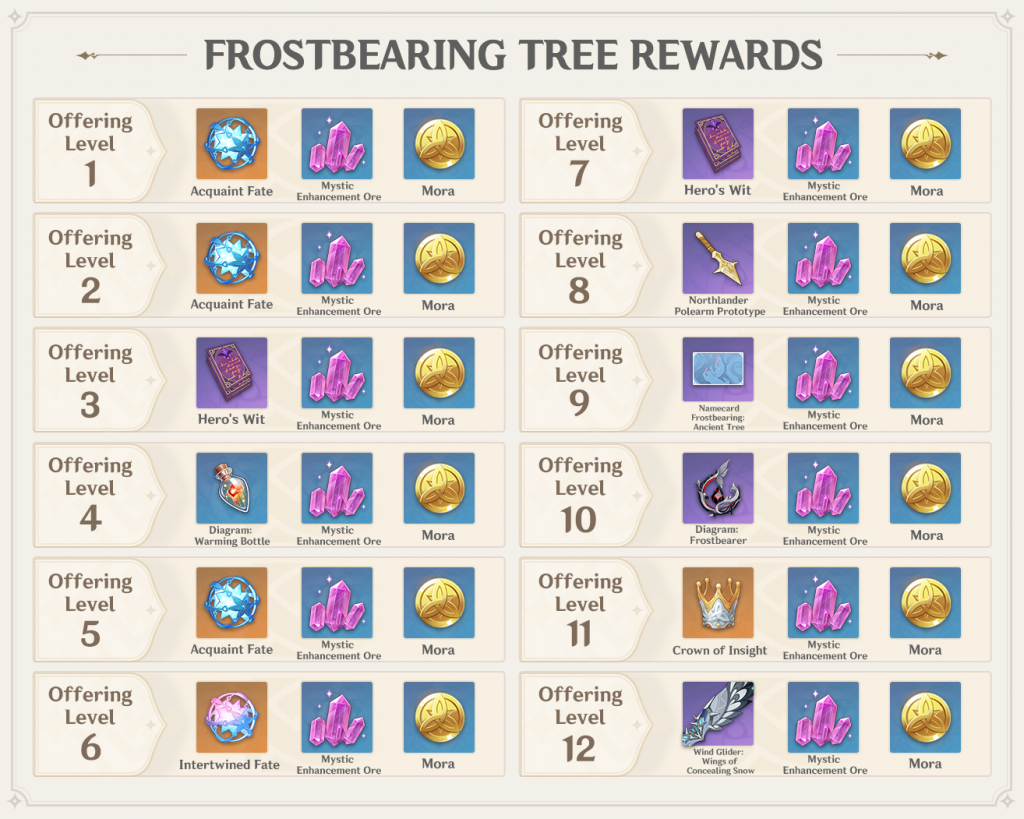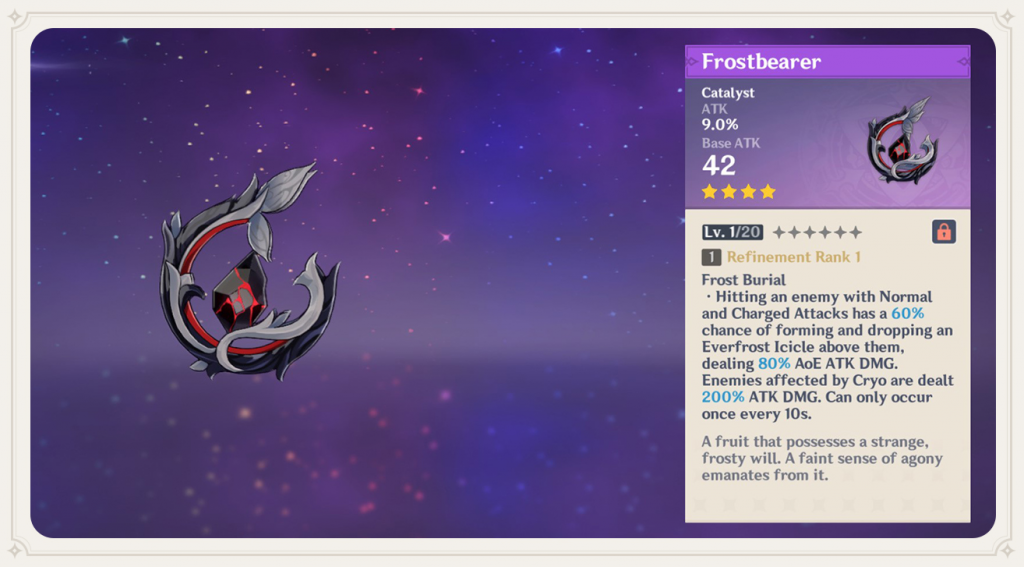 (Pictures: miHoYo)
Once the tree has reached Level 8, Travellers will also unlock the Crimson Wish. Crimson Agate is of limited supply in Dragonspine, and players can complete Crimson Wish quests to accrue more Crimson Agate to offer the tree. The quests refresh every Monday and Friday and will stop refreshing once the Frostbearing Tree reaches max level.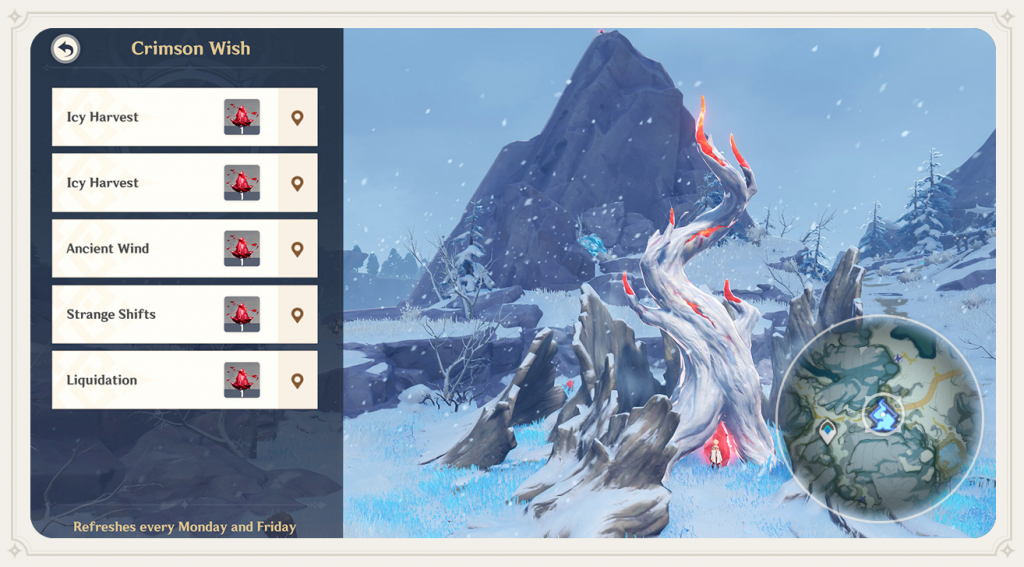 (Picture: miHoYo)
New Domain: Peak of Vindagnyr
After completing the quest "In the Mountains," players will have access to the new domain at the summit of Dragonspine called the "Peak of Vindagnyr." The domain will reward players who complete it with drops of two new artifact sets, "Blizzard Strayer" and "Heart of Depth."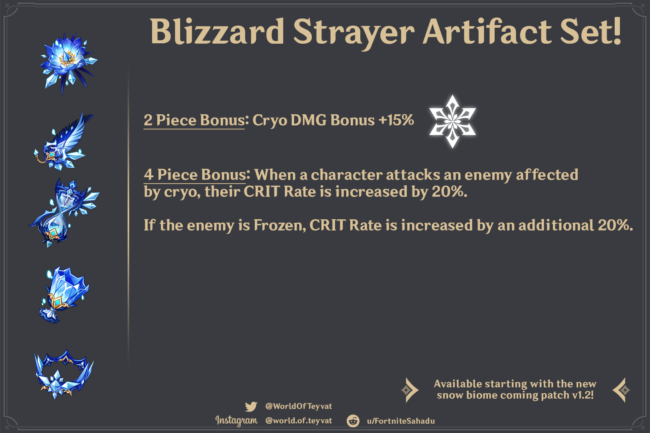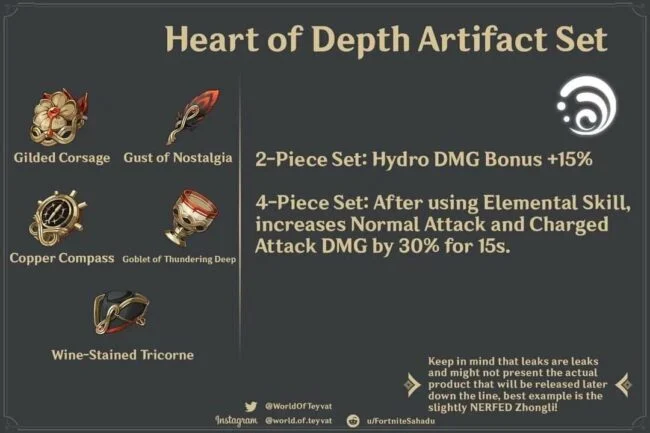 (Pictures: @WorldOfTeyvat)
Both high damage sets are archon-sends for Hydro and Cryo characters, who have been crying out for their own element-specific artifact sets. To get them though, you'll have to complete the domain, which will test players on their ability to manage that all-new status effect Sheer Cold - our tip, stick to the warm platforms!
The Chalk Prince and the Dragon Event
Lastly, 1.2 comes with a brand new event. Finishing up the new storyline will unlock the event-exclusive sword "Festering Desire." Completing specific quests and requests during the event period will unlock new effects for Festering Desire, and will also buff the character using it in the Dragonspine area.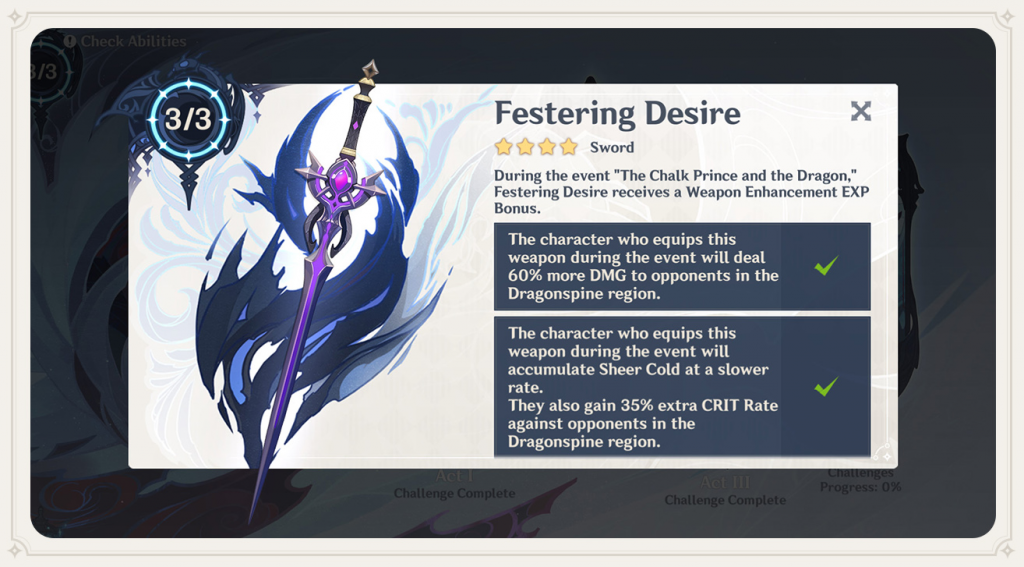 (Picture: miHoYo)
Even better, miHoYo has confirmed that players won't have to use Original Resin to participate once they've unlocked the Dragonspine area, and that rewards will be available for exchange through the Event Shop.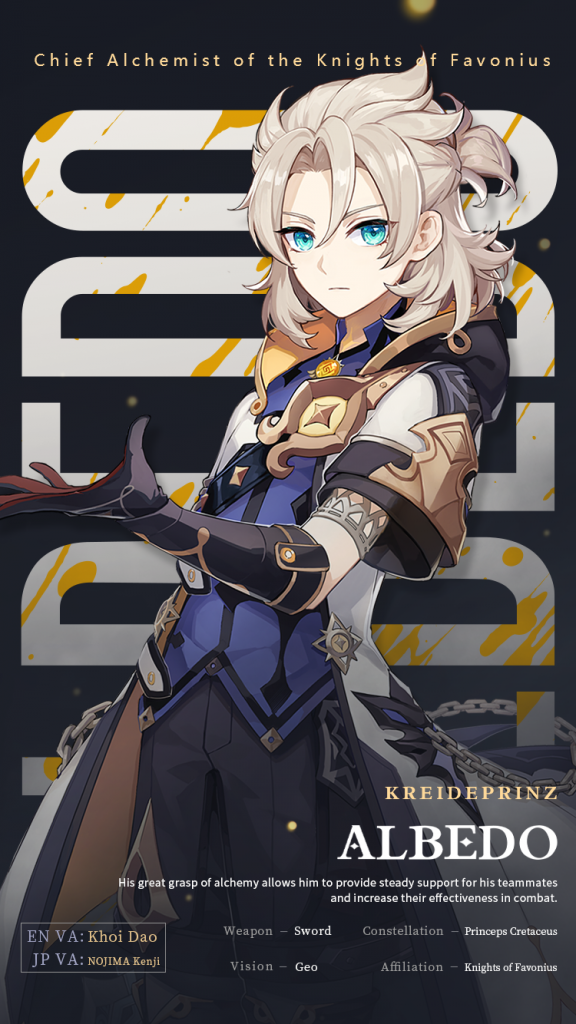 (Picture: miHoYo)
Version 1.2 will also see the release of new 5* characters Albedo and Ganyu - aka the Chalk Prince and the Dragon - who are a Geo/Sword user and a Cryo/Bow user respectively. We don't really have the space to be covering them in-depth here, but rest assured we'll have our own guides and thoughts on them for you to peruse elsewhere!
All that's left is waiting for Version 1.2 to drop! See you out in the cold, Traveller