Genshin Impact is loaded with a ton of valuable Gadgets that proves to be beneficial in specific situations. NRE (Menu 30) is one of the many gadgets which acts as a bag with two slots. However, like the majority of Genshin Impact gadgets, you can't get NRE (Menu 30) directly into the game.
Instead, you must obtain its blueprint first and then craft it in Mondstadt City. It's also worth noting that this gadget can serve you well if you know how to use it correctly in the game. So it's definitely worth grinding for NRE (Menu 30) once you're familiar with its function which is also explained in this guide.
How to obtain NRE (Menu 30) blueprint in Genshin Impact?
As we mentioned earlier, it's essential to get the NRE (Menu 30) blueprint first in order to craft the gadget. You can obtain it by reaching City Reputation level 5 in the Mondstadt region.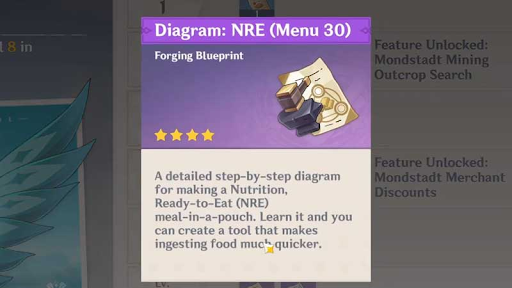 The City Reputation system arrived in Genshin Impact with update 1.1 on 11th November. In order to level up your reputation, you can complete quests, bounties, and requests for NPCs, which eventually increases your rank. But, it's highly recommended to focus on completing requests and bounties in the Mondstadt region rather than quests, as it allows you to reach level five more quickly.
Crafting Genshin Impact NRE (Menu 30) gadget
To craft the NRE (Menu 30) in Genshin Impact, navigate to the blacksmith in Mondstadt City location, where you can use its blueprint. However, make sure you have the following ingredients that are necessary to craft it:
20 Lizard Tail

20 Chaos Circuit

50 Electro Crystals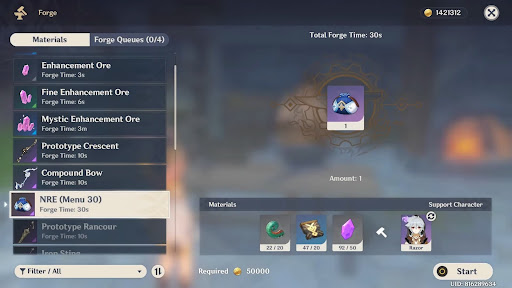 As you can see in the above image, it will take 30 seconds to forge the NRE (Menu 30). After that, you can equip it from the "Gadget" tab to utilise on the go.
How to Use Genshin Impact NRE (Menu 30)?
NRE (Menu 30) is a gadget that looks identical to a bag with two slots - one for HP recovery dish and one for revival dish. When it's equipped, you will be able to quickly ingest food without opening your Inventory.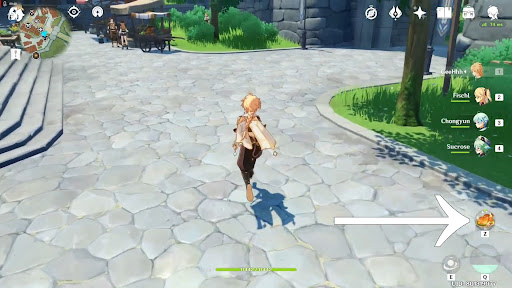 NRE (Menu 30) will automatically offer the dish that best fit your squad's condition. For instance, the gadget will provide you with an HP-recovery dish if you lose some hit points. On the other hand, if the enemy defeats you in a battle, NRE (Menu 30) will offer you a revival dish. 
The default hotkey to use this gadget is 'Z', but it can be changed from game settings as per your preference. 
So there you have it, what you need to know about the NRE (Menu 30) in Genshin Impact.
Don't forget to follow our dedicated Genshin Impact section packed with guides, updates, news, and more.