As you progress in Genshin Impact, you will come across a ton of different NPCs in the world of Tevyat. Huffman is one of the many non-playing characters in the game who is a member of the Knights of Favonius. Apart from this, he also plays a vital role in a bunch of world quests such as Noctua Chapter: Act I, Diluc's Story Quest.
For this reason, completing these world quests is a daunting task unless you know the exact location of Huffman in Genshin Impact. If you're also having a hard time figuring out his location, here's an essential guide through which you can easily find him in the game.
Where to find Huffman in Genshin Impact?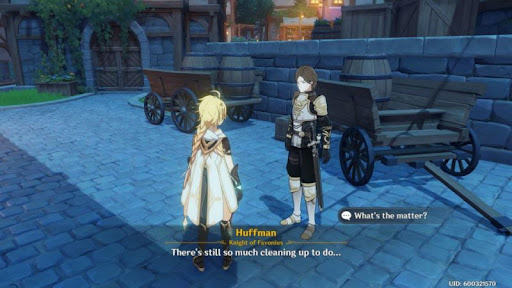 Huffman is only found in the city of Mondstadt, randomly wandering around the streets near Angel's Share tavern. Even though he never leaves the Mondstadt town, finding him in Genshin Impact is still a tricky task as he can't be found at the same spot every time. Hence, Travelers have to scout the streets of Moundstadt in order to find the Huffman.
To locate him in the city of Mondstadt in a short space of time, we recommend players to start off by navigating to the top of the Church, where they will have a clear vision of the whole town. However, make sure to set your character's draw distance at maximum level and start running downwards until you find Huffman.
As we've mentioned earlier, he's one of the oldest members of Knights of Favonius. Thus, you're most likely to see him in the standard uniforms of the Knights with a black long-sleeve shirt, gloves, horse riding pants, and brown leather shoulder pads. After finding Huffman, speak with him to complete the quest's objective.
So that's everything, what you need to know about finding Huffman in Genshin Impact.
Don't forget to check our dedicated Genshin Impact section, where you can find all the news, guides and leaks you desire.
Featured image courtesy of miHoYo.