Update: 
Yes, he
probably did
.
Original story:
In December of 2020, it has been reported that GTA RP streamer SAVx has passed away.
The 22-year-old American has been a well-known member of the GTA RP NoPixel community but has suddenly disappeared in December last year.
His fate was unknown for some time following the sudden absence, until Nidas, another member of the NoPixel community, announced that he got a message from SAVx's brother, confirming that SAVx has passed away.
"I received an answer yesterday, from his brother," Ninad said. "I was asked to share this information with individuals who have known him and cared to ask, but since Sav was part of so many people's lives and helped bring laughs and advice to so many of us I needed to take some time to figure out how to properly share this with the rest of you."
Apparently, sometime before his alleged death, he has been banned from the NoPixel server, but his name is on a Memorial Plaque along with other Nopixel members who have died.
But a number of the NoPixel community members is now questioning if SAVx is really dead or did he fake his own death.
Did GTA RP streamer SAVx fake his death?
According to Koil, another member of the NoPixel community, even back in December, a number of people questioned the truthfulness of the news of his death.
But now the question resurfaces, due to a series of weird messages and suspicious activities in regards to SAVx's personal accounts on the internet.
Ramee, one of Sav's best friends and member of NoPixel, has recently received private messages directly from SAVx on Discord(or someone who mimics him).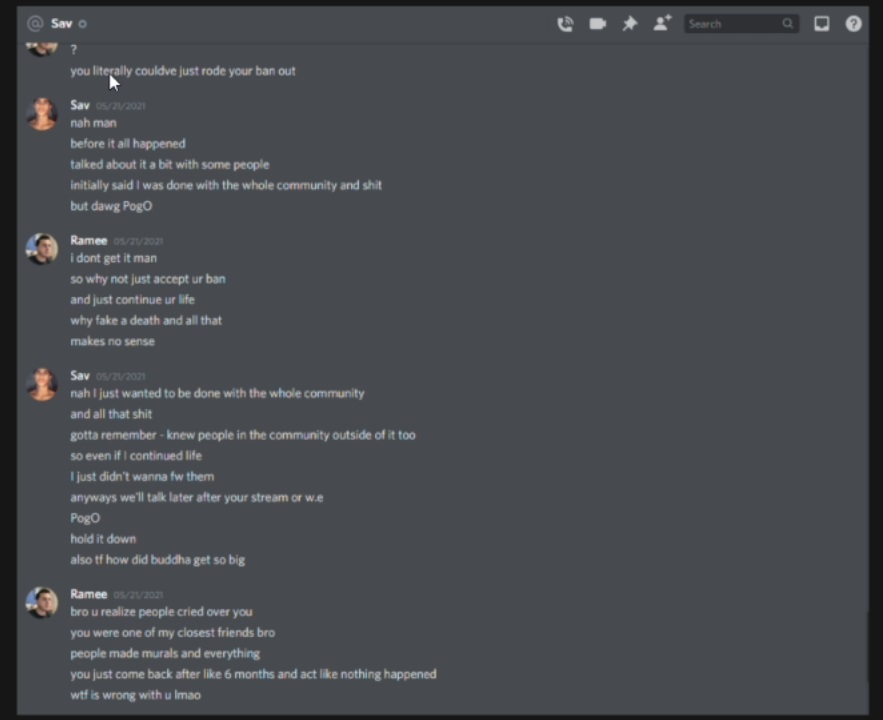 (Picture: Ramee)
According to these screenshots from 21st May, a person behind SAVx's Discord account claims Sav "has faked it all" because he "wanted to be done with the whole community."
Whether this is really SAVx or someone who has hacked his account is not known at this moment, but people familiar with the NoPixel community claim Ramee and Sav were close friends and Ramee can easily recognize if Sav is the man behind the messages.
Furthermore, other activity around his Twitch and Twitter also raised suspicions.
An unknown person has recently activated his old Twitter account FlawALSS, which has been connected to SAVx's Twitch channel. As reported, this can be explained by the fact that SAVx has deleted his Twitter account prior to his death, and his old Twitter handle has become available for anyone to use.
The person reactivating it claims that he is a fan of SAVx and just wants to honour his name.
Public service announcement!! I seen what's going on from shotz vod from today. I made this account after his was deactivated to keep his name going. I was going through it at the time I managed the weather the storm and forgot I even had this account name.

— FlawALSS (@FlawALSS) June 2, 2021
Finally, the mod team behind SAVx's Discord server claims that they are all in the dark, and they are none the wiser to SAVx's wellbeing.
"None of us Mods; or Lads know what is going on with SAV; trust me, all of us miss him," Sav's mod Dorky wrote. "People are free to come to their own conclusions on whether he is alive or has passed away those are for you to decide and reflect upon."
At this point, no one knows for sure who is the person behind Discord messages and whether Sav really did fake his own death.
We will update the story as more information becomes available.