Halo Infinite's multiplayer has received significant changes since it received a surprise release on 15th November. While the battle pass progression and microtransactions can still benefit from subtle and necessary tweaks, overall, Halo Infinite multiplayer is in a much better state than it was over a month ago.
Like most live-service and multiplayer titles, Halo Infinite's winter event, called Winter Contingency, is now also live across all platforms. The 14 days event offers a 10 tier free battle pass for players to progress. While Halo Infinite's Winter Contingency event doesn't offer unique armour core sets like the Yoroi from Fracture: Tenrai event, there's still plenty here to keep fans hooked till the end. With that said, here's every Winter Contingency reward players can unlock:
Winter Contingency rewards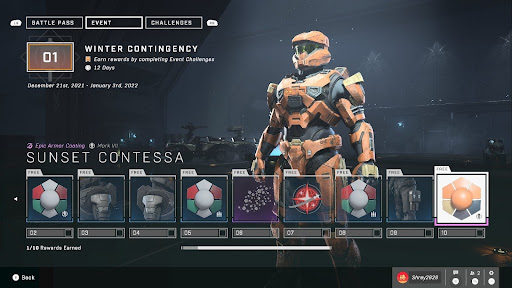 Wild Justice nameplate (Epic)
Peppermint Laughter armour coating (Rare)
UA/Tatitus shoulder left pad (Rare)
UA/Tatitus shoulder right pad (Rare)
Peppermint Laughter MA40 Assualt Rifle weapon coating (Rare)
Snowmageddon backdrop (Epic)
Navlogcom nameplat (Rare)
Peppermint Laughter MK50 Sidekick weapon coating (Rare)
Meysel ammo pouch (Rare)
Sunset Contessa armour coating (Epic)
There are also winter-themed items in Halo Infinite's item shop for players to purchase. There's also the much-requested cat ears bundle now available for 1000 credits, roughly equivalent to $10. The Fracture: Tenrai event also returns on 4th January and players can finally resume progressing its 30 tier free battle pass. Overall, it seems Halo Infinite players have a lot to look forward to this holiday season especially for those who have yet to check out the campaign.
Don't forget to check out our dedicated Halo section for the latest news, updates, esports coverage, guides, leaks and more.
Featured image courtesy of 343 Industries.