Famed TSM mid-laner Søren "Bjergsen" Bjerg has announced that he is retiring from playing duties and taking on a role as head coach. 
The Danish League of Legends' star has had a glittering career with eight seasons of competitive LoL under his belt.
In that time he won six LCS Championships, four season MVP awards, attended Worlds five times, and won an IEM World Championship,  being selected for the All-Star event four times.
The 24-year old Denmark native has recently become co-owner of TSM, pushing him to further his career with the organization in other areas of interest.
TSM @Bjergsen announcement

📺: https://t.co/gySbf4NoEJpic.twitter.com/SCoghVKJAx

— TSM (@TSM) October 24, 2020
TSM failed to make it out of groups in this year's League of Legends World Championship and picking up the unfortunte record of being the only team ever to fail to win a game at a World Championship, prompting questions amongst fans on what had gone wrong.
After the organization recruited ex-TSM player Yiliang "Doublelift" Peng, hopes were high for the popular NA team. Unfortunately, neither Bjergsen nor Doublelift could help the team out of groups, and their loss was clearly the catalyst for changes at the organization.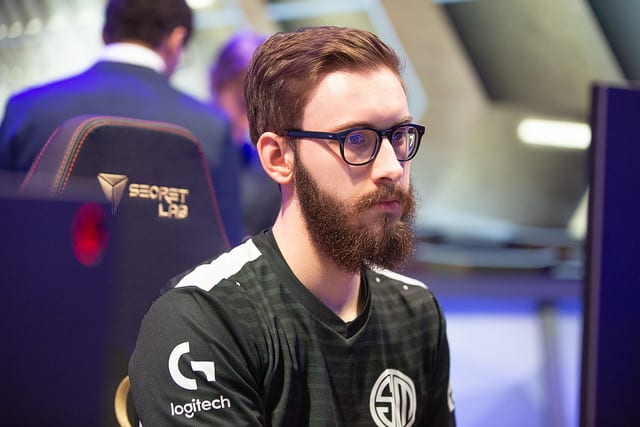 Bjersen's last appearance at Worlds was one to forget. (Picture: lolesports)
"I'm really grateful for what playing professionally and what League of Legends and TSM has really given me," begins Bjergsen in his announcement video. "After playing professional League of Legends for about eight years and playing for TSM for I think close to six, I'm here to talk about the fact that I'm retiring as a professional player and stepping into the Head Coach role for TSM."
Bjergsen leaving the team as a player has opened up possibilities on who could be the next mid-laner.
Following in Bjergsen's footsteps will be hard shoes to fill, and thoughts at the moment are only on the loss of one of the games' stars.
VALORANT player Ivo 'Linepro' Kolev for Cream Real Betis shared that Bjergsen "once inspired [him] to be who [he is] right now and overcome every single challenger [he] have in front of [him]."
Additionally, T1 CEO Joe Marsh said he is one of the "games iconic players" and wishes him the best of luck.
You're the player that once inspired me to be who I am right now and overcome every single challenger I have in front of me. All I can do it's wish you good luck and only the best for whatever you plan in the future and Thank you for everything you've done without even noticing.

— Ivo 'Linepro' Kolev (@ivo_kk) October 24, 2020
There's no word yet as to any other changes, but rumors have been going around about TSM player switches and changes, though none have been confirmed at this time.
Fans will likely receive more news once Free Agency begins on the 16th of November.