Week 8 of the LCS kicked off after a tumultuous week where it wasn't clear if the games would continue due to COVID-19 concerns.
Thankfully, the LCS production team came in clutch, providing casters and analysts with the means to be able to each work from home and still give us the best shows they could.
We breakdown Week 8 below. You can check out our previous Week 7 recap here.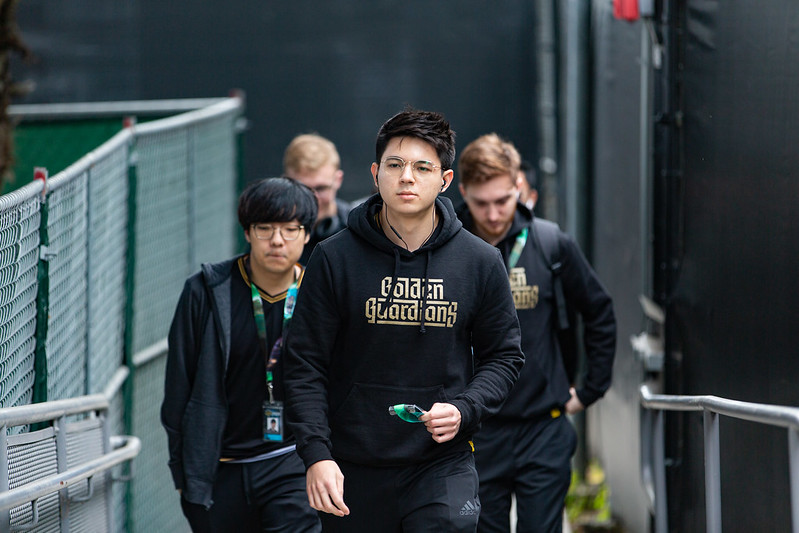 The LCS continued after a brief suspension (Picture: Lolesports) 
Because of the new way the games were brought to us, there were some significant changes to the broadcast.
For one, there will be no more Monday Night League for the foreseeable future as all games will now take place on Saturday and Sunday as they were in previous splits.
There also has not been a complete 30-minute pregame in Countdown as we've seen before - James "Dash" Patterson and his guests have about a 10 minute discussion before we're brought immediately into the games.  
Another big change is there haven't been any interviews like there usually is after the games; this is not immediately apparent as to why, but it may be that there can only be so much equipment being given out and they may want to have kept it for the essential people only.
There is also no word on whether or not adding interviews to games further down the line will apply.
Clayton "CaptainFlowers" Raines and Isaac "Azael" Cummings-Bentley, who you probably saw during the LCS impromptu in-house games, have had a massive showing in these broadcasts; CaptainFlowers cast all the games on Sunday and three on Saturday, with David "Phreak" Turley helping out on Saturday and Josh "Jatt" Leesman helping on Sunday. 
Finally, before each game a five minute commercial break is given to ensure competitive integrity. This causes a delay so that the actual game ends before what is being broadcast actually ends, protecting player strategy presumably as the maps and pings are shown.
The production was extremely well done and I'm sure I can speak for how thankful the community is to Riot, the casters, analysts, players, and production team for making it all happen. Let's get into some of the games. 
TSM still in Top 4
TSM had a rocky weekend, going 1-1 but still in the top four, which is a good thing as we get closer to playoffs.
Double elimination allows the top four teams to have a second chance if they lose, so this is quite important. In their first game against Golden Guardians, they dominated.
They clearly came to play some League of Legends and were strong right out of the gate, with Søren 'Bjergsen" Bjerg deathless by the end of the 30 minute game and going 2-0 in kills by 8 minutes. With a 3.5k gold lead by 10 minutes, the team was unstoppable. 
However, on Sunday, there were some evident issues in their game against Immortals. It's possible that against Golden Guardians, the win came to them easy, but Immortals put up a fight.
The last time these teams played together was week one of the LCS, and the game went over 60 minutes. This game was 45 minutes, with Immortals taking it finally after a close game.
TSM were down 3k gold at 16 minutes, which is the opposite of where they stood the day before, and they could not seem to get ahead. Despite the loss, TSM are still poised to be part of playoffs, so long as they don't completely whiff the next three games. 
Cloud9 experiments a little 
Now they've clinched their first seed spot in playoffs, Cloud9 have decided to mix things up and try out new comps, like Kalista in the top lane, and Gragas/Yasuo for some jungle/mid synergy.
In their games against 100 Thieves and then CLG, this experimentation led to some questionable fights and plays, but in the end, Cloud9 came out on top both days.
This strategy can also be helpful because since they have taken first seed, to experiment and play random champs can make it harder for other teams to prep against them, which may help them in playoffs. 
For both of these games, C9 did not really have the dominant leads they normally have, with their opponents being able to catch up on kills or objectives.
In their game against 100 Thieves, they only had a 1k gold lead at 8 minutes, and the kills continued to be roughly even. The game slowed down somewhat and it seemed that 100 Thieves might still be in this, when a combination of ults by Robert "Blaber" Huang on Gragas and Yasin "Nisqy" Dinçer on Yasuo completely knocked up the enemy team, causing Cloud9 to get the ace and win the game at 29 minutes. 
In their game against CLG, almost the same pattern emerged. There was barely any gold lead, Kim "Ruin" Hyeong-min on Jayce and Eugene "Pobelter" Park on Rumble were both doing really well, and Eric "Licorice" Ritchie was having a rough game, getting caught out a few times and dying.
Again, you wondered if CLG might even be able to catch up or win the game, when all of a sudden, while watching Licorice and Ruin in the top lane, the rest of the teams came to fight in midlane, and while Licorice again fell, his teammates stepped up, took the kills, and the game at 34 minutes. 
Team Liquid and their rough road ahead 
Three games separate Team Liquid and playoffs. Three games, and they need to win them all. And for a team that has been vastly inconsistent the entire split, this seems like a tall order.
Liquid played against Evil Geniuses and Golden Guardians this week, but the other teams they play coming up include FlyQuest and Cloud9, which are harder matchups. 
In their game against Evil Geniuses, the pressure continued to be applied. Liquid were at a 2.5k gold loss at 20 minutes, and the lead kept extending as the game went on.
In addition to gold leads and dragon soul being acquired by Evil Geniuses at 35 minutes, Team Liquid fell victim to a Baron play trick that they should not have been deceived by.
As Colin "Kumo" Zhao and Dennis "Svenskeren" Johnsen stayed on Baron, Tristan "Zeyzal" Stidam teleported on Tahm Kench to the midlane, taking AD Carry and mid laner with him, making Liquid think that EG had backed off of the objective, and because they did not have vision, they decided to go to drake instead. By the time they realised what was happening, Evil Geniuses had just taken Baron, and soon thereafter, the win. 
Their game against Golden Guardians went a bit different. While GG started stronger in the beginning, they quickly began to falter, and Team Liquid began with 3 kills at 13 minutes.
Choi "Huhi" Jae-hyun kept getting caught in the midlane under tower, which caused both rift heralds taken by Golden Guardians to be rendered relatively useless as every time they tried to use it to their advantage, it was stunted by their support getting chunked down by Liquid.
One of these times, it happened as GG were trying to use it before the drake, which prevented them from getting it and giving it to Liquid instead.
It did not take long for Liquid to begin to steamroll past Golden Guardians and get the win, but as mentioned before, it's unclear if Golden Guardians are just not at the level they should be (so they were easy for Liquid) or if Team Liquid are finally finding some sort of cohesion. The last three games will tell us everything. 
Be sure to catch more weekly recaps here on GINX TV and check out Week 9 of the LCS Spring Split beginning 28th March, at 22:00 GMT (13:00 CET / 02:00 PST). You can catch it on YouTube, Twitch, and lolesports.com.