Overwatch League's Florida Mayhem are facing backlash following a statement shared via Twitter concerning allegations of sexual misconduct involving a now-former employee of the organization, with the organisation facing criticism for sharing contact information of the victim while not doing a proper investigation into the accusations.
Anthony "antwn" Salzarulo, the ex-employee in question who worked as a social media manager and graphic designer for Mayhem and Misfits Gaming, was accused back in June of sexual misconduct. Soon after, John Kracum, President of the Mayhem, suspended Salzarulo without pay while an investigation was taking place.
The thing that initially upset a lot of people was that the team included the accuser's Twitter handle, which could lead to harassment and vitriol towards the person.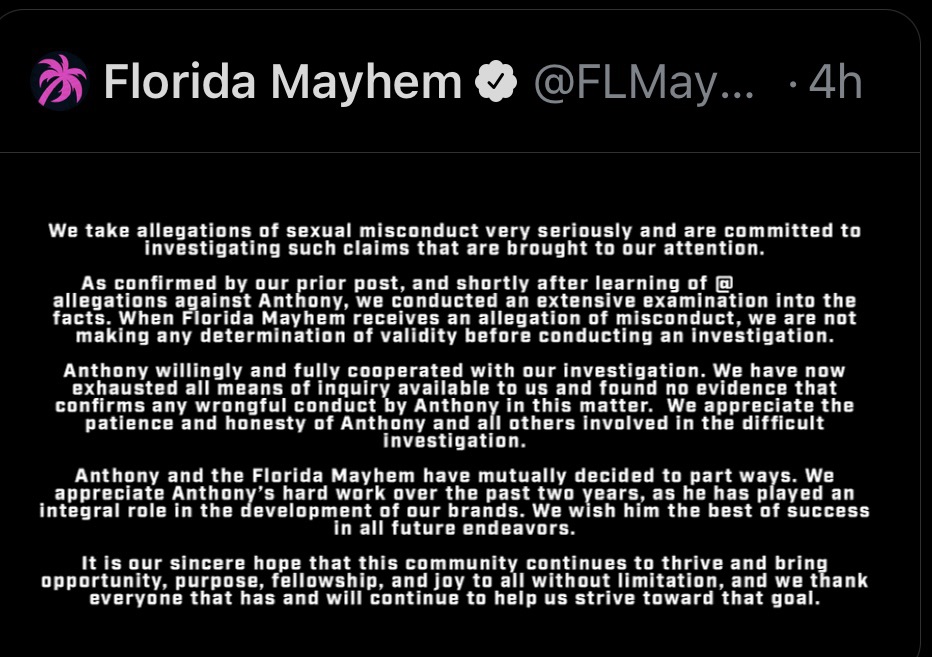 Original Mayhem statement (Picture: Florida Mayhem)
The Overwatch community immediately reprimanded the team for their decision of naming the victim in an announcement that also cleared the accused. Perhaps the most notable personality to speak against this choice was former Houston Outlaws DPS and current Overwatch League caster, Jake Lyon.
It's not acceptable to name the victim in a public forum. Should delete this right now @FLMayhem

— Jake Lyon (@jakeow) January 6, 2021
"It's not acceptable to name the victim in a public forum. Should delete this right now."
It took whoever was in charge of posting the tweet almost four hours before they decided to remove it, sharing the exact same statement without an apology towards the victim.
January 6, 2021
Soon after, people close to the victim shared counterclaims, explaining that in six months, no one from the Mayhem organization made an effort to contact the victim or close friends beyond some perfunctory text messages back in June.
Twitter user Aerin tweeted the following picture, parodying Mayhem's original statement, claiming that they "conducted a thorough investigation in 6 months despite never having contacted the victim or her acquaintances who were present or nearby when the allegations took place beyond from a couple of messages the day the allegations were brought to light."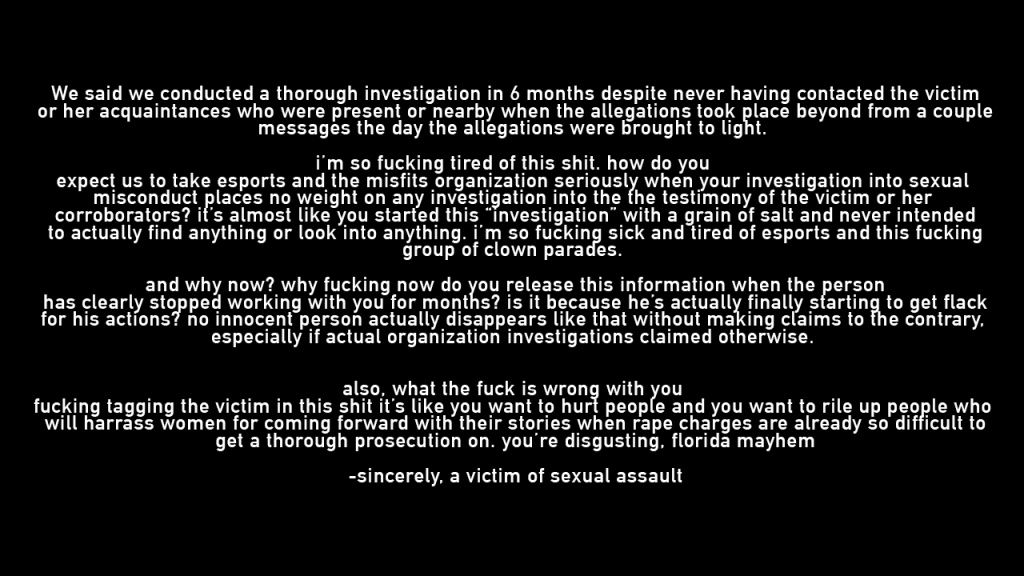 (Picture: @4ERlN)
The victim, who shall remain unnamed, criticized the organization for not keeping her in the know regarding the investigation and still deciding to publicly out her Twitter username without any warning. 
"You couldn't bother to tell me anything (...) but yeah, go ahead and use my @. that's cool. thanks a lot!"
As of right now, the Florida Mayhem has yet to issue a follow-up statement of any kind.