Fortnite's Creative Mode is the game's sandbox feature that allows players to conceptualise and produce content for Creative Islands in-game. These islands allow their creators to create (or break) the rules, have their friends play on their created islands or reimagine worlds and designs from popular media sources.
Creative Mode is an outlet for builders to create their ultimate Fortnite experience in their vision. More recently, one builder spent half a year recreating a popular map from Overwatch and have now finally debuted their hard work online for all to see.
Player brings Overwatch Hanamura map to Fortnite
Overwatch is no stranger to bizarre and unique crossovers. For example, we have seen references from the team-based multiplayer appear in other properties, including games like Heroes of the Storm to film and television projects like Ready Player One.
However, one dedicated Overwatch player took the liberty of taking the popular Assault map, Hanamura and reimagining the map's scope in Fortnite Creative. While we have seen sections of the map appear in Valheim, this is the first time a player has recreated the entire Hanamura map in another game.
The player posted their work on Reddit and noted spending six months building the Hanamura map and included the Creative Code for fellow players who might like to play on the created island.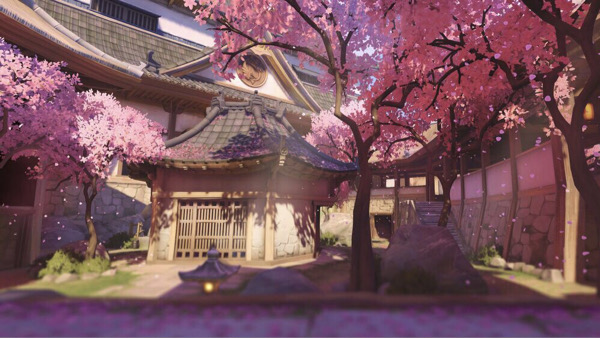 The video highlighted the original Overwatch map areas, including the Rikimaru Ramen Shop, the Arcade Room, the majestic Shimada Castle, and the adjacent shrine. Furthermore, the recreated map references several Overwatch weapons and characters, including Tracer, Reaper, Ashe and Winston.
The best part of the video showcases a duel between Genji and Hanzo, referring to the Overwatch animated short, Dragons. The player also added both characters' voice lines in the montage video, which should be a treat for Genji and Hanzo mains.
Since the player uploaded the video, the post received a 97% upvote as many players were impressed with the map design (as were we). One Reddit user enjoyed the Genji and Hanzo callback in the montage video, noting that while they "don't play Fortnite," the design looked "amazing".
Another Reddit user has put forward their submission on which Overwatch map they should recreate next. "Congratulations, you have a lot of talent! Let's wait for King's Row!" Reddit user MastroLube commented.
It will be impressive to see the player recreate the King's Row map in Fortnite Creative. Personally, Ilios or Lijiang Tower are maps I would like to see next.
For more on all things Overwatch, check out our dedicated section filled with news, guides, patch notes, and many more.
Featured image courtesy of Activision Blizzard and Epic Games.