PUBG esports is starting 2021 with a bang.
Announced in November 2020, PUBG Global Invitational.S 2021 will be one of the biggest PUBG events ever, both in terms of the tournament's structure and prize money.
In total, 32 teams from all around the world are invited to PGI.S where they will have a chance to compete for their share of $3.5M USD prize pool.
The event will be held live in the Republic of Korea, but PUBG Corporation assures everyone that they have taken all possible precautions in order for the tournament to be safe for everyone involved.
All teams will have two weeks of quarantine prior to event and organisers will provide "various services to help keep everyone comfortable during their isolation."
With all that in mind, let's take a look at all the details you want to know about the biggest PUBG event to date.
PUBG Global Invitational.S 2021 schedule
The event will last for 8-weeks, starting 1st February and ending 28th March.
The event will be split into 6 different Weekly Series, and each week is made of two parts: Weekly Survival and Weekly Final.
The Weekly Survival matches are played from Tuesday to Thursday, while Saturday and Sunday are reserved for the Weekly Finals. 
The exact details regarding schedule and start times are yet to be announced, but you can see the calendar below: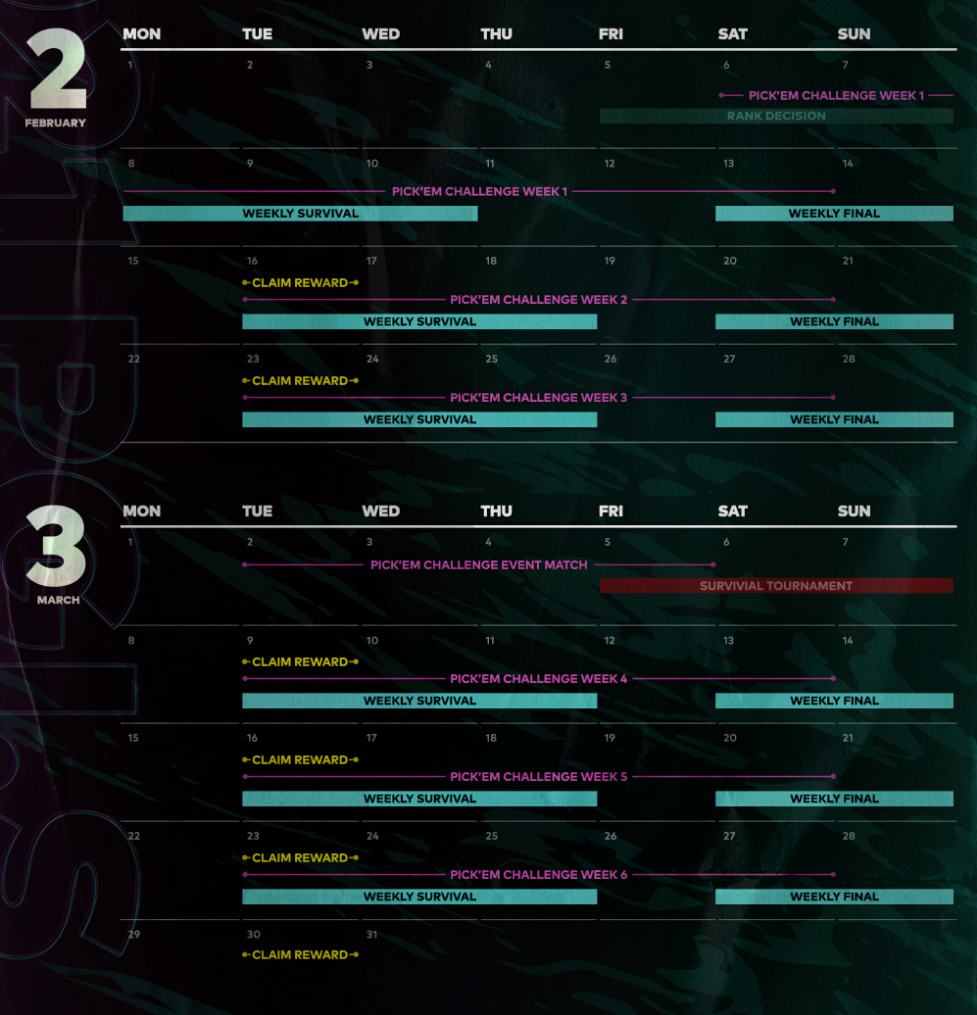 PUBG Global Invitational.S 2021 calendar (Picture: PUBG Crop)
PGI.S 2021 Format
Rank Decision
During the first week, all teams will participate in preliminary "Rank Decision" matches to decide their placement, with the top 16 teams participating in the first Weekly Survival match.
4 groups of 8 teams.
4 Matches per team/day in a round-robin

Top 16 will start in 1st Weekly Survival
17th-31st will be put on the waitlist for the 1st Weekly Survival
32nd team is instantly eliminated from Weekly Survival and is placed into Reseeding Stage.
Weekly Survival
During the Weekly Survival phase, a total of 16 matches will be held in order to find 16 Chicken Dinner winners.
Those 16 winners from the Weekly Survival will earn prize money and a spot in the Weekly Finals.
If the winning team already has their spot secured for the Weekly finals, then the next highest-ranked team will get the spot.
Weekly Finals
Weekly Finals will have a total of 10 matches and the bigger prize pool, which teams will earn based on their performance.
The team with the most amount of prize money after 8 weeks will be the final champions of PGI.S.
PGI.S 2021 teams
A total of 32 teams from regions around the world are invited to participate in the event.
Europe: 7 Teams
- Team Liquid
- FaZe Clan
- TSM
- ENCE
- Virtus.pro
- Natus Vincere
- Digital Athletics
China: 6 Teams
- Infantry
- Petrichor Road
- MultiCircle Gaming
- Triumphant Song Gaming
- Four Angry Men
- Tianba
Southeast Asia: 5 Teams
- DivisionX Gaming
- LG Divine
- Daytrade Gaming
- Buriram United Esports
- Attack All Around
North America: 4 Teams
- Zenith Esports
- Oath Gaming 
- Shoot To Kill
- usquehanna Soniqs
South Korea: 4 Teams
- Afreeca Freecs
- Gen.G
- T1
- DAMWON Gaming
Latin America: 2 Teams
- FURIA Esports
- Meta Gaming
Japan: 2 Teams
- DetonatioN Gaming White
- ENTER FORCE.36
Taipei: 2 Teams
- K7 Esports
- Global Esports Xsset
PGI.S 2021 Prize Pool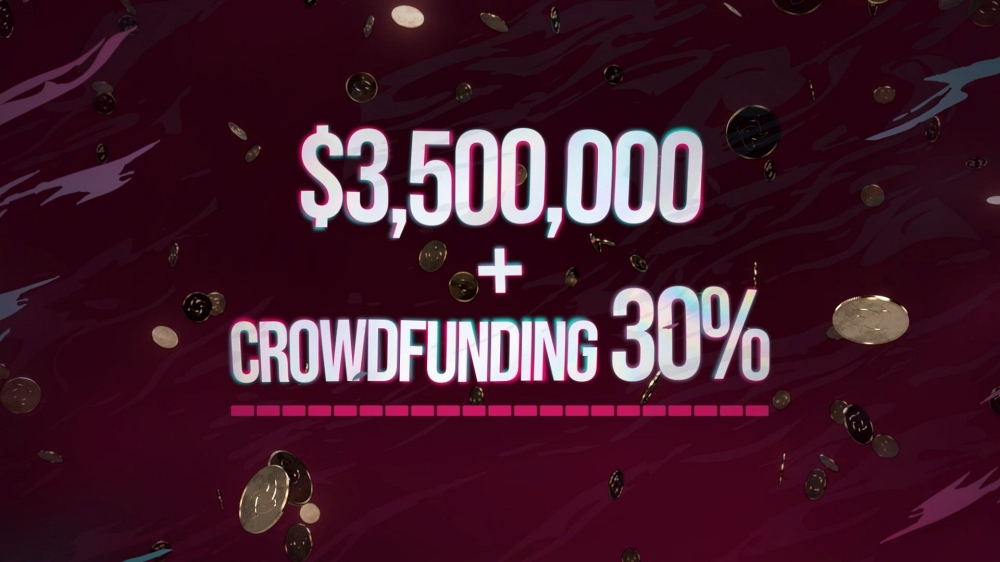 (Picture: PUBG Crop)
PGI.S offers a whopping $3.5 million for teams to earn during the competition, and the team with the most amount of prize money after 8 weeks will be the final champions of PGI.S.
The prize money for Weekly Survivals will decrease gradually from Match 1($10k) to Match 8($1k) but the Weekly Finals rewards will incrementally increase with each match, from $50,000 during the first week, up to a $1 million during the final week!
 Below you can see the full breakdown of rewards for both Weekly Survival matches and the Weekly Finals.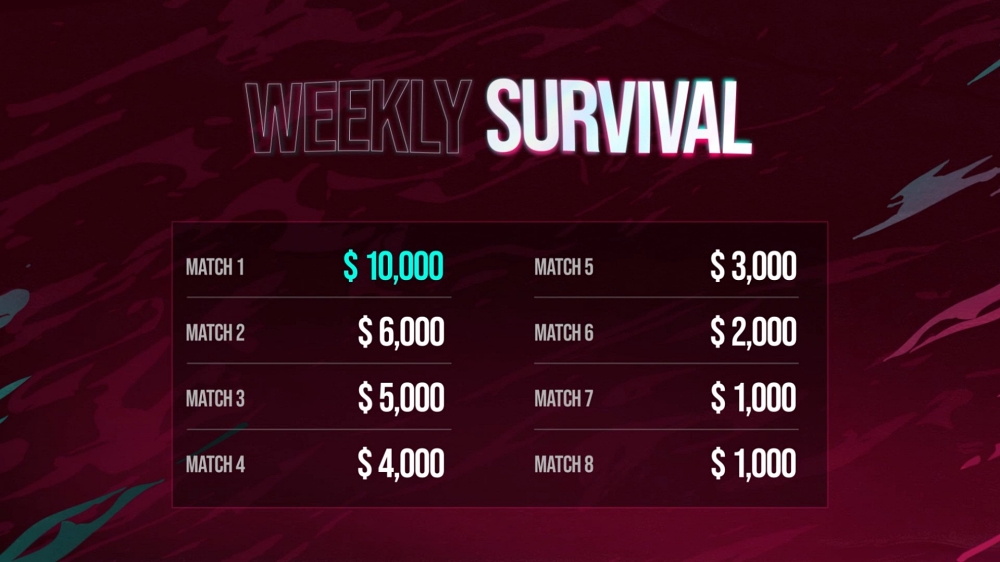 (Picture: PUBG Crop)

(Picture: PUBG Crop)
Additionally, teams will earn 30% of the profits from the sale of PGI.S items in the store, and it will be distributed to teams based on how much prize money they won during the tournament.
PUBG Global Invitational.S 2021 stream: how to watch?
The event will be broadcasted live on the official PUBG channel