PlayerUnknown's Battlegrounds may have seen a wave of teams depart in recent months, but plans are still on course for a revamped esports format for 2020.  
In a blog post, PUBG Corp announced there'll be four global events throughout the year, comprised of three PUBG Global Series (PGS) and the PUBG Global Championship 2020.  
32 teams will compete at each PGS event, with 28 teams selected decided by regional qualifiers across Korea, China, Japan, Europe, the Americas, and Asia Pacific. The remaining four slots will be taken up by the top four teams from last year's global competition.  
PGS events will comprise of three stages; groups, eliminations and grand finals. The top 12 teams from 32, six from each group, will move forward to the grand finals. Four more teams will advance from the Eliminations stage.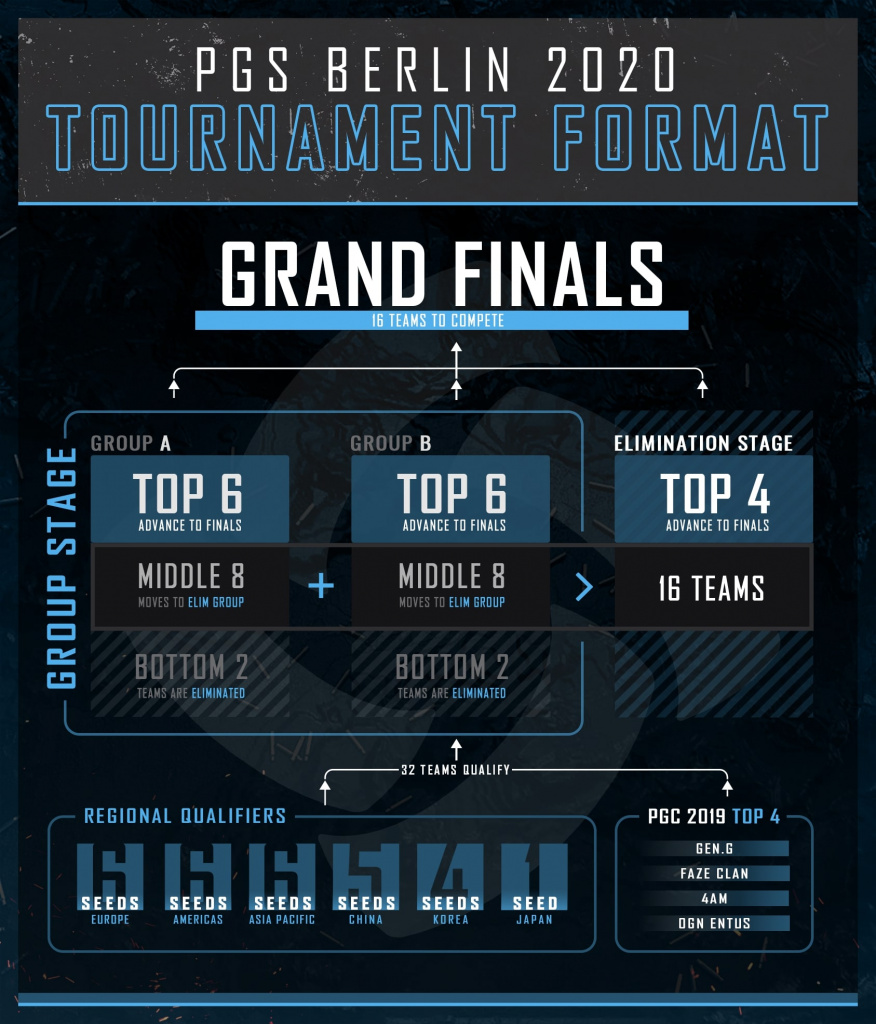 PGS Berlin format (Picture: PUBG) 
The top four teams from the third PGS event automatically qualify for the PUBG Global Championship, where 16 teams compete for the top title. The 12 remaining spots will be filled by the highest ranked teams from across the previous three PUBG Global Series events.  
Each PGS event will have a $500,000 prize pool, while the PUBG Global Championship will see players fight for their share of $2 million. 
The developer also announced a revamped revenue sharing scheme, promising participating teams will receive a minimum of $20,000 for each PGS event.  
The first PGC event will take place in Messe Berlin, Germany from 31st March to 12th April, with the list of 32 teams competing to be announced soon.