PUBG Mobile Season 16 is all about the Metro Exodus collaboration, called Metro Royale. This is evident by the Battle Pass and content for Season 16. Now, PUBG Corporation has put players to another Metro-inspired task in an event which asks them to repair the Aurora train. The main reward for completing tasks in this PUBG Mobile event is a snazzy Boxing Manager Outfit.
PUBG Mobile Boxing Manager Outfit: How to unlock
The PUBG Mobile event is called "Metro: Repair the Aurora" and you can head into your game right now to access it via the main menu.
To unlock the Boxing Manager Outfit, you will need to complete daily tasks to repair the train, all while gathering energy. Basically, energy collected repairs the train's circuits. 
PUBG Corporation explains: "Use Circuit Components from Metro Royale to help Repair the Aurora and you can win a permanent Boxing Manager Outfit!"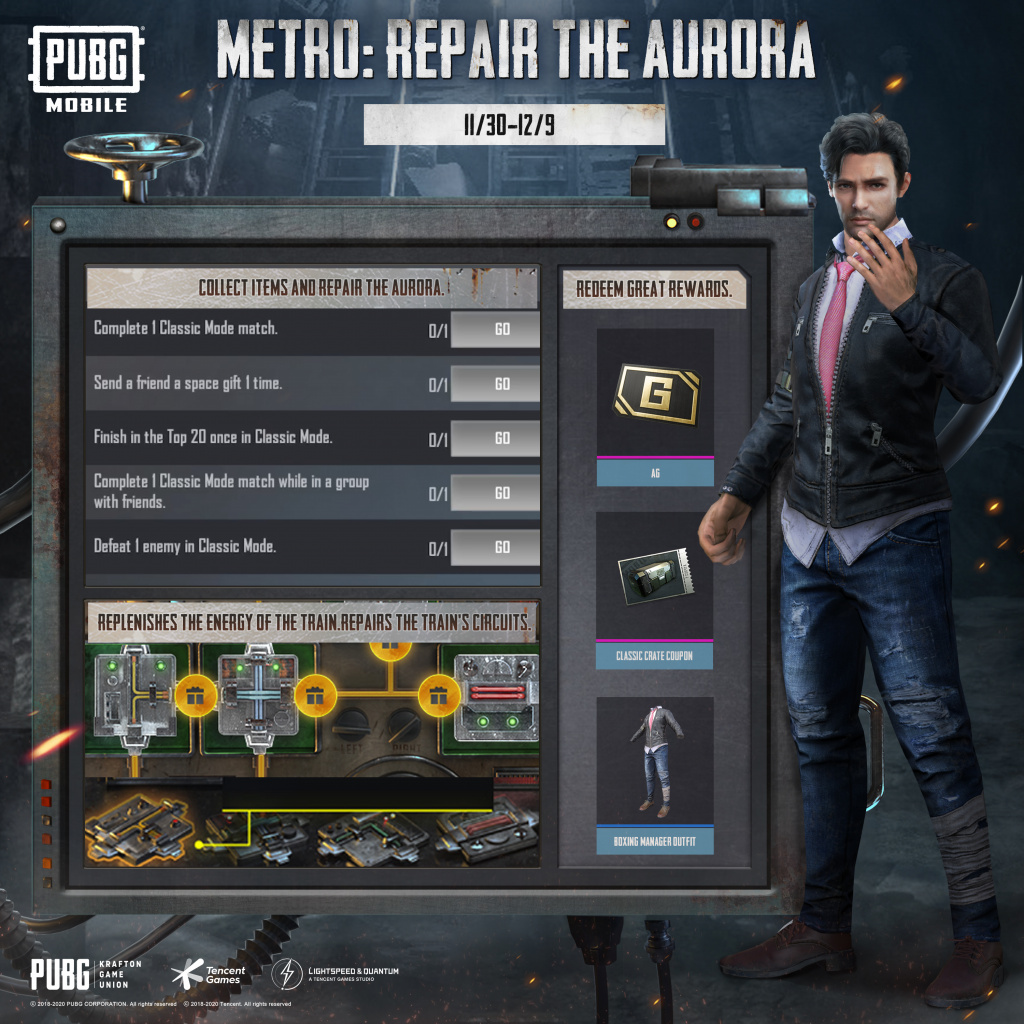 (Picture: PUBG Corporation)
So what exactly do you need to do? It is quite simple really, as you only need to complete daily missions from the PUBG Mobile event. The missions are quite easy to complete, with a few examples below:
Complete one Classic Mode match.
Defeat one enemy in Classic Mode.
Finish in the top 20 once in Classic Mode.
Send a friend a space gift one time.
Add a friend.
Travel for a total of 1,000 meters in Classic Mode.
Completing these missions should be no problem for PUBG Mobile players, and rewards you with 100 Energy per day.
Energy is then spent to repair the circuits of the Aurora train, which each circuit providing you will a reward, including a chance at the PUBG Mobile Boxing Manager Outfit.
Other rewards include a Classic Crate Coupon and some AG currency to spend. There's no guarantee you will get the Boxing Manager Outfit on your first few tries, so keep on grinding until you've fully repaired the Aurora train.