PUBG Mobile World Invitational (PMWI) 2021 will be starting from 22nd July 2021 in which a total of 32 invited teams from East and West regions will compete for champions trophy and ,000,000 charity prize pool. 
The event will go on for four days and fans can catch the live action on the official YouTube, Facebook, Twitch, and Nimo TV  channels of PUBG Mobile Esports.
Meanwhile, to encourage the viewers to watch PMWI 2021, PUBG Corporation has announced that they will be distributing free rewards to all the PUBG Mobile players for achieving different live viewers milestones. 
PMWI 2021 live viewers milestone rewards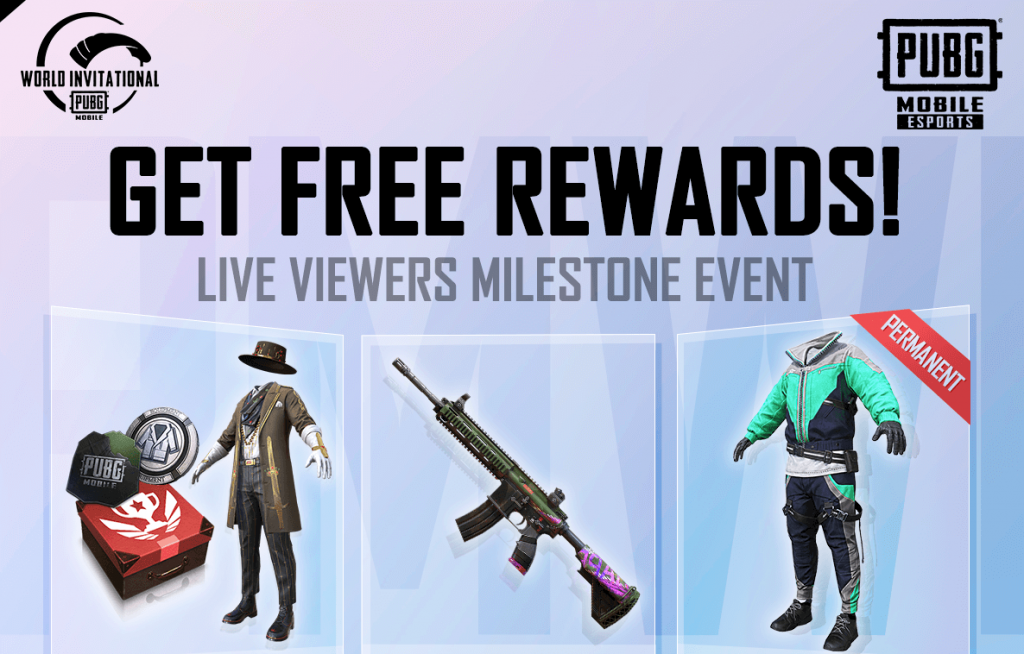 Players will be receiving crate coupons, and two outfits (one of them is permanent) along with an M416 skin. Here's the live viewer count that needs to be achieved in order to receive these rewards:
PMWI West
200,000 viewers: Outfit, crate coupons, silver fragments, and more.
300,000 viewers: M416 gun skin
500,000 viewers: Permanent outfit
PMWI East
1 Million viewers: Outfit, crate coupons, silver fragments, and more.
1.5 Million viewers: M416 gun skin
2 Million viewers: Permanent outfit
Free permanent outfit for everyone! #PMWI2021 Live viewers milestone rewards – #PMWI WEST target announced!

-HOW?
Let's watch the PUBG MOBILE WORLD INVITATIONAL to achieve the live viewers target together!

-WHEN?
Watch on July 22-25 15:30 PM (GMT+0) #OWNTHECIRCLE#PUBGMOBILEpic.twitter.com/eMlFqEITYY

— PUBG MOBILE Esports (@EsportsPUBGM) July 17, 2021
PMWI 2021 Teams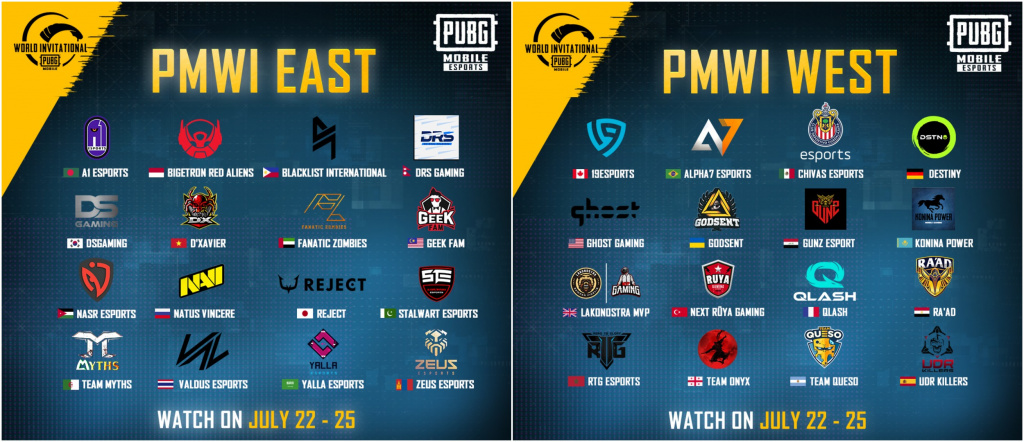 Here's the list of teams that will be participating in the PUBG Mobile World Invitational (PMWI) 2021:
PMWI East
A1 Esports 
Bigetron Red Aliens 
Blacklist International 
DRS Gaming 
DSGaming 
D'Xavier 
Fanatic Zombies 
Geek Fam
Nasr Esports
Natus Vincere 
Reject 
Stalwart Esports 
Team Myths 
Valdes Esports 
Yalla Esports 
Zeus Esports 
PMWI West
19Esports 
Alpha7 Esports
Chivas Esports
Destiny 
Ghost Gaming 
Godsent
Gunz Esport 
Konina Power
Lakonostra MVP 
Next Rūya Gaming
Qlash
Ra'ad
RTG Esports
Team Onyx
Team Queso
UDR Killers
Don't forget to check out our dedicated BGMI section filled with guides, news, esports and much more for the franchise.