There are several Pokémon in Pokémon Brilliant Diamond and Shining Pearl that can't be found by traditional methods. Catching Pokémon in the tall grass or in caves still yields a decent number of catches, but if you want to fill up your Pokédex, you'll need to look outside the norm. This directly applies to Drifloon, who can only be found in one location on specific days in Sinnoh. 
Drifloon was introduced with the original Diamond and Pearl and had the same catching method back then as it does today. However, newer players are going to have no idea how to catch this Flying and Ghost-type Pokémon. Below, they can find out exactly how to add one to their party. 
Catching Drifloon in Pokémon Brilliant Diamond and Shining Pearl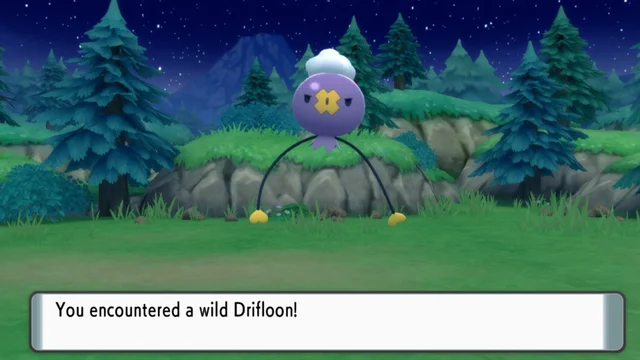 To start, you'll need to have cleared the Valley Windworks of all Team Galactic members. You can reach the Valley Windworks east of Floaroma Town. It's a required story progression, so this is something that you'll do before leaving Floaroma Town. 
Once the windworks have been cleared, you'll be able to encounter Drifloon just outside of the entrance. It will spawn in the overworld, so you don't need to go into the tall grass searching for it. 
The trick with Drifloon is that it only appears on Friday between the hours of 10:00 AM and 7:59 PM. If you defeated Team Galactic on a Friday, then you'll have to wait a week before you can reencounter it. If you defeated them on a Thursday, then come back the next day to see Drifloon just outside the windworks' door. 
That's everything you need to know about catching Drifloon in Pokémon Brilliant Diamond and Shining Pearl. 
Be sure to check out and follow our dedicated Pokémon section to get the latest news, guides, leaks, update announcements and more.
Featured image courtesy of Nintendo / The Pokémon Company.