Pokémon GO fans are finally getting the opportunity to catch Legendary Pokémon Kyurem, the last one of the Tao Trio after Reshiram and Zekrom debuted earlier in the year.
As a five-star raid, it won't be an easy task to get your hands on Kyurem, as it will require teamwork and knowing his weaknesses to properly take him down.
Here's everything you need to know about the event.
When does the Pokémon GO Kyurem raid start?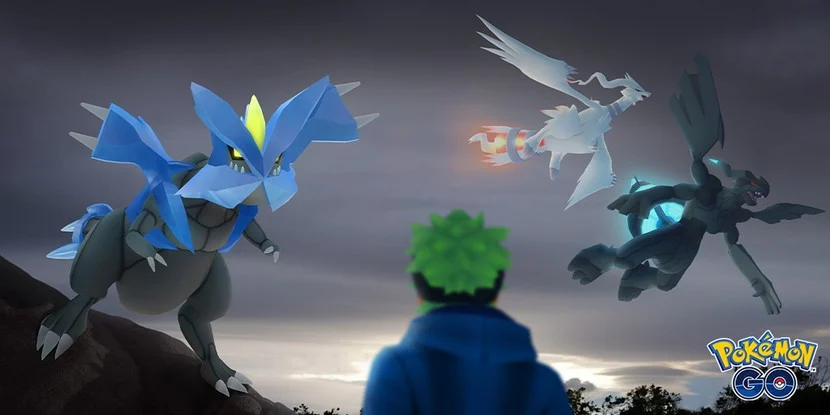 (Picture: Niantic)
Niantic announced in a blog post that the Kyurem five-star raid will begin this 7th July at 9 pm GMT. While the Legendary Pokémon is part of the raid activities, every Wednesday at 6 pm of your local timezone Kyurem will take over every Gym as part of the special Raid Hour event.
Best counters for Kyurem Pokémon GO raid
Kyurem is a Dragon/Ice type, so he's got many counters, detailed below:
Dragon: 160% damage
Fairy: 160% damage
Fight: 160% damage
Rock: 160% damage
Steel: 160% damage
On the other hand, he's resistant to three specific types of attacks:
Electric: 62.5% damage
Water: 62.5% damage
Grass: 62.5% damage
Best Pokémon for the Kyurem Pokémon GO raid

(Credit: Niantic)
Taking into consideration several factors like type advantages, special moves, or how resistant to Kyurem's attacks certain Pokémon are, the optimal options to try and tackle this raid (even as a duo) are the following:
Metagross

Fast Move: Bullet Punch
Charge Move: Meteor Mash

Lucario

Fast Move: Counter or Bullet Punch
Charge Move: Aura Sphere

Rampardos

Fast Move: Smack Down
Charge Move: Rock Slide

Dialga

Fast Move: Metal Claw or Dragon Breath
Charge Move: Draco Meteor or Iron Head

Gardevoir

Fast Move: Charm
Charge Move: Dazzling Gleam

Tyranitar

Fast Move: Smack Down
Charge Move: Stone Edge
Shadow Pokémon can also play a big part in taking down Kyurem. Having different stats than their regular counterparts focused on raw attack numbers, they can inflict serious damage to the Legendary Pokémon at the cost of having considerably less survivability. 
The recommended Shadow Pokémon are:
Shadow Metagross
Shadow Gardevoir
Shadow Salamence
Shadow Dragonite
Shadow Tyranitar
While Pokémon GO keeps receiving massive support from Niantic, the company is already hard at work developing several more titles, with an adaptation of the board game CATAN getting prepped for release.