Pokémon trainers received their first look at all the Pokémon included in the upcoming action RPG,
Pokémon Legends: Arceus
. Various sources posted images of the leaked Pokédex, revealing more than 240 Pokémon, including familiar faces like Pikachu and several newcomers native to the Hisui region.
While several leaks were taken down, presumably by Nintendo, who caught wind of the latest leak, there is still remnants of the leaked information scattered online.
So, thanks to the quick actions of a few crafty trainers who were able to take screenshots of the leaked information, we have a reasonably solid list of all the Pokémon we can expect to see in Pokémon Legends: Arceus.
Nintendo clamps down on Pokémon Arceus leaks
Pokémon Legends: Arceus is less than a week away from its release. According to a slew of leaked screenshots, the next highly-anticipated instalment of the Pokémon series will possibly feature 242 pocket monsters for trainers to catch.
You can view all the monsters in Pokémon Legends: Arceus in a data dump available here.
This latest leak corroborates reports on game copies sold before the game's release, resulting in early gameplay footage and images cropping up online. While Nintendo is trying to shut down every possible leak through copyright claims, it hasn't stopped individuals from sharing the leaked information.
For example, popular Pokémon leaker, CentroLeaks, consistently updated their Twitter threads with newly leaked information. However, they have since deleted images and gameplay footage.
These leaked images include every Pokémon available in-game, including the Starters and their Evolution forms, rarity, and more.
As usual, most of the images and videos shared today in our account have been deleted.

What a crazy day, good night everybody.

— Centro LEAKS (@CentroLeaks) January 20, 2022
Among the iconic Pokémon are Pikachu and Gengar, which will be added alongside new pocket monsters and variants from the game's location, the Hisui region, like the Hisuian Voltorb. Additionally, there will be a few unnamed evolutions for Pokémon like Sneasel, Qwilfish, and Ursaring.
As the official prequel to the Pokémon Brilliant Diamond and Pokémon Shining Pearl games, Pokémon Legends: Arceus is Nintendo's first foray into the action RPG genre in the popular Pokémon gaming series.
In this game, Nintendo has produced an "all-new Pokémon experience" for trainers to explore vast highlands, bustling forests and ancient ruins equipped with their PokéDex.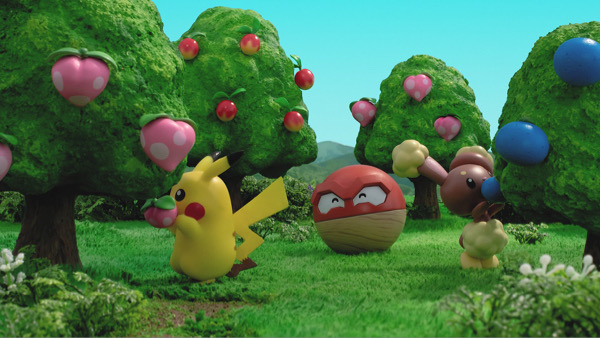 Pokémon Legends: Arceus may be a few days away from launch, so we expected that spoilers would eventually be released to the general public. However, Nintendo has been relatively successful in clamping down on spoilers ahead of release.
Indeed, it remains to be seen whether they will keep up as excitement continues to grow ahead of Pokémon Legends: Arceus' official release.
Notably, trainers with game data from either Pokémon Brilliant Diamond or Pokémon Shining Pearl can receive an in-game bonus for Pokémon Legends: Arceus. In addition, by accepting the research request in Jubilife Village, they can add the Mythical Pokémon Darkrai to their party.
Pokémon Legends: Arceus is slated to release exclusively for Nintendo Switch on 28th January 2022.
Featured image courtesy of Nintendo / The Pokémon Company.