Tom Clancy's 
Rainbow Six Extraction
 sees players face off against an alien threat in a PvE experience. With a total of 
18 operators
to choose from and a whole lot of content for players to enjoy, up to three gamers band together to fight the Archæans. A co-op title such as Extraction is obviously best played with friends instead of randoms. If your friends don't have the game, you can invite them with a Buddy Pass token so they can play for free on the same squad for 14 days! 
If you are wondering why your Buddy Pass tokens aren't showing up, or why your friend invites have not been received, there is an explanation.
R6 Extraction Buddy Pass tokens not working?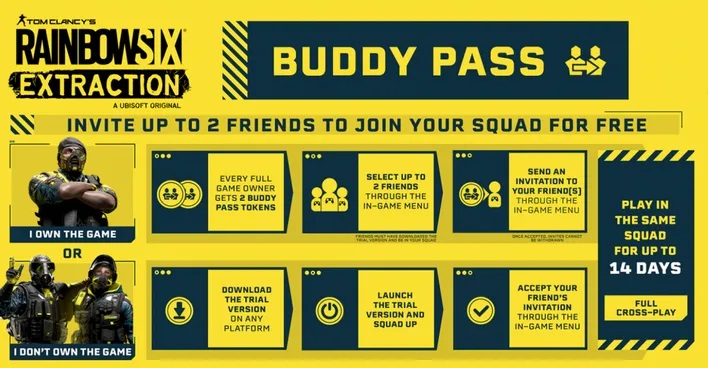 You can send Buddy Pass invites to your friends from all platforms, as the game offers full cross-play support across PC, Xbox One Series X|S, Xbox One, PS4, PS5, Stadia, and even Amazon Luna.
So why are the Buddy Pass tokens for Rainbow Six Extraction not working? You've purchased the game (or downloaded it via Game Pass) and you are ready to invite your friends.
The answer is really quite simple. Ubisoft had to delay the Rainbow Six Extraction Buddy Pass at launch.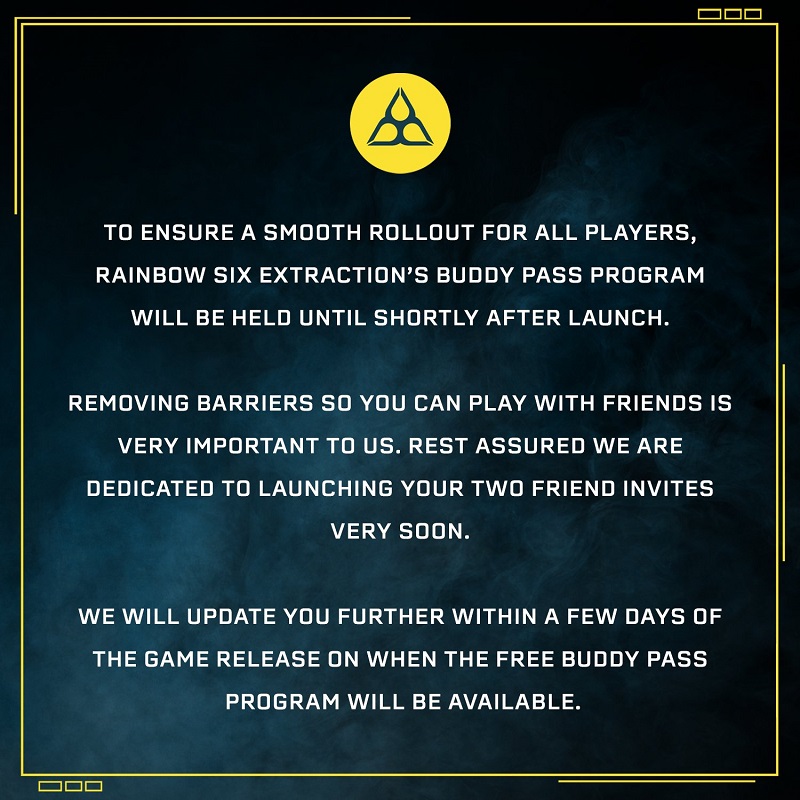 Ubisoft explains that Rainbow Six Extraction's Buddy Pass will be held back until "shortly after launch" to ensure a smooth launch experience for those who own the game.
Ubisoft continued by stating: "Removing barriers so you can play with friends is very important to us. Rest assured we are dedicated to launching your two friend invites very soon.
"We will update you further within a few days of the game release on when the free Buddy Pass program will be available."
Ubisoft did not state exactly when the Rainbow Six Extraction Buddy Pass will become available. Judging by the wording, we expect the Buddy Pass tokens to become active, allowing you to invite friends between 22nd and 28th January 2021 but that's just some guesswork at this point.
The good news is that there is no reason to look for a fix for the Buddy Pass issue if you are reading this article shortly after the game's launch.
If the Rainbow Six Extraction Buddy Pass program has launched, we suggest checking the Ubisoft Support Twitter account and attached support page for possible fixes. 
Featured image courtesy of Ubisoft.