At a loss due to the
postponed Six Invitational
? Thankfully, the Rainbow Six Siege community has created a new kind of event as a replacement.
The Rainbow Six Memevitational acts as a celebration of all things Siege, bringing together pro players, casters, and content creators to compete in a tournament to raise money for COVID-19 relief.
The event looks to largely throw out all the rules in regards to competitive play too, ensuring there'll be plenty of messy tactics and absurd plays.
Want the lowdown? Here's what you need to know about the Rainbow Six Memevitational. 
When is the Rainbow Six Siege Memevitational? 
The global online event starts on Saturday 20th February and concludes on Sunday 21st February, with Ubisoft set to unveil new DLC Operation Crimson Heist following the finals. 
The event starts with the Group stage consisting of two groups of five teams, where they'll compete in best-of-three matches. The top two from each group advance to the Playoffs. 
What are the teams and groups?
The roster of each team is largely divided by region, consisting of one pro player, one pro coach or analyst, one caster, one content creator, and one wildcard choice.
Teams have been split between two groups named EU But Not Really and Too Much Clout, shown in the image below.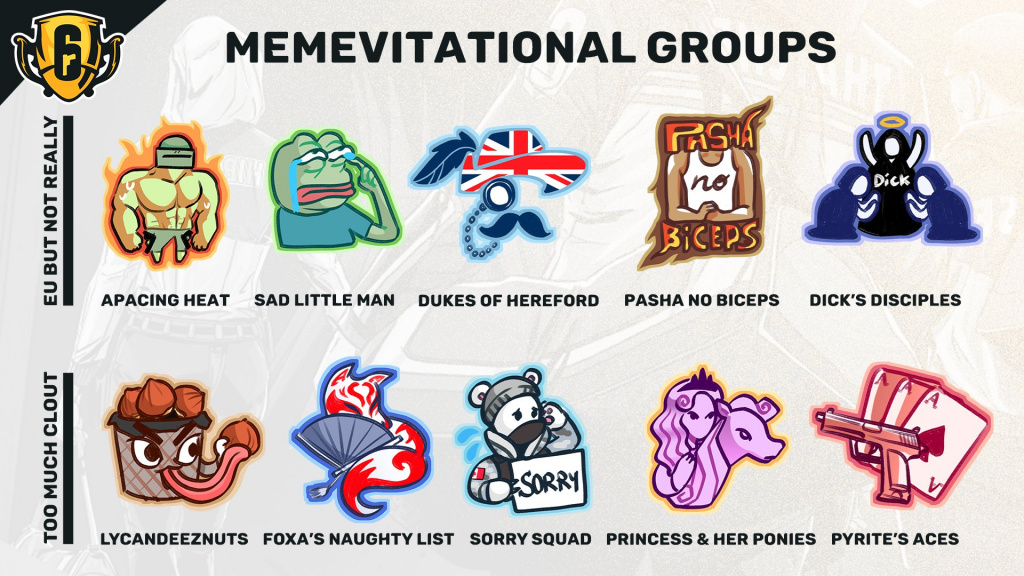 Teams are divided into two groups (Picture: Rainbow Six Memevitational) 
APACing Heat (Asia-Pacific) 
Jess
Ysaera
Hybrid
Raven
sprOnigiri
Dick's Disciples (Europe)
Saltti
Naturbreit
R6 Dick
Modernicide
FastAnne
Dukes of Hereford (UK) 
Fraser
CTZN
GiG
Snedger
Earlswood
EU sad little man (Europe)
Milosh
Pengu
Hap
BikiniBodhi
Ferral
FoxA's Naughty List (United States)
LonnieLightning
Spoit
AutumnMae
Shawk
Royal Penguin
LycanDeezNuts (United States)
Chowderhead
Rampy
Lycan
CaliberJacob
LeonGids
Pasha No Biceps (Russia) 
Andreezy
p4sh4
FasterTL
aldiYARGH
Always
JoyStiCK
Princess & Her Ponies (World) 
Ryleigh
FilthySosa
Rcuth
KiXSTAr
Zak
Pyrite's Aces (Brazil) 
AceofPyrite
Budega
Asterix
Lagonis
Cameram4n
Sorry Squad (Canada) 
Flynn
Helbee
Interro
Fooya
Jarvis
What is the schedule and how can I watch the Rainbow Six Memevitational?

Set your alarms (Picture: Rainbow Six Memevitational) 
Matches will be ongoing throughout the weekend, divided between two Twitch streams on CCS Esports and CCS Esports 2. You can check out timings for each below. 
Saturday 20th February
CCS Esports schedule
APACing Heat vs Dick's Disciples - 11am CET/10am GMT/2am PT
Dick's Disciples vs Pasha No Biceps - 12.30pm CET/11.30am GMT/3.30am PT
APACing Heat vs Dukes of Hereford - 2pm CET/1pm GMT/5am PT
EU Sad Little Man vs Dukes of Hereford - 3.30pm CET/2.30pm GMT/6.30am PT
Pasha No Biceps vs EU Sad Little Man - 5.30pm CET/4.30pm GMT/8.30am PT
CCS Esports 2 schedule
Pyrite's Aces vs Princess & Her Ponies - 4pm CET/3pm GMT/7am PT
Princess & Her Ponies vs FoxA's Naughty List - 5.30pm CET/4.30pm GMT/8.30am PT
Pyrite's Aces vs LycanDeezNuts - 7pm CET/6pm GMT/10am PT
Princess & Her Ponies vs LycanDeezNuts - 8.30pm CET/7.30pm GMT/11.30am PT
Pyrite's Aces vs FoxA's Naughty List - 10pm CET/9pm GMT/1pm PT
Sunday 21st February
Playoffs (both channels) - 12pm to 5pm CET/11am to 4pm GMT/3am to 8am PT
Operation Crimson Heist reveal (Rainbow6 Twitch) - 6pm CET/5pm GMT/9am PT