In a special reveal event, Ubisoft pulled back the curtain on what to expect from Rainbow Six Siege's next DLC Operation Steel Wave. 
As the second piece of DLC in Year 5 after Operation Void Edge, Operation Steel Wave sees a wealth of new additions which could change the meta significantly moving forward. 
So what's coming in Rainbow Six Siege's Operational Steel Wave. Here's a breakdown. 
New operator Ace


Ace is the new Attacker (Picture: Ubisoft) 
Ace is an Attacker operator from Norway. His special gadget is the S.E.L.M.A. Aqua Breacher, a cylinder which expands and breaches holes in walls, ceilings and hatches. 
While it can only explode one time on ceilings and hatches, it will roll down for up to three explosions on walls - knocking out practically entire walls and creating huge new lines of sight. It can also be used to destroy other people's gadgets on maps. 
Loadout
Primary weapon: AK-12, M1014
Secondary weapon: P9
Gadget: Breach Charge, Smoke Grenade
Armor: 2
Speed: 2
New operator Melusi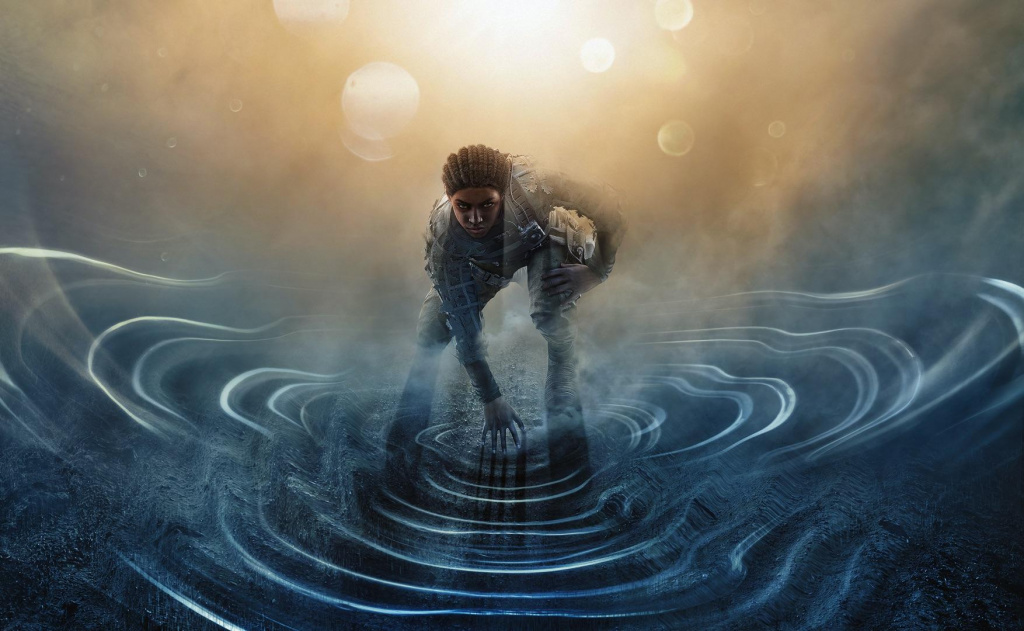 Melusi is heading to Siege (Picture: Ubisoft) 
Melusi is a Defender operator from South Africa. Her unique gadget is the Banshee Sonic Defence, which emits a loud buzzing signal whenever someone steps near. 
Along with alerting the opposing squad, players in the Banshee's vicinity will be slowed down, with their speed reduced the closer they get to the gadget. 
Loadout
Primary weapon: T-5 SMG, Super 90
Secondary weapon: RG15
Gadget: Impact Grenade, Deployable Shield
Armor: 1
Speed: 3
Map rework House
One of the most beloved maps in Siege, House is set to undergo a rework in Operation Steel Wave. 
The overall map design has been made bigger, with a new section on the South side added. A new Bomb Site has also been added in TV Room and Music Room. 
The Living & Training Bomb Site has also been removed, adding a Bomb Site to Master Bedroom & Boys' Room instead. 
Garage now only has one destructible door, while lines of sight on the North side of the building have also been reduced. 

House is getting a few changes (Picture: Ubisoft) 
Changes to Amaru
Amaru will undergo changes to give her a better chance to surprise opponents, with barricades now only breaking when she uses her Garra Hook to go through them. 
The windows will still break beforehand allowing Defenders to hear her coming, although there'll be a much shorter window for them to respond. 
Amaru will also no longer need to break a hatch as she'll breach it instantly with the Garra Hook. 
Elite Echo skin
A new Elite skin for Echo is also on the way with anime flair, including Echo's Tenkamusou uniform, victory animation and gadget skin for his Yokai drones. 
There's also weapon skins for Supernova, MP5SD, P229, Bearing 9, and an Elite Echo Chibi charm. 
New secondary gadget Proximity Alarm
Designed to gather intel, Operation Steel Wave will also bring in a proximity alarm as a secondary gadget. 
This will alert opponents of your presence if triggered, and are fiendishly small to spot. 
Changes to ranked
You will have to be level 50 to access the ranked playlist. To counter players abusing matchmaking, they're also switching to unified MMRs for each playlist. 
The Champions rank is also undergoing some tweaks. You'll have to play a minimum of 100 games to attain the Champions rank, while the Champions leaderboard will also now be worldwide, making it more difficult to attain. 
Operator price decrease and weapon skins
Operators Alibi and Maestro will have a price decrease from 15,000 Renown or 350 R6, while Nokk and Warden will be reduced to 20,000 Renown or 480 R6 credits. 
There is also two new weapons skins in Wooden Carvings and Beach Trip. 
Extra tweaks to operators
Clash 
Clash's SMG will switch from having a red dot to using the reflex's green triangle.
Echo
Removed the camera shake effect from from Yokai's concussion effects.
Length of concussion effect is no longer affected by movement. Now has a fixed duration of 10s and the intensity of the vision disruption stays fixed throughout the effect.
Replaced the Deployable Shield with Impact Grenades.
Finka
Increased base hp to 30 (from 5) for teammates revived by Finka's Nanoboost. DBNO Players will stand up with 50 hp (30 from own base hp + 20 from Finka boost).
Kaid
Added LFP586 secondary to loadout.
Kali
Reduced LV Explosive Lance's fuse time to 1.5s (down from 2.5s).
Improved CSRX 300 recoil through reduced weapon climb after each shot.
Replaced P22 Mk5 with SPSMG9 in loadout.
Nomad
Added PR892 secondary weapon to loadout.
Oryx
Reduced damage taken when dashing through walls to 5 (down from 10).
Bulletproof Camera replaced with new Proximity Alarm secondary gadget.
Added angled grip option to Oryx's MP5.
Ela, Zofia
Eliminated the mouse sensibility modifier from concussion effect of the Bosak sisters' gadgets.
Ying
Removed a Candela to bring it down to 3 (from 4 Candelas). - Changed for PC on 04-30-2020.
Rainbow Six Siege Operation Steel Wave goes live on test servers starting Tuesday 19th May.