The developer is expected to reveal Rainbow Six Siege's Year 5 content plan at the Six Invitational next month, although a leak appears to have slightly ruined the surprise.  
Posted on Reddit, the screenshot shows an in-game teaser for the Year 5 pass uncovered in files for the PC version. 
The key takeaway is Year 5 might only have six operators instead of the usual eight, which could point towards Ubisoft perhaps reworking some of their older operators instead. 
Some players have also speculated this could mean a second Operation Health might be coming, where Ubisoft dedicated three months to improving numerous aspects of the game.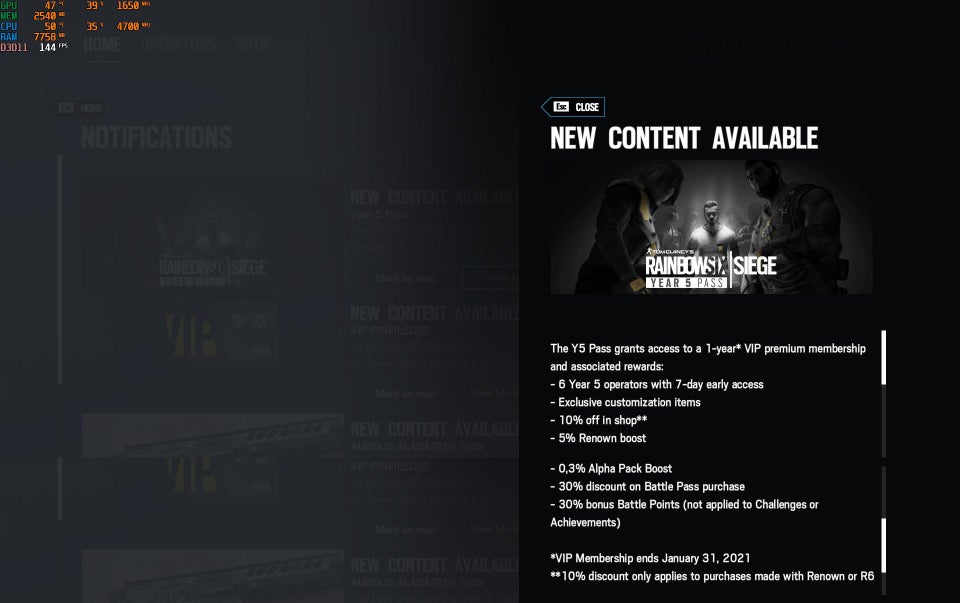 Is this the Year 5 content on the horizon? (Picture: Reddit via Jackal Main) 
The Year 5 pass will also include seven days early access to the new operators, exclusive customisation items, a 5% renown boost, a 10% shop discount, among other bonuses. 
There will also be a 30% discount on the upcoming Rainbow Six Battle Pass, which opens a tier system for cosmetics in a similar vein to Fortnite and Call Of Duty: Modern Warfare.  
While it's important to take this all with a pinch of salt, leaks among the Rainbow Six Siege community have largely been reliable in the past. If this has been uploaded into the system in the latest patch, it also begs the question if Ubisoft could announce the Year 5 plan earlier than usual.
Ubisoft have traditionally announced each new yearly plan at the Six Invitational which takes place in Montreal next month.  
The team who have secured the final invite for the Six Invitational is set to be revealed on Wednesday 15 January, joining the likes of Natus Vincere, Team Liquid and FaZe Clan.
Interestingly, Ubisoft also released an impressive trailer teasing the forthcoming announcement, showing numerous operators swarm into a stadium with a Rainbow Six map in the centre. 
It's unclear whether this is just a promo for the Six Invitational or if this could allude to something else entirely - although, considering the budget invested into the clip, it feels like Ubisoft is preparing for something relatively big.
A description reads: "Harry is gathering the greatest Operators from around the world, and they're ready to prove their worth. Stay tuned tomorrow to learn how you can take part in the action."