Nairoby "Nairo" Quezada's professional career as a Smash Ultimate player might get back on track as 2GG (2GGaming), one of the biggest tournament organizers in the Smash scene, has lifted Nairo's ban allowing him to compete moving forward. 
The TOs announced via social media that Nairo had submitted an appeal t his ban, which was reviewed thoroughly with details being kept private, leading to the decision of lifting his permaban.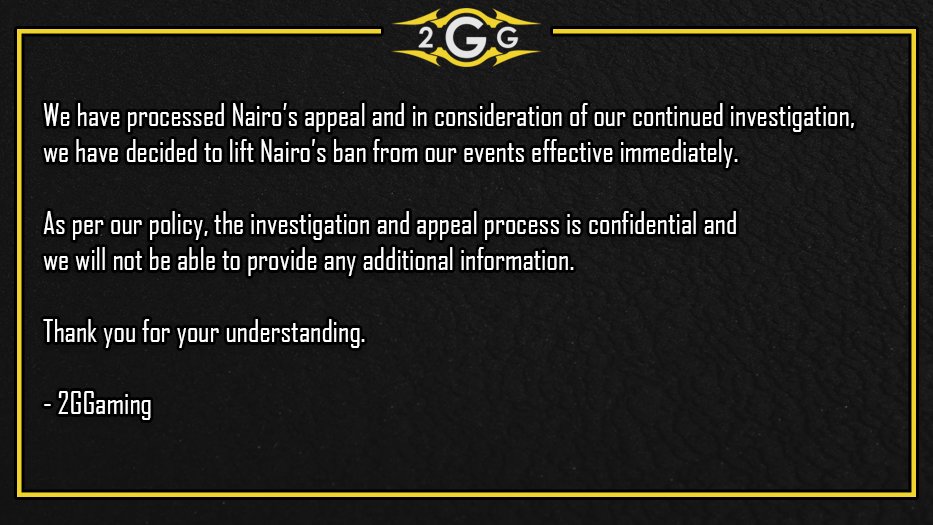 (Image: 2GG)
Quezada recently published an update on his YouTube channel, claiming that he had resolved his issues with Zack "CaptainZack" Lauth, after Nairo accused Zack of blackmail and sexual assault.
The Smash community has rallied behind Nairo, even creating the #UnbanNairo hashtag, petitioning Twitch to let the streamer return to the platform, as his channel is currently permanently suspended.
With Nairo being unbanned by 2GG, the former NRG member will look at other TOs to follow suit as he looks to move forward with his career. Perhaps the Smash World Tour will serve as the perfect stage for a massive comeback. 
Only time will tell.