It's been a revelatory couple of days for the Smash community amid several instances of people coming forward telling stories about sexual abuse.
Following strong accusations from Smash Ultimate pro player Puppeh against commentator Cinnpie, blaming her of gaslighting and forcing him into a sexual relationship while they were 14 and 25 respectively, Zack "CaptainZack" Lauth has come forward with allegations towards Nairoby "Nairo" Quezada, explaining that they had a consensual relationship of sexual nature. However, this happened when Zack was 15, and Nairo 20 years of age.
In a Twitlonger shared on social media, the EVO 2018 finalist claims he initiated the relationship with Nairo, who was 20 years old at the time and was aware that Zack was underaged.
"I had my first sexual encounter at a smash tournament. CEO Dreamland 2017 Friday night, April 14th, was the first time anything happened with Nairo, him being 20 years old at the time (...) Even though in these messages I am the one initiating, I would just like to remind you I was 15 years old at the time. Nairo was 20, going on 21," he stated.
CaptainZack attached an album with several images of conversations he had at the time, explaining how allegedly during CEO Dreamland 2017, he engaged in oral sex with Nairo at a hotel room they were both staying.
In said messages, Zack states to an unknown person that Nairo would allow for him to "pull his pants down" while they were "french kissing" throughout the entire weekend the tournament was happening, a situation that eventually escalated to oral sex.
Following the incident, Zack claims Nairo would routinely pay him money (some anonymously) in order to sweep the situation under the rug, attaching PayPal receipts in the same gallery.
"They attempted to use a fake Paypal name in hopes no one else would be able to track the money back to them HOWEVER I can verify that the 'Jeremy Toga' Paypal was indeed Nairo's account by matching up the amount of money I had asked for with my text messages with Nairo. I was told that by 'doing my part' by not telling anyone about our relations, I'd receive financial help from him."


(Picture: CaptainZack)


(Picture: CaptainZack)
In 2019, CaptainZack was handed a five-year ban from all Smash competitions following an incident with Ally, after it was revealed they were involved in an illegal relationship while he was a minor, forcing Ally to throw matches as a punishment for feeling manipulated. 
"After the Ally situation came to light, Nairo IMMEDIATELY started calling me because some people were trying to bring our situation to light." Nairo would reportedly send Zack $2,000.


(Picture: Captain Zack)
In a tweet made hours before Zack went public, Nairo quoted a tweet made by Zack denying the accusations. In said tweet, CaptainZack implies the events were false as well and did not take place, possibly to avoid any confrontation following the several payments he claims were coming from Nairo.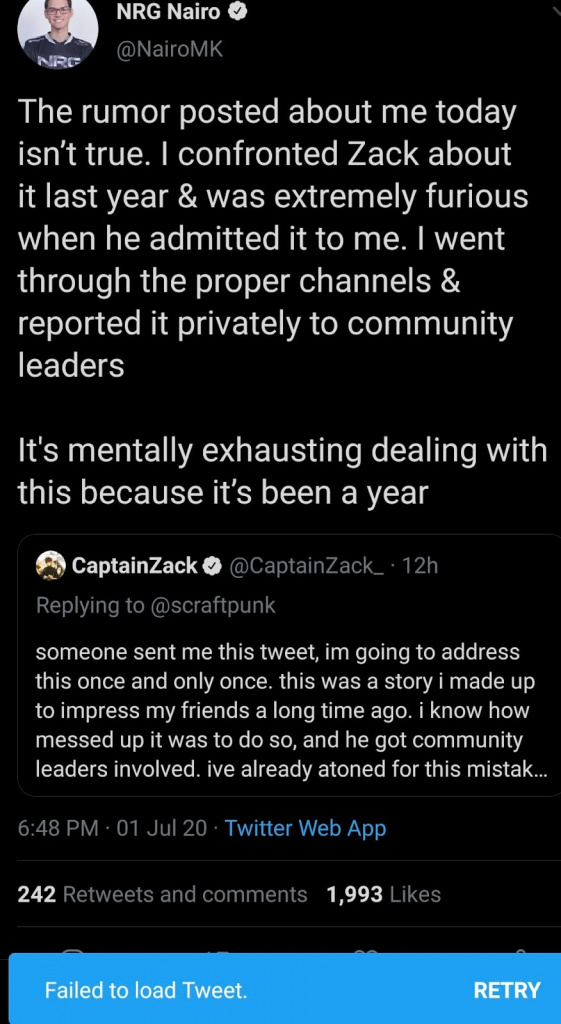 Nairo has since deactivated his account (Picture: Twitter)
Tweek, one of the players name-dropped in Zack's recap of the events that transpired at CEO Dreamland, made a twitlonger giving validity to the story. In his statement, he claims to have advised CaptainZack not to go to Nairo's room and how the latter "begged him not to tell anyone."
"I did not encourage Zack to do anything with Nairo in any way. At CEO Dreamland I was extremely sick and could barely move out of my bed. Zack and Nairo had started flirting at this event specifically. When Zack went to go to Nairo's room the night they did sexual things, I specifically told Zack not to go and he did and did not come back that night (to Tweek's room). Nairo also knew that I knew and when he visited me in Ohio, he begged me not to tell anyone."
After CaptainZack's allegations, Nairo deleted his Twitter account only to return briefly to release a statement, apologising to the community and explaining how he's taking time out to reflect on the situation.
"I'm not making excuses. My behaviour was wrong. I was wrong. I messed up tremendously.
"To Zack, I apologise for making you feel like you had to carry a burden all these years. That is not fair to you. I am truly sorry. 
"I am taking some time for self reflection and I am committed to getting help. I need to be better, grow, and learn. As a result, I will not be active on social media. 
"I betrayed the people who trusted the depended upon me - the NRG Esports staff who helped me professionally, and more importantly, the community who has supported and looked up to me for all of these years. 
"I failed you all. I am sorry."
NRG Esports, who signed Nairo back in 2016, have also severed all ties with the player.