Anyone who finds themselves on Coruscant in LEGO Star Wars: The Skywalker Saga can choose to take on the Jedi Bust Puzzle. As one of the many puzzles in the game, the Jedi Busts offer a reward you would have otherwise missed.
For those willing to move a few statue pieces in a thought exercise, you'll need to make your way to the Financial District in Coruscant. There, you will find the Jedi Archives and Master Jacastu Nu watching over them with a story to tell.
LEGO Star Wars: The Skywalker Saga - Jedi Bust Puzzle Guide
When you arrive at the Archives in LEGO Star Wars: The Skywalker Saga, you'll be able to speak with Master Jacastu Nu for insight on the Jedi bust puzzle. She will tell a story about a Jedi trial called the "Rounding of the Bogwings," in which all of the iconic have taken part. How they are placed in the story is important to completing the puzzle.
Each statue in the Archive will have a roman numeral on the ground in front of it. This indicates where the particular Jedi busts need to be placed as you recall the order of the Bogwing story. The order of the statues is as follows:
First: Count Dooku
Second: Ki Adi Mundi
Third: Obi-Wan
Fourth: Qui-Gon
Fifth: Mace Windu
Sixth: Yoda
LEGO Star Wars: The Skywalker Saga has character classes in essence that typically have an ability unique to them. In this case, you will need a force-sensitive character that can move the Jedi busts. Without using the force, there is no way that you can move the statues into place.  
When the statues are placed in their correct spot, the light underneath them will start to glow green. Of course, that means you can guess until the puzzle is solved, but you've made it this far.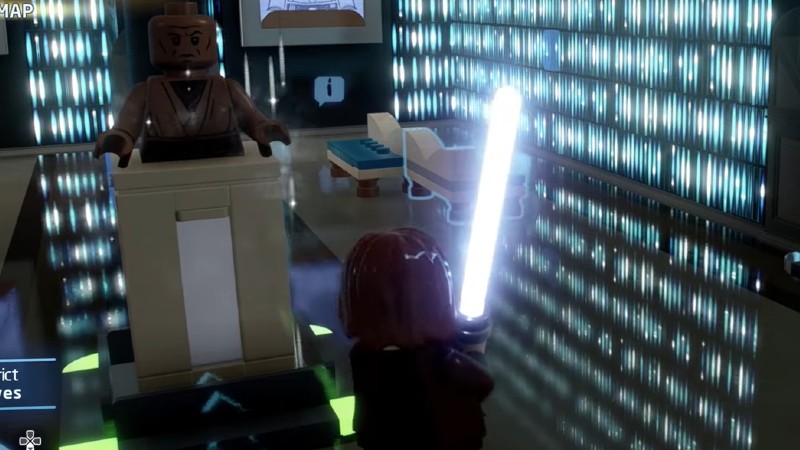 As for the reward given upon completion, you can expect to pick up a Kyber Brick. These items are invaluable for unlocking new characters and upgrading existing ones to enhance new abilities. 
There are numerous Kyber Bricks scattered around LEGO Star Wars: The Skywalker Saga. After all, there is a ton of ground to cover in an entire galactic saga, but the Jedi bust puzzle doesn't hurt for adding to the Kyber Brick collection. 
And that's all there is to it! We'd like to thank Gamers Heroes for the video on the Jedi bust puzzle. Continue ahead with your reward and explore the rest of Coruscant.
Featured image courtesy of Youtube / Gamers Heroes