Polyaniline is an advanced material in Subnautica: Below Zero that's required in three separate crafting recipes. While that's not nearly as many as other materials, players still need to know how to make it. 
Like most other resources in Below Zero, polyaniline is unlocked via finding a specific item. Once you find the specific item, then the recipe for polyaniline will become available and you'll know what ingredients are needed to make it. 
Here's what you need to find to unlock polyaniline and how to make it in Subnautica: Below Zero. 
Making Polyaniline in Subnautica: Below Zero
To unlock the recipe for polyaniline, you need to find a flower spore. These red, circular items are found in the Deep Lilypads Cave and are just floating around. Once you've grabbed a couple, the recipe for polyaniline and other materials will unlock.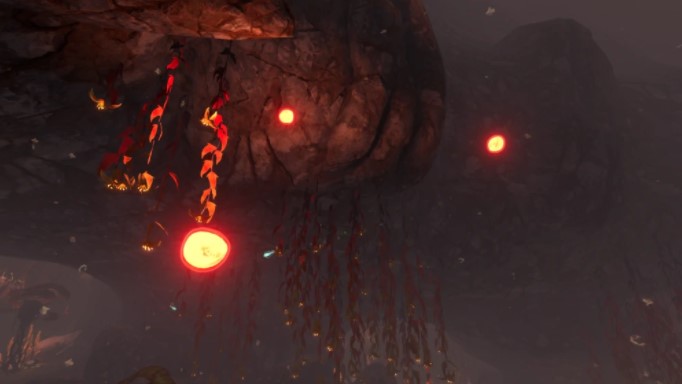 A flower spore vine in Subnautica: Below Zero, located in the Deep Lilypads Cave. (Picture: Unknown Worlds)
After this, head to a fabricator and you'll be able to make the bottle of green liquid. To do this, you need one gold and one bottle of hydrochloric acid, both of which we've covered how to find. Once you have those ingredients, you can make polyaniline and everything else that needs the material. 
This includes the following: 
Prawn Suit Thermal Reactor
Seatruck Perimeter Defense Upgrade
Swim Charge Fins 
The most useful item from that list is the Swim Charge Fins, which allow you to charge your technology while you swim. This means your Seaglide batteries will never run out, for example. You can craft the Swim Charge Fins at a Modification Station along with the other two upgrades for your vehicles.