Esport organisation 100 Thieves have put together their very own Valorant tournament - the 100 Thieves Valorant Invitational - featuring eight teams packed with your favourite content creators from around the world.
This tournament is more a bit of fun than a high-end competition and as such has no prize pool, but with FPS gods, like Shroud, in attendance, you know this is going to be an event worth watching.
Schedule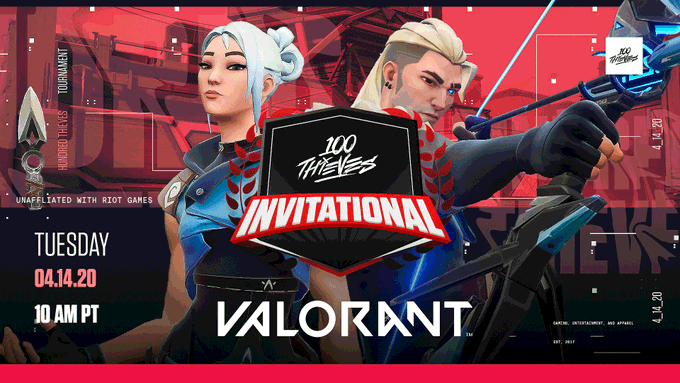 100 Thieves Valorant Invitational kicks off on Tuesday, April 14th at 10 am PDT (1 pm EDT / 7 pm CEST).
The tournament is a one-day event.
Format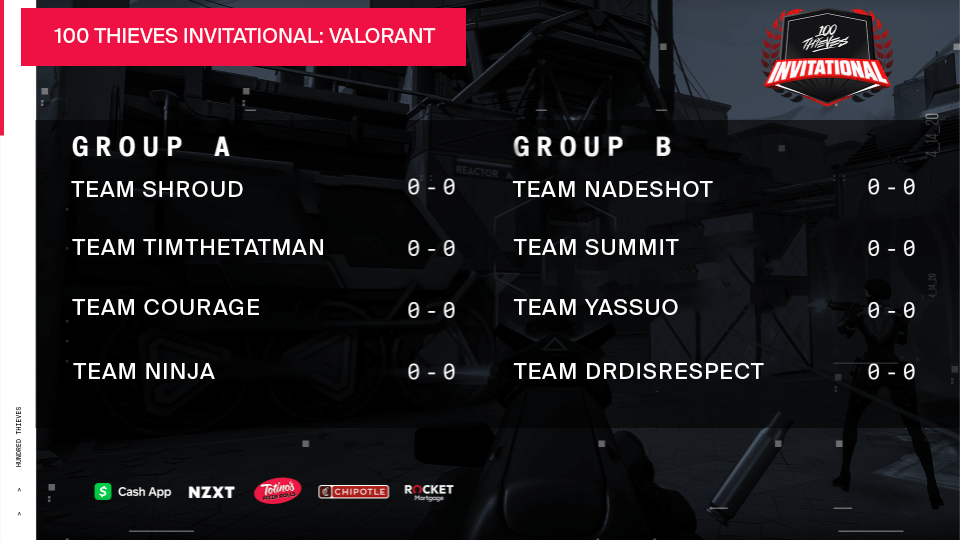 The two teams with the best win-loss record from each group will advance to the knockout stage, which is a single-elimination bracket. Games are Best of 1, until the final which is Best of 3.
The Teams
The 100 Thieves Valorant Invitational is packed full of talent and the biggest content creators across the internet and the world. 
The team captains include 100 Thieves CEO and owner Matthew "Nadeshot" Haag, former CS:GO pro Michael "shroud" Grzsesiek and Fortnite sensation, Tyler "Ninja" Blevins.
Not all of the squadmates for each team have been confirmed so far, but here is what we know at the time of writing.
100 Thieves Valorant Invitational: How-To Watch
The tournament will be streamed on the 100 Thieves Twitch channel which is embedded below, a number of the players involved who are sure to be streaming their point-of-view.