Valorant is only in closed beta, but we have already seen a number of tournaments popping up to support the game in its early stages as an esport.
They may only be invitationals but they standard has been high with several ex-CS:GO pros and the best content creators battling it out for those early esport kudos. 
ESPN is the latest company to announce a Valorant tournament, and this is set to be one of the most interesting events yet - there will be teams compromised of professional players from other games including CS:GO, Overwatch, Apex and Fortnite.
Schedule
The event will take place between April 20th through to the 22nd, starting at 8 pm GMT. The match schedule can be found on the ESPN website.
Format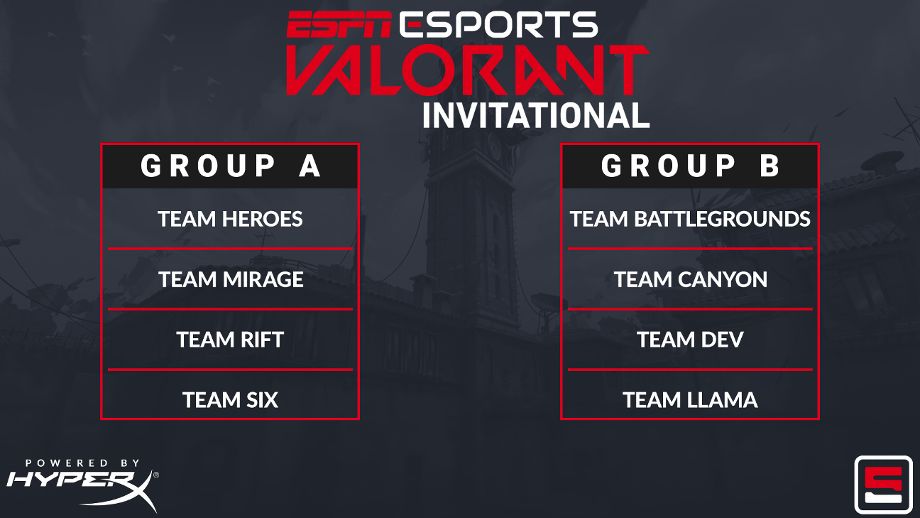 (Credit: ESPN)
The eight teams will be split into two groups of four with a round-robin format, then it is on to the knockout round where the top two teams from each group will play each other in the semi-final before the Bo3 Final. All group games will be Bo1.
Teams 
There are eight teams in total with a mixture of Riot developers, pros and content creators.
Team Rift
Team Mirage
Team Canyon
Team Heroes 
Team Six
Team Llama 
Team Battlegrounds
Team Dev
Made up of Riot developers and if it's anything like the team that took on  Summit1g, Fl0m, shroud, Dizzy and Skadoodle last week they have to be the early favourites.
How-To Watch
The event will be streamed entirely on the ESPN Esports Twitch channel.
For more on the future of Valorant as an esports, check out Riot's plans for the title in the near future.