Riot Games dropped a surprise patch today, v2.1, introducing major changes to Split, as well as nerfing Jett.
As with every new update, the game's leakers were hard at work in the hours after release searching for clues of what could soon be hitting the tactical shooter.
And it is thanks to them, specifically the esteemed @ValorLeaks, that we can reveal what is likely to be the next two skin bundles to hit the game, named Horizon and Prism II.
The Prism II bundle is far from the most eye-catching, especially in comparison to the Horizon bundle, but if you like your guns purple (and why not?) then the Prism II is the collection for you.
Of course, this is Prism II, with the previous Prism which employed a blue-ish hue historically a popular bundle in the game.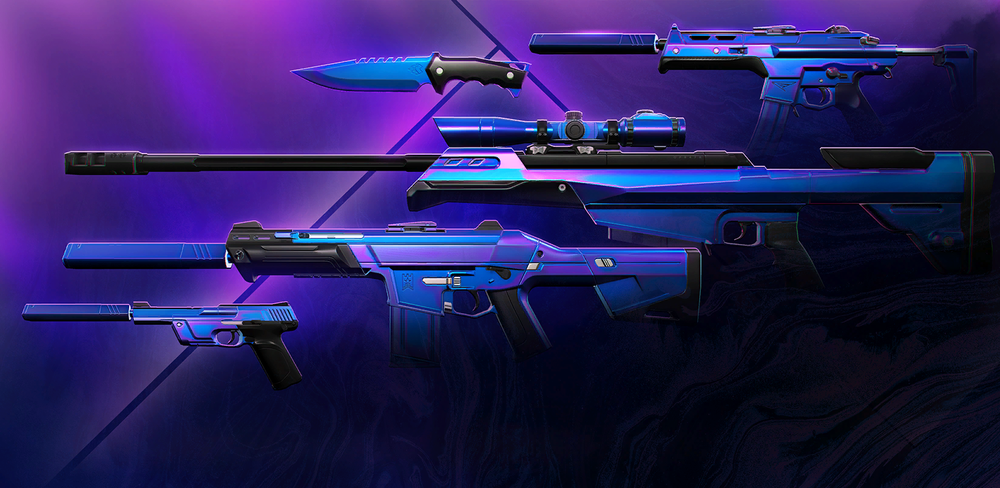 Prism I is a common sight in the game. (Picture: Riot Games)
The new Prism II contains skins for the Vandal, Stinger, Bucky, Shorty, and Sherif.
(Picture: Riot Games)
There is no release date or pricing for the bundle, the previous Prism collection, which included a Knife cost 6,375 VP, with individual weapons costing 1,275 VP (Knife 2,550 VP).
Prism II bundle leaked