Former CS:GO pro and Twitch star Michael "Shroud" Grzesiek is always playing FPS titles, especially Valorant, and has a lot of opinions on esports titles, which carry a lot of weight due to his in-depth knowledge and pro career. With that in mind, Shroud isn't happy with Valorant's ranked queue restrictions at all, slamming the system and calling it "hot garbage" in a recent Twitch stream.
Shroud on Valorant ranked queue restrictions
Valorant's competitive ranked mode has seen a lot of changes with almost every major update, as developer Riot Games continues to adjust the systems for competitive matchmaking.  
For reference to Shroud's gripe with Valorant's ranked queue restrictions, Riot Games put forced solo and duo queues in place early this year. The goal was to prevent five-stacking in higher ranks, thereby improving the experience of the community as a whole.
Shroud, however, thinks this system is "hot garbage", and explained why in a recent stream.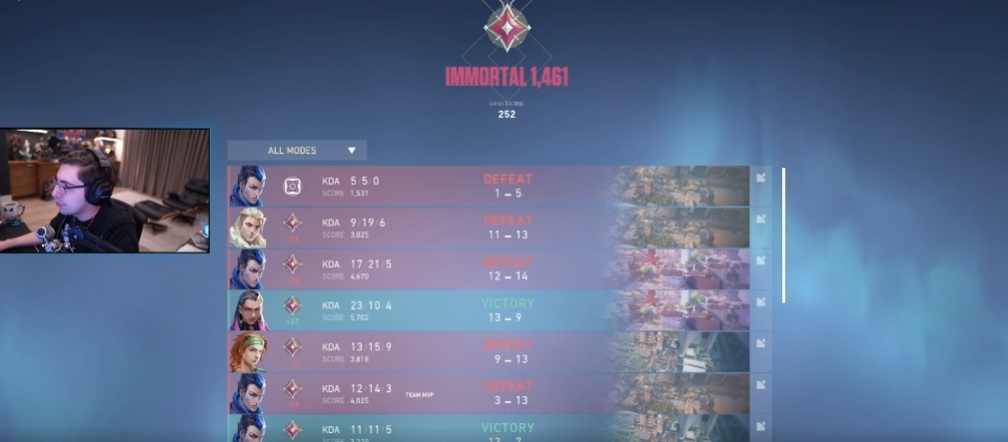 (Picture: Shroud)
While Shroud was playing Valorant on Twitch recently, one of his teammates said that Riot should add in five-player queues already. Shroud answered: "I'm sure they will soon because this s%$t f#$king blows."
Shroud then elaborated on the Valorant ranked queue restrictions, explaining how it impacts the experience when you are forced to play with people you don't know: "Literally, ranked is hot garbage because of this duo queue bulls$%t. It's such a bad dynamic."
Shroud continued by stating: "It's not fun when you're playing with randoms. It's also awkward that it's a duo queue because you have a duo pair, another duo pair, and then you have a solo."
Since Valorant esports tournaments are 5v5, it makes sense that one would want a five-player queue to practice with your team. Sometimes, it's not fun to play with strangers, even if you aren't a top tier player.
At the time of writing, Riot Games has not shared any plans for a five-player ranked queue. However, Shroud's comments on the queue restrictions do make sense.
For everything Valorant, check out our dedicated section filled with news, guides and more.