In an epic conclusion of Valorant's First Strike NA tournament, 100 Thieves managed to take a surprising 3-1 win against favoured TSM and take home the ,000 first-place prize.
100 Thieves' roster saw a lot of changes since the organisation first entered Valorant esports scene and the roster playing at the First Strike NA event was only two months old.
They were definitely not considered favourites, and even them being in the grand finals was unexpected, but they've shown the world what they are capable of.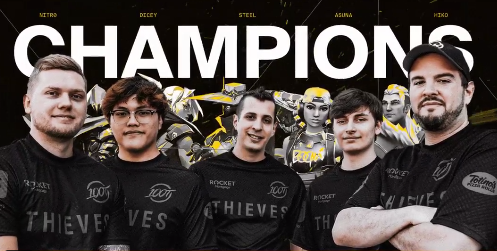 (Picture: 100 Thieves)
And while it was a sad day for TSM fans who wanted their team to be crowned first-ever Valorant NA champions, the team has shown great skills and potential to dominate the scene in 2021.
Speaking about the finals, TSM's content creator Ali "Myth" Kabbani asked TSM fans to respect 100 Thieves and show sportsmanship by acknowledging their performance.
"If you are a TSM fan, here's what we not gonna do. We are not gonna take away that big, fat dab from 100 Thieves and that amazing series by saying they got lucky," Myth makes it clear to his viewers. "They smacked us 3 to 1 dude! That's what happened, we lost, they fu**ing won."
Myth didn't like the fact that some viewers were discrediting all the work 100 Thieves have put in while they were preparing for this tournament and the talent they showed in the finals.
"GG to them bro, that is not luck. They were better today. They won."
With the end of Valorant First Strike regional finals, the first year of Valorant esports is now officially over, and Riot states that the preparations for Valorant Champions Tour 2021 have already begun.