The Valorant Champions Tour 2021 will be one of the most ambitious Valorant projects yet, and the first round of the Valorant Champions Tour is just around the corner.
Possibly one of the biggest esports league in 2021, the Valorant Champions Tour will start in the last weekend of January, with the first series of Challenger events.
The season kicks off in late January with regional Challenger events across the globe, starting from 26th January.
Challengers are the lowest level of the Tour and are focused on the regional competition. They are regional events with open qualifications where anyone can compete, and they serve as qualifiers for Masters.
Riot Games has separated the Tour in 10 regions, and each region will have its own Challenger tournaments.
The Valorant Champions Tour 2021 Challengers schedule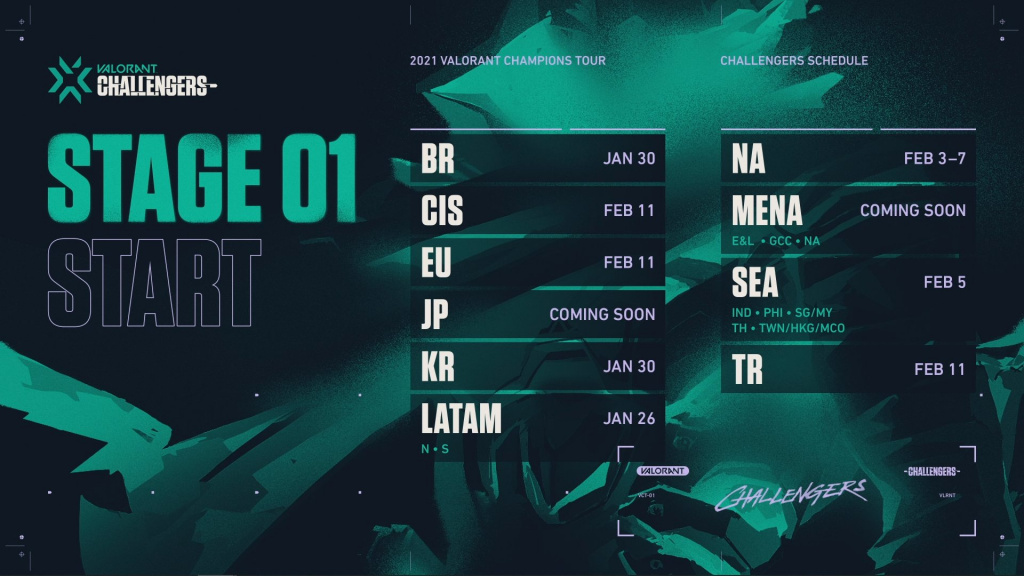 (Picture: Riot Games)
The first series of Challengers tournaments for the Valorant Champions Tour 2021 will be held on the following dates:
North America: 3-7 February
Europe: 11th February
CIS: 11th February
Brazil: 30th January
Latin America: 26th January
Japan: TBA
South-East Asia: 5th February 
South Korea: 30th January
MENA: TBA
Turkey: 11th February
For more information about Valorant Champions Tour 2021, you can read our dedicated article about it, to find out everything about format, regions, dates, rules, and more.