On Saturday evening, May 17th, Raidel "Joke" Brito won the Madden Bowl championship, defeating opponent Daniel "Dcroft" Mycroft, securing EA SPORTS Madden NFL 20's top title.
Joke is a journeyman of the game, having played for multiple years, and amassing a sizable collection of tournament winnings, reported to be in the region of $200,000. This was his first Madden Bowl win, marking a tremendous peak to his storied career.
However, Joke's method of victory has come under some scrutiny, amid a shift in the meta within Madden to a more run-focused style. During his 17-0 win, Joke passed 0 times, opting instead to run the ball on almost every play. What's more, rather than a traditional quarterback, Joke instead put current Washington Redskins punter Tress Way under centre, allowing the sure-handed player to take snaps.
For those not fully versed in American Football, this would be like a FIFA player opting to dribble past all the defenders each time they were in possession, instead of passing. What's more, the quarterback substitution is roughly analogous to subbing out your star striker for division two goalkeeper, just because the goalkeeper happened to be cheap, and have reliable ball control stats.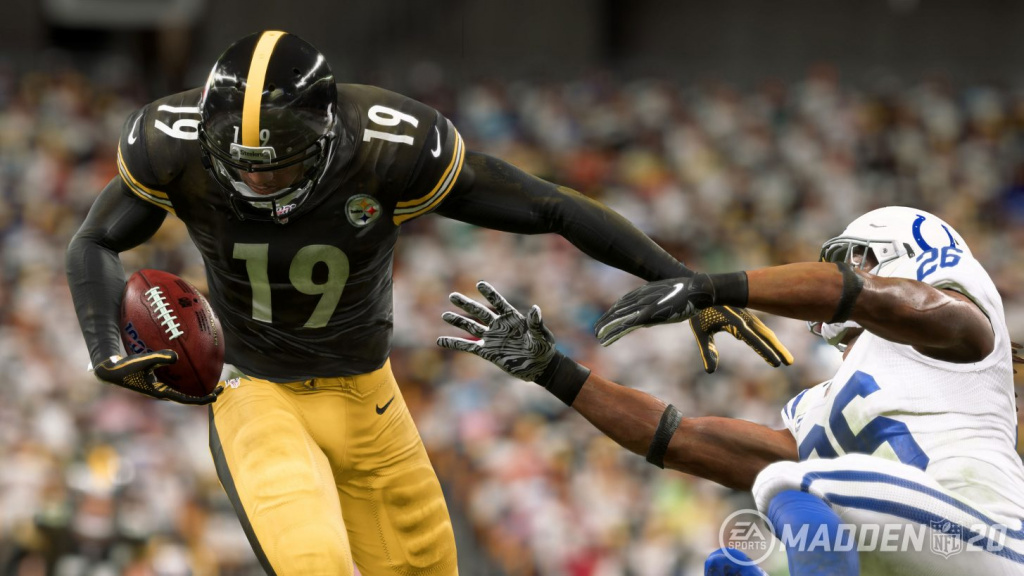 Raidel "Joke" Brito used a playstyle rarely seen in the real game. (Picture: EA Sports)
As you're probably beginning to understand, there's a very distinct method behind Joke's strategy though. The current competitive mode of Madden NFL 20 puts a salary cap on any players you pick up for your custom team. While the system is designed to prevent you stocking a roster with 99 overall monsters, and force an even playing field, there's nothing to stop you from min-maxing your lineup into something like Joke's team.
Joke's lineup focused heavily on his offensive line and running backs, fielding the punter as his QB due to his cheapness compared to others in that position, and grabbing budget receivers as well. With the cap space saved from skimping on half a dozen offensive positions, he was also able to grab a truly killer defence - something he's no slouch at playing either.
But the win and the methods used by Joke have drawn considerable attention from media outside of the traditional Madden circles. The victory was picked up by ESPN, and even Barstool Sports, whose more sensational headlines made Joke's victory the perfect outlet for.
But the mainstream coverage has brought to light something that isn't a great look for the game's publisher EA. With the Madden NFL marketed as a sports simulation, it's high-level gameplay is starting to look completely alien compared to the current game it purports to simulate. The NFL is filled with pass plays, and while the occasional run-heavy team exists (such as the team Joke chose to represent himself, the Tennessee Titans), most fans would admit that the league is very much a pass-first organisation at this point, if the most recent few seasons are anything to judge.
Madden NFL is a place where the pass is rare and dangerous, more dangerous than in the real game. The reliability of zone and even man coverages, and the ability of players to take over defenders and intercept passes in incredible ways makes passing a far less viable option. 
What's more, runs are more reliable than in the actual NFL, can consistently produce at least three or more yards (enough to keep a drive alive), and top players rarely fumble or otherwise turn over the ball. Simply put, there's no point passing if you're ahead in a game of Madden. Running down the clock, protecting the ball, and basically allowing your opponent to have as little fun as possible is always the best option.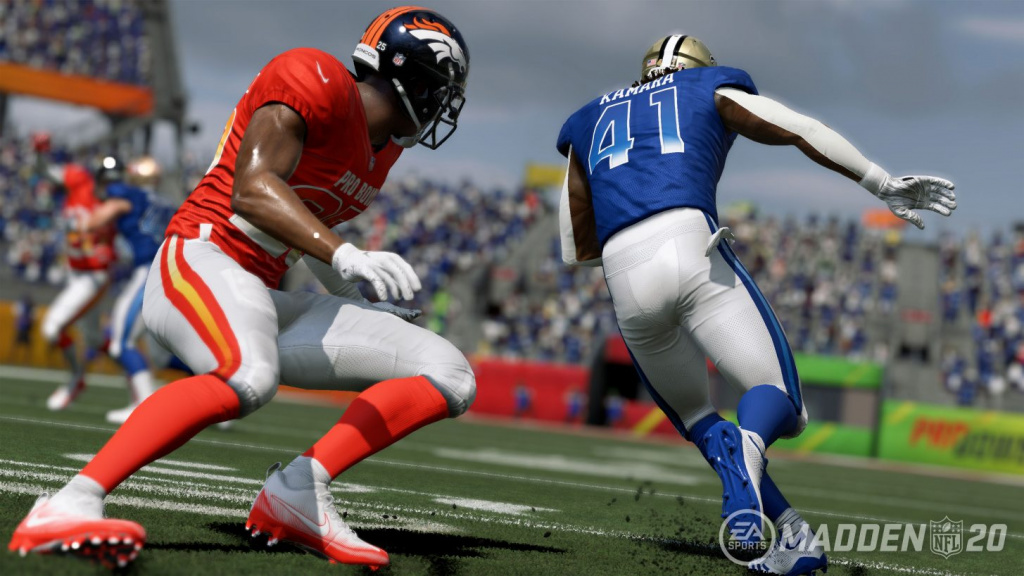 Madden NFL 20 is one of EA Sports best selling games. (Picture: EA Sports)
It's a discouraging state of affairs and goes against some of Madden NFL's key selling points. While rushing for four or five yards every single down is going to win you a lot of games, it's not exactly the most fun thing in the world to be doing. Especially in a game meant to showcase some of the most exciting action from the NFL. At some point, you have to wonder if casual fans of Madden NFL will be turned away. A worrying prospect given that the franchise is one of the company's golden geese, selling over 130 million copies since it's debut, second only to FIFA in EA's arsenal of sports games.
At the core of it, Joke himself can't be criticised when this is the optimal way to play the game. He's a competitor, a pro Madden player, and of course, he's going to find the best way to play and win at this game. What's more, his final opponent Dcroft had a similarly optimised team, although played in a more 'traditional' manner. In fact, any and all his opponent's in the tournament had the option to run this style, which has become the default meta of the game.
More than that, Joke is an incredible player in his own right, far separated from whatever strategy he used. Beyond the run-first offense, his play on defense was incredible during the final, and shutting out a pro opponent on the biggest stage of all is no small feat.
Joke even seemed to acknowledge people were missing the point of his victory, retweeting compLexity General Manager, Sören "Fantasy" Vendsahm's comments on the focus of the reporting.
ESPN did it right...used the right headline of @Jokeeee_ ending the drought...that's the story. This "he didn't throw a pass all tournament"...is borderline disrespectful to the achievement.

— Sören 'Fantasy' (@coL_Fantasy) May 19, 2020
Ultimately, the fact that something so far removed from its real-life counterpart could do so well in a top-level tournament is a sad indictment of the quality of EA's "simulation" - something the game often claims to be. Games like Rainbow Six Siege, CS:GO, and even Rocket League would never suffer from their gameplay failing to match up to "real-life," but for a game based on a genuine sport, it's damning to see.