Olajide "KSI" William Olatunji may be more known these days for his boxing matches with Logan Paul and his rap career, but he really blew up on YouTube over 10 years ago with his gaming videos with many featuring football game - FIFA.
They were often hilarious and gave us the first glimpse of the infectious personality that would make KSI the star he is today, and at that time the idea of a world where the YouTube star didn't enjoy playing the game would seem farfetched.
Fast forward 10 years and KSI is a different person, or maybe FIFA is. One thing is for certain, he certainly won't be firing up FIFA 20 any time soon.
"I don't like FIFA, the idea of me playing FIFA disgusts me. I hate it," he said on Joe Weller's Wafflin' podcast with touched on their boxing fight, relationship with Deji and plans to fight Jake Paul (it is probably happening).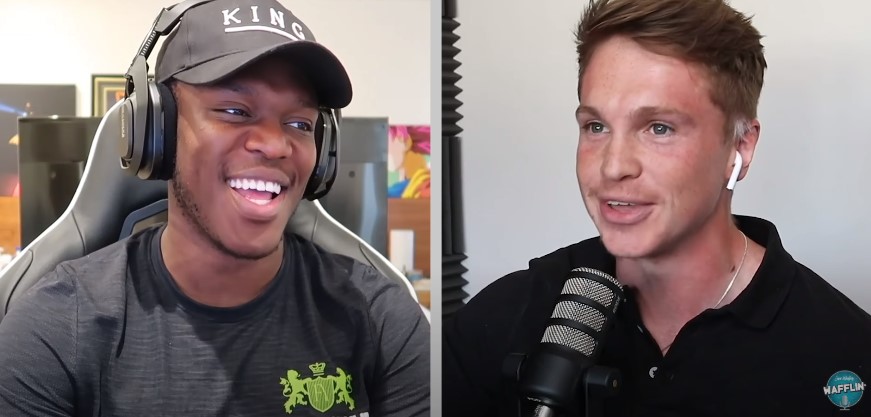 KSI made it clear he was done with FIFA in his appearance on Joe Weller's podcast. (Picture: Wafflin' podcast) 
On the idea of doing FIFA video's again though, he was adamant that stage of his career is over, "the idea of me picking up a controller, opening packs and s**t. I f**king hate it."
KSI channel is mostly a mix of his own music and reaction videos, which see him going on TikTok or his own subreddit and breaking into hysterics something which caused Joe Weller to put to him was a "put on persona" an accusation that KSI refutes.
"If it's funny I laugh, if it's not I don't," said KSI, who has a combined 30 million followers across his two main YouTube channels.
It's a privileged position and what which allows KSI to put out the content he wants to, "I can't force myself to do it. So I moved on to music, reaction videos."
KSI also had advice for any budding YouTuber's out there and one which he has clearly taken to heart: 
"Ultimately people subscribed to watch you, and if you are not enjoying what you're doing, they can tell and it's long for them, and long for you. You might as well just do what you enjoy doing."
So for any OG KSI fans that hanker for the days of him messing around on FIFA, it looks like those are sadly in the past. 
Watch KSI and Joe Weller discuss their beef, boxing match and YouTube careers