Call of Duty: Mobile Season 11 is based on the holiday season theme, and that said, you will find a ton of Christmassy rewards along with the Icebreaker map and Snowball Scuffle mode filled with snow.
The Snowball Scuffle mode is what players are the most excited for as it will let you engage in snowball fights. Not only this, it brings you a special surprise which you can also play as a snowman in this mode. Snowball Scuffle mode will be available from 22nd December and here's how you can win it.
COD Mobile: Snowball Scuffle mode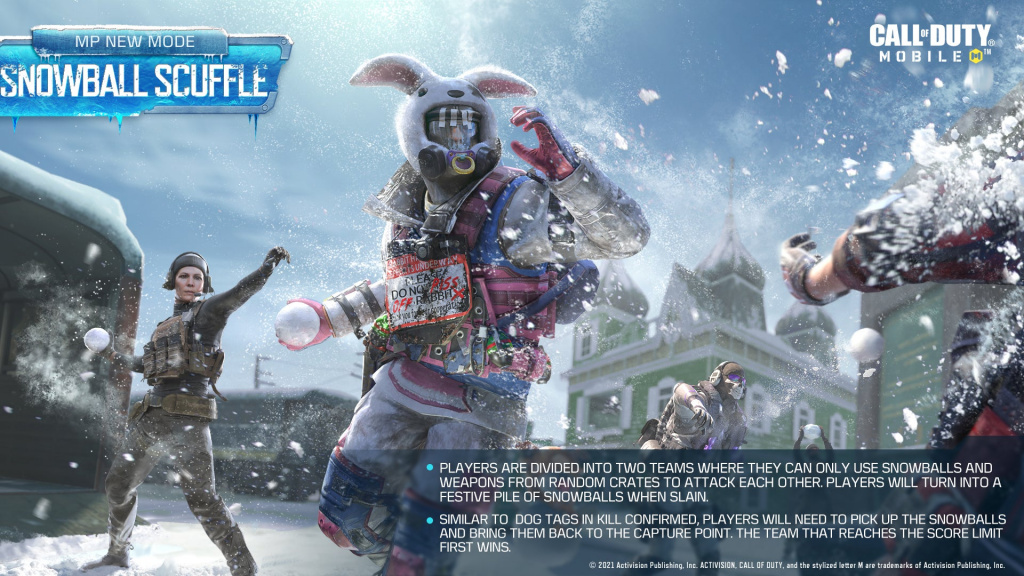 Snowball Scuffle is similar to the Kill Confirmed mode in COD Mobile. In this mode, players will be divided into two teams, and instead of weapons, you will have to use snowballs to kill the opponents.
In addition to this, you can use your fists and weapons like the holiday-themed War Machine from the crates that will spawn randomly throughout the match. After you kill an enemy, they will turn into a pile of snowballs that you need to collect and bring back to the capture point. 
This will reward you with game points, and the team who reaches the required score first will win the match. In addition to this, Activision has added a fun element to the mode - the crates will also give you a chance to become a snowman by opening them. 
You will also be able to collect snowman skins during the match that you can show off on the victory screen.
You can have a look at Snow Scuffle mode's gameplay uploaded by Squally below:
Don't forget to check out our dedicated COD Mobile section, featuring all the news, guides, weapon tier lists, loadouts and more.
Featured image courtesy of Activision.