Alex "ALEX" McMeekin, a CS:GO pro and formerly of teams such as Team Vitality and Cloud9 has started a fundraiser to support Kick It Out - an English organization created to battle racism and discrimination in football.
McMeekin's actions were motivated by the hateful and abusive comments made online after England's yesterday's loss against Italy in UEFA EURO 2020 Final. The young English side took their rivals to a penalty shoot-out, which they lost. Marcus Rashford, Bukayo Saka and Jadon Sancho all missed their penalties, helping Italy emerge victorious.
It has to stop.https://t.co/fXKX9Plcvd#stopracism#StopOnlineAbuse#Euro2020Final#SayNoToRacismpic.twitter.com/F3SM3xsvEQ

— ALEX (@CSGOALEX) July 12, 2021
The three targeted players are all black and the tone and content of the posts seen on Twitter and Instagram mainly had overt racial overtones. The comments have been widely condemned by the English FA, Prime Minister Boris Johnson and not least by teammate Harry Kane. ALEX has joined that chorus and -- with a sizeable internet backing -- feels its only right to step up.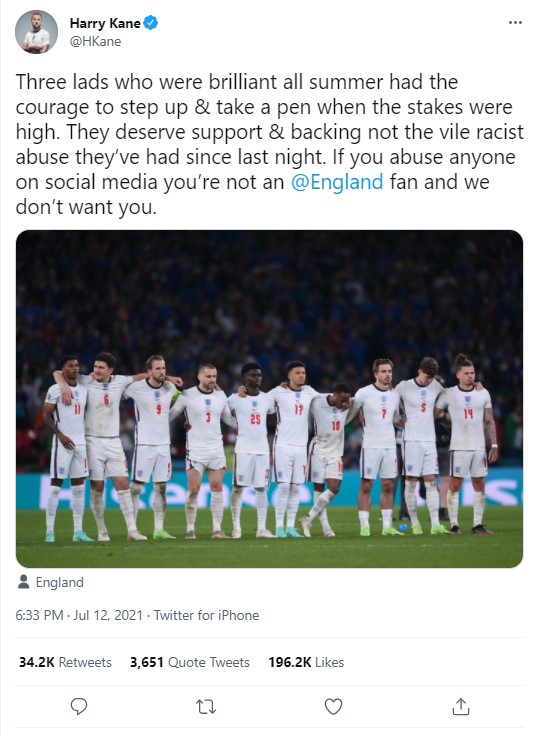 Harry Kane send those that sent abuse aren't England fans. (Picture: Twitter / Harry Kane)
"I'm ashamed and disgusted with the behaviour of some of our fellow 'fans'" he says in his statement. "It saddens me that people still suffer constant abuse, and you have to live with daily discrimination just because they don't look like you."
ALEX underlines that discrimination is also becoming a bigger problem within esports every day, which is why he is choosing to support Kick It Out. "I'm choosing to fight discrimination in football in the hope that it will help tech companies take action for all communities, not just football."
ALEX is looking to raise at least £5000 for Kick It Out and has personally donated £1000 himself.
You can support ALEX's fundraiser by entering this link, which will take you directly to its gofundme.