Have you ever wanted the EVO Online experience on the go? Well, EVE Echoes from developer CCP Games and published by NetEase Games. Here's what you need to know about the Sci-Fi sandbox title for mobile devices, including how to play it, what it is and all the game's features.
EVE Echoes: How to play
To start playing EVE Echoes, all you need to do is head on over to either the Apple or Google Playstore by following the links below.
EVE Echoes is completely free to play while offering some in-app purchases as is the standard for mobile titles.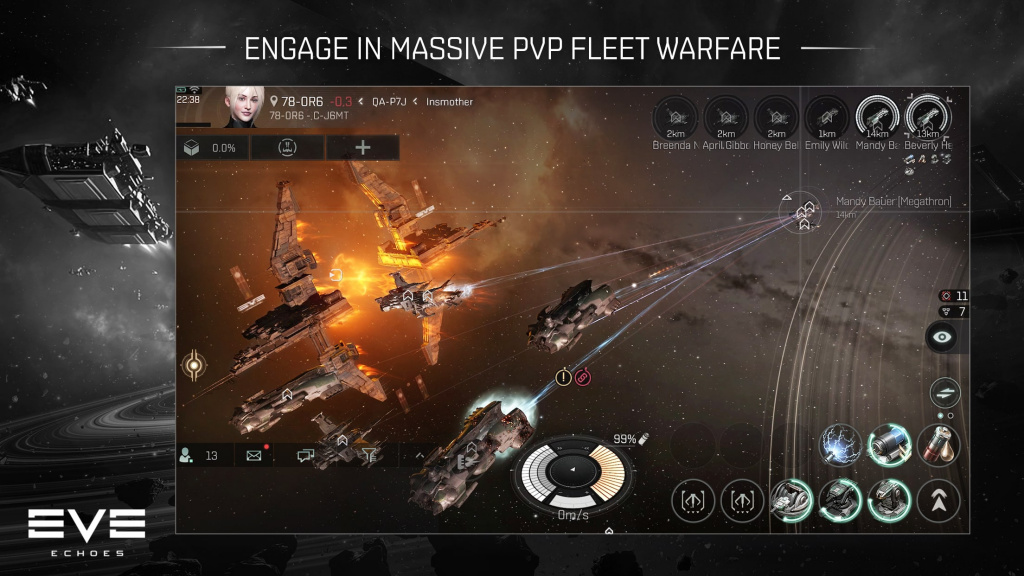 (Picture: CCP Games)
The game delivers an authentic EVE Online experience for mobile gamers, which means you can hop into New Eden (a parallel universe version) and gather resources, engage in combat, trade, explore and much more. 
What is EVE Echoes?
Dubbed as a next-gen mobile spaceship MMO game, EVE Echoes is based on the principles of EVE Online. This means players have the freedom to explore, fight, make alliances and more in a persistent, massive universe.
EVE Echoes is a sandbox experience, which means it is up to you to decide what type of player you will be, from a pirate to a miner, or a leader of a corporation. 
Players in EVE Echoes are free to do whatever they want, how they want. If you are familiar with EVE Online, you should feel very comfortable right from the start. While EVE Echoes can become complicated at times, it is this level of detail which made EVE Online such a success in the first place.
Players are able to explore thousands of solar systems, shift the balance of power in the universe of New Eden, and engage in a tonne of activities with others.
Best of all, the developer CCP Games constantly updates EVE Echoes, bringing balance changes, new content and more to the game.
EVE Echoes features
EVE Echoes boasts some amazing features for players to enjoy on their mobile phones. A rundown of the main features can be viewed below.
An official immersive sci-fi sandbox MMO - EVE Echoes exists in a parallel New Eden for players. Developed based on the signature gameplay of EVE Online, players can enjoy an original and authentic EVE experience on mobile devices.
A Space Opera that Unfolds Across 8000+ Star Systems - EVE Echoes is a sandbox where players are free to choose their role and playstyle in a vast universe, pursuing whatever they desire in-game, including combat, exploration, industry, trade and more.
Create Your Own Sci-Fi Legacy With 100+ Unique Ships - In the magnificent interstellar universe of EVE Echoes, players can fly more than 100 ships and choose unique ship SKINs. The Capsuleers themselves are the primary narrators in their own huge science fiction epic.
Engage in PvP fleet warfare on an unprecedented scale - EVE Echoes provides a never-seen-before combat environment, supporting large-scale battles of up to 100 players. Join up with your allies and test your combat skills in thrilling space battles.
Experience the player-driven economy through trade & manufacture - Seize the opportunity to become a business tycoon by trading and manufacturing in an open, player-driven market. Produce, distribute, trade, and maximize resource use to achieve limitless wealth!
Make galactic history with your own Corporations and fleets - In EVE Echoes, you can establish your own Corporations and join alliances. Fleet up and fight for power, territory and glory in thrilling galactic warfare.
Create your own unique adventure in a vast and boundless universe - This is a world like no other, full of opportunities—but also filled with hidden dangers. Step through the EVE Gate, start planning your spacefaring adventure, and go make history.