Of the experiences offered by gaming this year, fumbling onto a conveyor belt with 60 jellybeans against fruit-mageddon has surprisingly imprinted my skull.
Fruit Chute, as it's called, sees your bean comrades ascend an agonising slow climb while trying to avoid getting decked by bananas. One knock is redeemable, but get caught in the pack and you become a troll obstacle yourself - clinging onto passers-by as you roll into the colour abyss.
You may look at Fall Guys and think this is overdramatic, but like the game shows it draws from, the cruel comical tension beneath is what makes it so compelling. Another obstacle course serves up the classic see-saws which are manageable if you gain an early lead, but when you're caught up in the main thrust of players bombarding both sides at once, there's a chance you'll be left screaming at beans dressed like pineapples over their lack of coordination.
Developed by MediaTonic, who previously created brawler Foul Play, Fall Guys is Total Wipeout distilled into a multiplayer game. You're thrown into a lobby of 60 people, challenged to pass a series of courses by either surviving or finishing within the qualifying quota, until there's only one player left standing.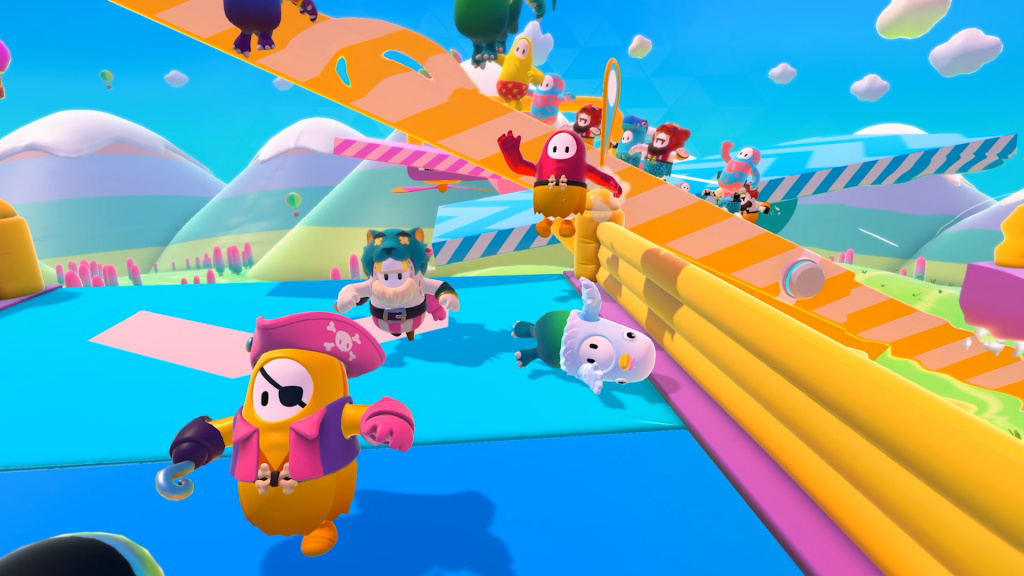 Fall Guys is enormously silly fun (Picture: MediaTonic)
True to modern games, you're rewarded with Kudos points to make in-game purchases on cosmetics to customise your character. These all lean into the silliness, with an array of animal heads from wolfs to pigeons available in the first season, which can also purchased through micro-transactions.
Outside of this, there's little else motivating you to keep playing aside from the absurd thrills and trying to be the last bean standing. This isn't an issue however when all the courses and games available are this fun, offering enough variety so it never feels like you're seeing the same event too often.
The best games are typically where it's every jelly for themselves - with the team games, like egg chasing or football, occasionally leading to frustration when poor teammates cause your elimination. Coupled with server issues booting players from games which plagued the game's launch day, and the package sometimes does feel rougher than the cuddly exterior suggests.

The team games can cause frustration but they're still a good time (Picture: MediaTonic)
The highlights however make occasional frustration worthwhile. One game sees remaining players plopped on a multi-level tower, running around disappearing platforms in a bid to be the last one to tumble to the bottom. There's the classic jump over a spinning turnstile, which is far more difficult surrounded by running, panicked players. Door Dash, meanwhile, offers the visual delight of seeing the bean masses fling themselves at solid walls in blind faith.
Fall Guys however feels like it's missing key features to make it a must-have party experience. The omission of split-screen is the biggest, which the developers are seemingly looking to address for the future, while private lobbies to host online parties with friends would also be an asset. Considering it's the first season though, it's likely some of these will be addressed in the coming months.
As it stands, Fall Guys: Ultimate Knockout is a chaotic blast built for multiplayer giggles. Even when cracks do show, it's a testament to its goofy heart that you'll still wrestle slime slopes or face-plant walls for glory despite likely embarrassment - the ultimate simulator of every Takeshi's Castle contestant.
4/5
Fall Guys is available now on PlayStation 4 and Steam. PS Plus subscribers can download it for free throughout August.