Fall Guys: Ultimate Knockout has the potential to be one of the breakout party games of the year, judging by its recent beta success. 
The new multiplayer title managed, at one point, to rack up more Twitch viewers than Fortnite and Valorant over the weekend - as a number of streamers scrambled for beta keys. 
With the full release on the horizon, here's what you need to know about Fall Guys and how you can get involved with the chaos. 
What is Fall Guys? 
Fall Guys: Ultimate Knockout is a multiplayer party game developed by MediaTonic, where 60 players are tasked with overcoming obstacle courses and challenges until there's one winner standing. 
The courses themselves feel inspired by TV shows like Takeshi's Castle or Ninja Warrior, albeit with an abundance of wobbly characters being knocked around by swinging poles and perilous traps. 
When does Fall Guys release and what time? 
After its recent beta, Fall Guys will be released on Steam and PlayStation 4 on 4th August. 
While the game will cost £15.99 on Steam, PS Plus subscribers will be able to download the title for free over the entire month of August - so console players have no excuse for not jumping in. 
While an official time hasn't been released for when Fall Guys will be available, with MediaTonic outlining how they wouldn't be releasing specifics, a countdown clock on Steam (which could merely be a placeholder) indicates it will drop at 7am BST on Tuesday 4th August in the UK. 
We're super excited to see you all asking for specific timings of launch tomorrow

We want to make sure everything is 😗👌 before we go BIG

We'd really appreciate it if you can be patient with us around EXACT timings, and understand why we're not announcing that in advance 🙌

— Fall Guys 👑 (@FallGuysGame) August 3, 2020
We'll update this page if official timings are released. 
Does the game support couch co-op split screen? 
At launch, Fall Guys unfortunately won't support split-screen co-op, although the developer has expressed their interest in including it at a later date. 
In a recent Reddit AMA, Mediatonic's Joe Walsh wrote: "We'd love to have split screen but at some point during development we had to cut it in order to get the game finished in time!
"It's a HUGE undertaking from so many disciplines and we decided it would be better not to spread ourselves too thin and make sure the game we delivered is up to par.
"That said, you never know what might come post launch! I'd certainly love to play split screen and it gets requested TONS by the community."
Does it have crossplay between PS4 and PC? 
The game won't support crossplay at launch, although the developer has similarly expressed interest in adding the feature down the line. 
Pre-purchases bonuses and collector's edition
If you purchase Fall Guys in advance, you'll unlock a Gordon Freeman head crab outfit for your jellybean character. 
There's also a collector's edition which costs £23.99 on Steam, which includes three additional skins Ecto Pirate, Fairycorn and Astronaut, along with a Robot emote and 10,000 Kudos.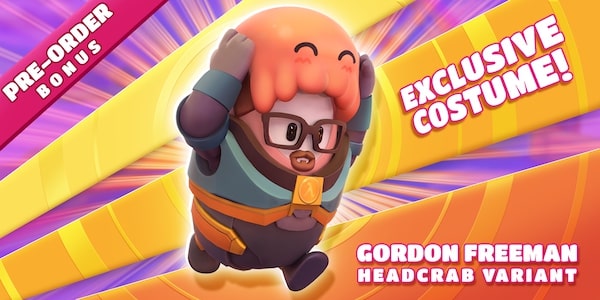 Go all Half-Life in Fall Guys (Picture: MediaTonic)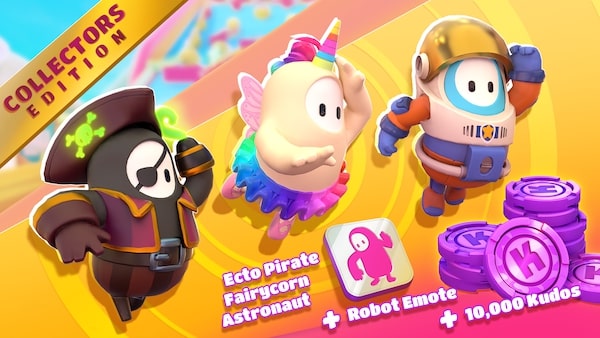 Fancy some more costumes? (Picture: MediaTonic) 
Kudos is the title's in-game currency, which you can use to purchase costumes, colours and patterns for your character. 
Those who took part in the beta will also recieve a special costume a few days after playing, which you can check out below. 
News on the Beta costume:

If you EVER jumped into a game during the Beta - then you'll be gifted this costume randomly a few days after you start playing the main game!

If you don't see it after a few days - please be patient, it will show up for everyone eventually 😙👌 pic.twitter.com/kKWCa8hlEL

— Fall Guys 👑 (@FallGuysGame) August 3, 2020
Fall Guys: Ultimate Knockout releases on Steam and PlayStation 4 on 4th August.