On Saturday Sony announced a brand new showcase for the PlayStation 5, scheduled for 16th September at 10 PM CET.
This September PlayStation 5 event will be approximately 40 minutes long and naturally, fans are already speculating what can we expect to see new during the presentation.
PlayStation 5 Showcase broadcasts live this Wednesday at 1pm Pacific Time: https://t.co/W4gkVp7pdvpic.twitter.com/Nn33RT0yki

— PlayStation (@PlayStation) September 12, 2020
Previous big PlayStation event was back in June when they revealed the console's design amongst other big announcements, like Horizon: Forbidden West, Marvel's Spider-Man: Miles Morales, Ratchet & Clank: Rift Apart, Resident Evil 8, and more.
Back then, noticeably missing was the next Final Fantasy game, something many expected to be revealed during the event.
Although Final Fantasy never was a PlayStation exclusive franchise, Square Enix and Sony are having tight cooperation in the last couple of years, and the latest Final Fantasy game, Final Fantasy VII Remake, is being a timed exclusive for PlayStation 4.
Launching Final Fantasy XVI as a timed PlayStation 5 exclusive is something many are thinking will be the case.
Final Fantasy XVI has never been officially mentioned but it has been known that the game is in development for quite some time.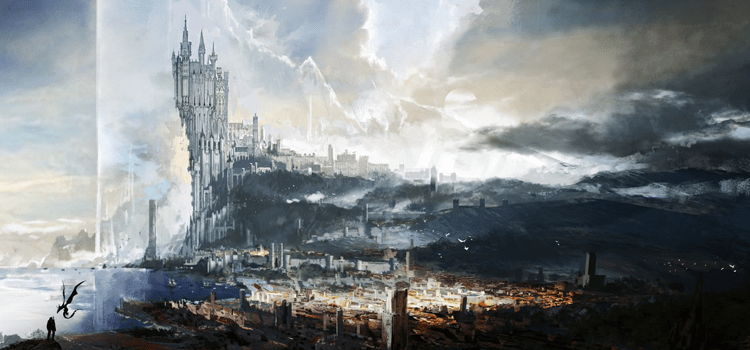 A picture of "the new project" Square Enix shared recently, believed to be Final Fantasy XVI concept art (Picture: Square Enix)
In the official article form the last year on the Square Enix website, talking about the future of Final Fantasy XIV, at the very end of it there was a paragraph talking about the "new project in progress".
They are calling it "a new core project" which will make them "to take on the challenge for the next generation".
The article says that the project has already completed the initial development and that they are now in "the full-scale development phase".
A few weeks ago it was discovered that a Twitter account has been made for Final Fantasy XVI, which fueled the speculations even more.
Shinji Hashimoto, a Japanese game producer at Square Enix, who serves as the Final Fantasy series Brand Manager, retweeted the PlayStation 5 event announcement, and he usually only retweets things that are related to projects he is responsible for at Square Enix, which is another strong sign that Final Fantasy XVI will be revealed on Wednesday.
Imran Khan, GameInformer's ex-editor who has a lot of connections in the industry, thinks that this PS5 showcase is a perfect time Final Fantasy XVI to be finally announced.
Seems like it would be a good time for it, yeah.

— Imran Khan (@imranzomg) September 12, 2020
It is believed that the team working on Final Fantasy XVI is the same team behind Final Fantasy XIV, a highly successful and beloved MMORPG which recently celebrated its 7th birthday.
If all these speculations are true or not, we will find out in a few days during the PlayStation 5 showcase on Wednesday, 16th September at 1 pm Pacific Time.