It's Freebie Friday once again, with the new batch of free games available on the Epic Games Store for PC gamers to take advantage of. The new free games, which are available until 13th August, feature a brand-new title called "3 out of 10" from the developers of MOTHERGUNSHIP. Then, we've also got a puzzle title called Wilmot's Warehouse to claim.
Free games on Epic Games Store
All you need to do to claim the new free games on the Epic Games Store is create an account (if you don't have one already), and follow the links below.
If you claim these free games before 13th August at 05:00, they will be yours to keep and play at your leisure. There are no strings attached, so you can just pick them up and start playing.
Check out a description and trailer for both free games below, followed by the upcoming freebies on the Epic Games Store.
What is 3 out of 10?
Join the ongoing adventures of developers at the world's worst video game studio as they endure antics both absurd and topical. This week Midge joins Shovelworks Studios as a new animator, but not all is as it seems at the studio.
What is Wilmot's Warehouse?
Wilmot's Warehouse is a puzzle game about keeping a warehouse running in tip-top shape. Just remember where you put everything because when the service hatch opens, you'll need to find the things people want quickly, to earn the coveted Performance Stars.
Next free games from the Epic Games Store
The next batch of free games on the Epic Games Store will become available on 13th August, and you will have until 20th August 2020 to claim them.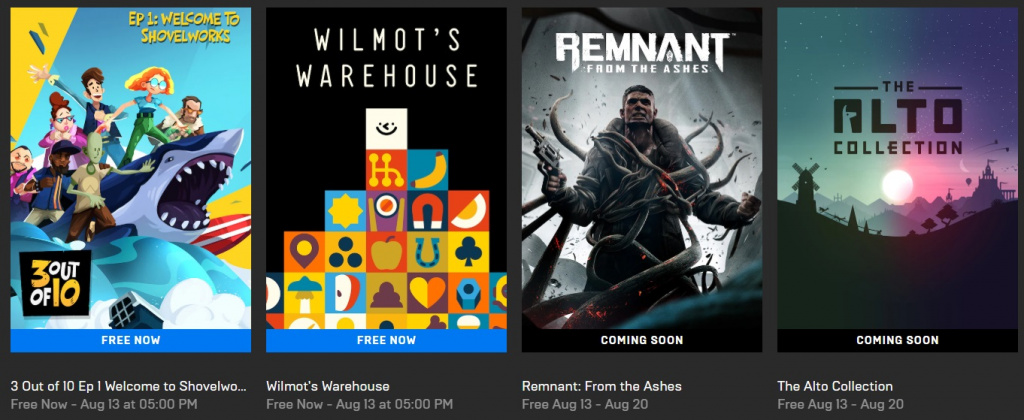 (Picture: Epic Games)
Remnant: From the Ashes as well as The Alto Collection will be the next freebies, so mark those calendars for some great free games.