From developer Skullbot Games, Gone Viral is a new rogue-lite dungeon crawler where players have to make their way through procedurally-generated levels. 
Much like The Binding of Isaac and others in the genre, the game gives players modifiers which affect your character through each run - ranging from extended melee range, acid trails to boosted weapons. 
Gone Viral's USP however is the post-apocalypse gameshow it's based within, with Twitch viewers able to act as the audience in voting for temporary modifications within certain rooms - including an influx of beach balls, increased speed and a wave of nuclear bombs. 
But how do you set up Twitch functionality in Gone Viral? Here's what you need to know. 
How to connect your Twitch channel to Gone Viral
Gone Viral's Twitch functionality works by allowing access to your chat, where your username account or bot will post prompts so viewers can vote on specific events. 
Important: While setting this up, make sure you're doing it off-stream so viewers can't access certain private information for your Twitch account.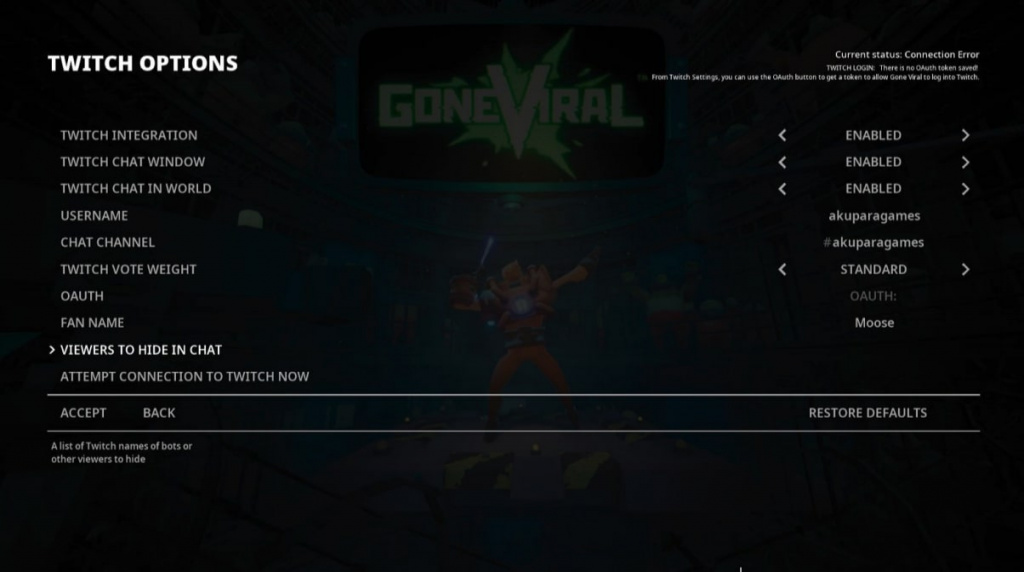 Head to Twitch options (Picture: Skullbot Games) 
From the main menu, head to Options and then Twitch Options
Make sure Twitch Integration and Twitch Chat Window is set to 'Enabled'
Enter your Username and Chat Channel in the spaces provided (If your want a bot to do the chat prompts, put the bot's username in the spaces instead)
Click on Oauth, which essentially is how the game communicates with Twitch, and click on the skullbot link, where a code will be generated
Copy and paste that code into the box in the game. Once you click 'OK', then click 'Attempt Connection to Twitch Now'. If it all goes smoothly, the game should be connected to your Twitch chat. 
How do fan polls and votes work?
To make sure fan polls appear on your in-game screen, head to UI options and ensure 'Fan Polls' is toggled to 'Show'. 
Once you've linked your Twitch channel to Gone Viral, prompts in your Twitch chat will appear which viewers can vote on by typing in the number into the chat of the selection they want. If there's multiple polls happening at once, they can also write out the name of the selection which will register a vote. 
How to set up webcams in Gone Viral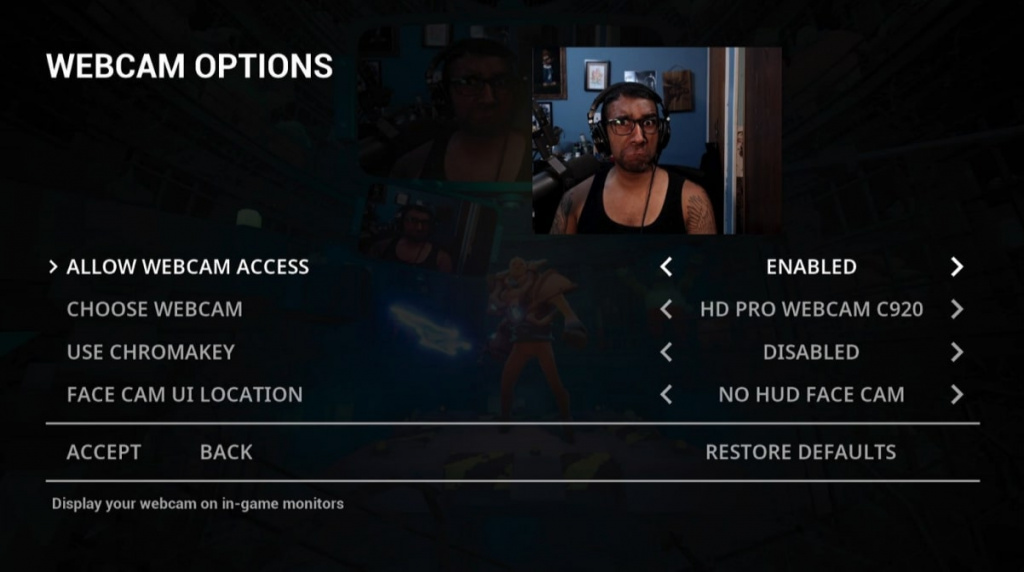 You can connect your webcam too (Picture: Skullbot Games) 
Gone Viral also allows players to be shown in monitors around the levels through their webcam.
You can set up your webcam through the Twitch options, where you have to make sure 'Allow Webcam Access' is set to 'Enabled'. A preview of your webcam should then appear.
Gone Viral is available in Early Access on Steam now. You can download it here.