Obsidian Entertainment's miniature-sized survival title Grounded received a huge update yesterday. Named the "Shroom and Doom" update, players now have access to more content than they ever had before. One of the biggest pieces of content that came with the update is the ability to tame bugs, namely Aphids and Weevils. 
Aphids and Weevils are tiny insects that are able to be added to a player's base and kept as a pet. They don't do much other than look cute but they accomplish this goal with flying colours. As such, players everywhere want to know how to tame the cute little buggers. 
Taming Aphids in Grounded 
This article will only focus on taming Aphids in Grounded, not Weevils. However, the process is nearly identical minus the key ingredient you need.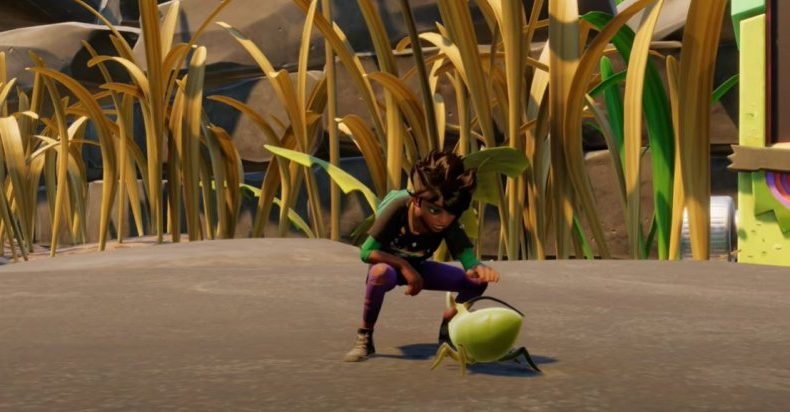 An Aphid in Grounded. (Picture: Obsidian) 
To start, players need to construct a Grinder, which is used to break down materials you find in the world. To build the Grinder, you need two crow feather pieces, two acorn shells, three flower petals and five bombardier parts. After all of these resources have been gathered, build the Grinder and set it down somewhere near or around your base. 
From here, you need to make plant slurry, which is the key ingredient in taming an aphid. To make plant slurry, you need to find plant fibre. One plant fibre equates to one plant slurry, so try and find multiple of them. For taming one aphid though, you need two slurries. 
Once you have the necessary materials, you need to find an aphid in the wild. They aren't too difficult to find, as they're green in colour and are plentiful in the garden. If you've managed to find one, make sure it's alone and drop the plant slurries on the ground. In order to tame the aphid, it needs to eat both plant slurries in a row. Once it does, you can approach it and give it a pet, which is the sign that you've successfully tamed the critter. 
The last step is to build a Pet House so the aphid has somewhere to be assigned in your base. To build the Pet House, you need one acorn shell, two crow feather pieces, two weed stems and four mushroom bricks. Once all of the ingredients are found, build the Pet House near your base and then you're able to assign the aphid to it.