Immortals Fenyx Rising has finally arrived!
Ubisoft's latest game perfectly blends elements of Assassin's Creed Odyssey and Breath of the Wild, and what we got is an exciting mix full of light-hearted humour, intense action and a huge beautiful world waiting for you to explore it.
Speaking of blends and mixes, this guide is here to help you to understand everything about potions in the game: all potion types available, what they do, and how you can make them and upgrade them.
The world of this game, set in the ancient and mythical Greece, is huge and full of all kinds of useful ingredients that will help you make precious potions, crucial for your battles and adventures.
Potions in Immortals Fenyx Rising
If you are familiar with role-playing games, you know how important are potions for your survival and for giving you edge in the battle, just enough to stay alive and kill your enemies in heated battles.
At the start of the game, you will have six potion slots available, but more slots will open as you progress through the game. 
In Immortals Fenyx Rising, there are four types of potions, and they all have their own distinct roles that will help you on your journey.
To make potions, you will need specific ingredients, required for the potion that you want to make.
These are all potions in Immortals Fenyx Rising:
| | | |
| --- | --- | --- |
| Potion Name |  Effect |  Crafting Ingredients  |
| Health Potion | Refills 5 Health Chunks  | Pomegranate x5 |
| Stamina Potion | | Blue Mushroom x5 |
| Attack Potion | It gives 20% boost to damage of weapons and abilities for 90 seconds | Olympian Fig x6 |
| Defence Potion |  It gives 20% boost for 90 seconds to defence. | Flower Nectar x6 |
It is important to note that these are just basic effects, and you will be able to make them much stronger. 
How to upgrade potions in Immortals Fenyx Rising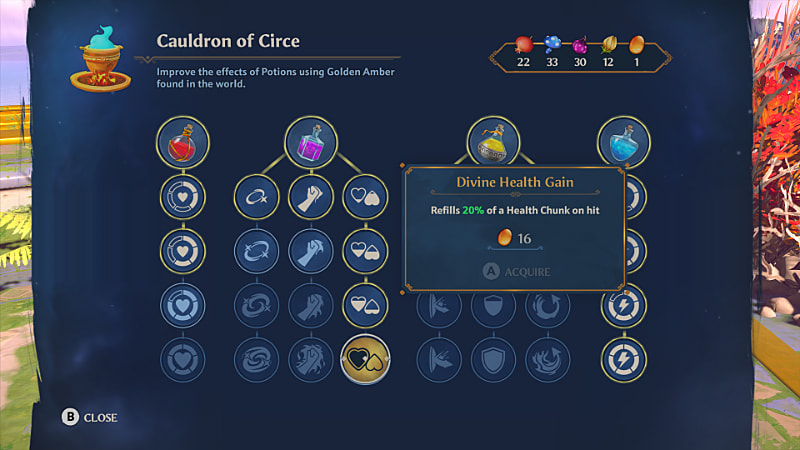 (Picture: Ubisoft)
For making and upgrading your potions, you will need to use Cauldron of Circe.
You can find one of these cauldrons in the House of the Gods, but there are many more all over the Golden Isles.
With Cauldron of Circe, you can craft Health Potions, Stamina Potions, Attack Potions, and Defence Potions with the berries and flowers you collect on your journey. You can also upgrade them and make their effects stronger.
By using Golden Ember, you can make new, more potent potions from the base versions listed above.
Here's the list of all upgraded potions and ingredients required to craft them.
Potion Name
Upgrades
Effect
  Effect Crafting Ingredients 
Health Potion

Stout Vitality
Potent Vitality
Superior Vitality
Divine Vitality

Increases Health refill to 6 chunks
Increases Health refill to 9 chunks
Increases Health refill to 12 chunks
Increases Health refill to 15 chunks

Golden Ember x3
Golden Ember x6
Golden Ember x9
Golden Ember x12

Magic Potion

Stout Energy
Potent Energy
Superior Energy
Divine Energy

Increases Stamina refill to 3 chunks
Increases Stamina refill to 4 chunks
Increases Stamina refill to 5 chunks
Increases Stamina refill to 6 chunks

Golden Ember x3
Golden Ember x6
Golden Ember x9
Golden Ember x12

Attack Potion

Stun

Stout Stun
Potent Stun
Superior Stun
Divine Stun

Damage

Stout Damage
Potent Damage
Superior Damage
Divine Damage

Health Gain

Stout Health Gain
Potent Health Gain
Superior Health Gain
Divine Health Gain

+15% Stun
Increases stun to 30%
Increases stun to 45%
Increases stun to 60%
Increases damage to 40%
Increases damage to 60%
Increases damage to 80%
Increases damage to 100%
Refills 5% of a healt chunk on hit
Refills 10% of a health chunk on hit
Refills 15% of a health chunk on hit
Refills 20% of a health chunk on hit

Golden Ember x4
Golden Ember x7
Golden Ember x11
Golden Ember x16
Golden Ember x5
Golden Ember x9
Golden Ember x14
Golden Ember x20
Golden Ember x4
Golden Ember x7
Golden Ember x11
Golden Ember x16

Defence Potion

Reflect

Stout Reflect
Potent Reflect
Superior Reflect
Divine Reflect

Resistance

Stout Resistance
Potent Resistance
Superior Resistance
Divine Resistance

Thorns

Stout Thorns
Potent Thorns
Superior Thorns
Divine Thorns

Reflects projectiles for 25% of their damage
Reflects projectiles for 50% of their damage
Reflects projectiles for 75% of their damage
Reflects projectiles for 100% of their damage
Increases defence to 40%
Increases defence to 60%
Increases defence to 80%
Increases defence to 100%
200 damage to attacking enemies
20 damage to attacking enemies
1090 damage to attacking enemies
2140 damage to attacking enemies

Golden Ember x4
Golden Ember x11
Golden Ember x11
Golden Ember x16
Golden Ember x5
Golden Ember x9
Golden Ember x14
Golden Ember x20
Golden Ember x4
Golden Ember x7
Golden Ember x11
Golden Ember x16